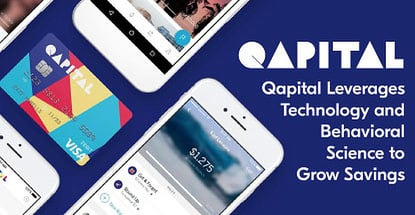 credit card news
Our experts and industry insiders blog the latest news, studies and current events from inside the credit card industry. Our articles follow strict editorial guidelines.
In a Nutshell: Saving money is not as easy as spending it, and for people who never learned healthy savings habits, finding ways to save can be even harder. More than a half-million people, however, have found that it's never too late to learn thanks to the products offered by Qapital. At Qapital, users create personalized savings goals and fund them as they reach smaller milestones — such as not spending as much on fast food — or by rounding up to the nearest dollar every purchase made with the Qapital Visa Debit Card or a linked debit or credit card. Goals can be short or long term with no limits on the amount of money needed to fund a goal. And, unlike other banks, Qapital offers more flexibility as they don't charge overdraft fees or annual/monthly fees. Meanwhile, in another step toward accessibility, Qapital is currently beta-testing a robo-investing platform that will lower the barriers to investing and provide users with more options to grow their savings.
No one comes into this world with financial know-how. People who save and grow their wealth have learned to do so after years of study — and missteps — that reinforced good habits and helped identify the bad ones.
But, people learn in different ways. While some consumers alter their habits after one mistake, others may need a series of errors before the correct path becomes clear. The goal is to learn the lesson before debt becomes too much to handle.
Whether you've decided to curb your spending habits or you simply need to save for a milestone, Qapital has tools to help you reach your financial goals faster by creating intentional objectives and rewarding good behavior along the way.

More than 500,000 consumers use Qapital's mobile goal-oriented banking platform to save for things as small as a weekly coffee budget or as large as a wedding. Users create their goals — short term or long term — and then select a customized Rule (such as an IFTT, "If This, Then That" rule, or the 52 Week Challenge) to help them kick-start their savings.
For example, if you're prone to eating out a lot after work, you can set a goal to spend only a certain amount of money on take-out. If you spend less than that goal each week, the money saved automatically moves to your savings account.
Users can also set a Round Up Rule where every time they swipe their Qapital card or a linked debit or credit card, a set amount of money moves to their savings account.
Savings can also be funded when you reach daily goals, such as a certain number of steps on your Fitbit or hours spent studying.
"People are living more paycheck to paycheck and it's difficult to change behaviors," said George Friedman, CEO and Co-Founder of Qapital. "We have them set very specific goals and help them allocate their paycheck and automate the flow of funds, so when a customer gets paid we move it instantly into the right buckets for them."
Friedman said Qapital relies on behavioral science to develop its products, which is how the company zeroes in on best practices to help its customers save money and understand the trade-offs people encounter with their finances to ultimately reach their goals.
Full-Featured Checking and Savings Accounts with No Fees
Qapital mobile checking accounts come paired with a chip-enabled Visa Debit Card and even allow users to send physical paper checks from the app. Users can set an unlimited number of savings goals tied to the account, and there's no required deposit minimum to open an account at Qapital.
What's more, Qapital charges no overdraft, annual, or monthly fees, and doesn't require a minimum balance at any time.
The institution manages to avoid account overdrafts thanks to a fail-safe mechanism that pauses any Qapital transaction that will leave an account with less than $100 in funds.
Any transactions related to a goal will remain paused until the checking account balance is large enough to cover it and still leave a $100 cushion. Qapital cancels the paused deposit after 14 days if the proper funds are not in place. At that time, the account holders savings goal rules automatically resume.
Qapital Automates Saving for Big Events or Purchases
Whenever you make a purchase using the Qapital Visa Debit Card or a linked debit or credit card, the purchase amount can be rounded up to the nearest dollar and the difference is deposited in your savings account toward one of your goals. That change automatically begins earning interest in your checking and savings accounts.

Qapital allows an unlimited number of transfers between accounts and provides up-to-date balance and transaction information through its mobile application, which is available on iOS and Android devices. Account holders always have access to their savings funds in case of an emergency.
While saving a few cents here and there may not seem like a big deal, the change — and the interest it earns — adds up quickly.
"Around 40% of users save for a big event, like a down payment on a house or to pay for a wedding," Friedman said. "Over time, their improved savings habits make it that much easier to reach their goals."
Robo-Advisor Program Lowers the Barriers to Investing
Qapital's offerings already make it one of the fastest-growing fintech startups in the US. But Friedman said the company plans to add to its menu of services as more consumers find out about the money-saving opportunities.
Earlier this year, Qapital raised an additional $30 million in venture funding, which the company will use to scale and launch new features like its robo-advisor investing platform. Friedman said the feature, currently in beta testing, will give users the opportunity to grow their savings.
"We wanted to lower the barriers to investing," he said. "Especially for longer-term goals that are three or four plus years out."
Friedman said that investment accounts better serve long-term goals, where funds can potentially grow much faster than in interest-bearing accounts that compound over time.
When the feature goes live, users can setup a Qapital investment goal and receive an investment portfolio recommendation based on their risk profile and time horizon.
Making a Difference in People's Lives by Simplifying Traditional Banking
Friedman expressed excitement about Qapital becoming the first fintech company to simplify banking, savings, and investing into one platform.
If he has his say, Qapital will continue to disrupt a financial industry that doesn't yet know how to overcome bulky legacy systems that slow growth and prohibit innovative change.
"We're focused on how this can be bundled to get something that's truly different from the banks and truly makes a difference in people's lives," Friedman said. "I think we're moving forward in a way that's meaningful and will help people save more and reach their goals faster."