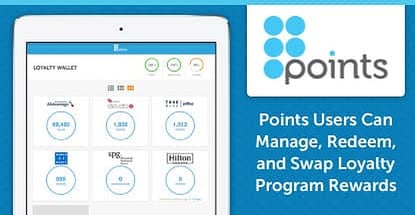 credit card news
Our experts and industry insiders blog the latest news, studies and current events from inside the credit card industry. Our articles follow strict editorial guidelines.
In a Nutshell: Loyalty programs have existed since the 1930s, when consumers who made purchases at select retailers earned Green Stamps that could be redeemed for the merchandise of their choice. Hotel and travel companies, restaurants, and retailers around the world now use similar programs to attract and engage customers, and the task of managing multiple rewards accounts is made easier thanks to the Points Loyalty Wallet. The free service allows users to track their current points as well as redeem and exchange them for points on non-affiliated programs. The Points wallet also offers members opportunities to purchase discounted points or earn bonus points through purchases at select retailers to get them closer to a reward they're saving for.
Some of my fondest memories as a child are the times my parents took me to various storefronts in downtown Chicago to use their Green Stamps to purchase items for our home.
Green Stamps, which were popular from the 1930s to the 1980s, are considered the consumer first loyalty program. Stamps were earned by making purchases at participating retailers and could be redeemed for merchandise at Green Stamp Stores or through the mail via the company's popular catalog.
Watching my mother devotedly collect and store each stamp for later use taught me important lessons about saving money. I don't recall if I ever got anything from the store, but I always demanded to be the person to hand the books of stamps over to the cashier.
Today, loyalty programs remain popular among airlines, hotels, restaurants, and many retailers. The abundance of points, rewards, cash back, and other tokens can be hard to juggle across various accounts. That problem doesn't exist for Points customers, who store all of their reward accounts inside a singular digital wallet.

In 2000, Christopher Barnard and Rob MacLean founded Points to help consumers manage their growing number of loyalty program points. The business has grown in conjunction with the public's massive appetite for rewards and now partners with dozens of loyalty programs to provide exclusive deals and offers available only through Points.
"We've evolved into a platform that allows loyalty programs to offer extra value to their engaged members and, in return, make their program more engaging and valuable along the way," Barnard said.
Signing up for a Points account is free and members pay no fee for storing or exchanging points from one loyalty program to another. The Points platform converts all exchanged points into cash and purchases new points from one of more than 60 partnered loyalty programs that are then transferred to the account holder to complete the exchange.
"Our technology has grown up inside of the industry and we power a lot of those exchanges between card issuers and travel programs or between different travel programs," Barnard said.
The widespread adoption of the Points platform has led to further offers from retailers that otherwise might not exist. The added value makes the platform a popular destination for any consumer who wants to maximize the savings on purchases he or she is already making.
Earn Bonus Points for Purchases from Popular eTailers
A recent partnership with Groupon allows Points users enrolled in certain travel rewards programs to earn up to 10 miles for every dollar spent at Groupon. The success of these programs has other popular retailers lining up to offer similar deals to consumers.
"That's a phenomenal way for customers in the United Airlines program or the Intercontinental Hotel program to get incremental value out of those programs," Barnard said.
Users can also earn bonus points for purchases at Apple.com or through other periodically updated deals on the Points.com website.
"Our focus is on getting more and more retailers or online publishers to add loyalty offers directly into their service by leveraging the access we have to dozens and dozens of programs around the world," Barnard said.
Offering Unique Rewards that Aren't Available Through Traditional Programs
In traditional loyalty programs, points earned through a specific retailer could only be exchanged through the same company, or possibly with a few partnered companies that offer complementary services. With Points, users can exchange points or miles freely between different programs at no extra cost.
So those unused miles sitting in an airline loyalty account from last year's vacation could be exchanged for points in a program you actually use, getting you closer to the reward you want.
"We effectively provide value with transactions that aren't available inside of the branded programs," Barnard said. "At Points, you can exchange program points between participating initiatives that don't have a direct relationship. Or you can redeem them for gift cards that otherwise would not be available through the program's website."
Through the Points wallet, users can also view all of their earned points on one screen instead of having to juggle multiple websites and remember several different usernames and passwords. Think of it as a modern Green Stamps book, where all of your rewards options are presented in an intuitive format.
"The purpose of the wallet is to make it as easy as possible for users to track their points," Barnard said.
Buy Points & Miles to Get Closer to Your Dream Reward
If you've ever purchased miles or bonus points through an airline or hotel, chances are you've made a purchase through Points. That's because the company's technology has been integrated into the storefronts of many leading travel providers.
"It may look like you're buying them from the airline, but we're the boutique shop within their store selling the miles," Barnard said.
Points has future plans to roll out further opportunities for members to purchase points that get them closer to the reward they're saving for.
"That's a big part of our business right now," Barnard said. "If a member is 6,000 points short of a free trip to Hawaii, that member can now go onto dozens of airline websites through the Points platform and buy those miles directly from us."
So while the days of collecting Green Stamps may be over, the digital form of loyalty rewards lives on in the form of points, miles, and other tokens that can be collected, exchanged, and redeemed by consumers to add value to everyday purchases and get them closer to their dream trip, or that blender they've had their eye on for months.