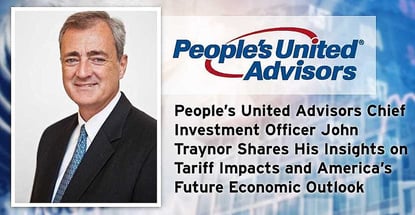 credit card news
Our experts and industry insiders blog the latest news, studies and current events from inside the credit card industry. Our articles follow strict editorial guidelines.
In a Nutshell: The US economy is always in flux to some degree and it garners much-deserved speculation from financial experts and investors alike. Recently, some of President Donald Trump's policies have only bolstered conjecture on the topic. People's United Advisors Chief Investment Officer John Traynor shared his expertise and some of People's United's insights into the economy, including the impact of tariffs, a positive outlook for economic growth in the near future, and the expectation for a strong holiday season.
For many financial experts, the US economy is the ever-moving target of educated predictions, speculation, and analysis. For investors, the economy can be like a roller coaster as they try to follow the predictions, and hope for a steady rise with no steep falls.
Over the past couple of years, President Donald Trump has managed to provoke even more speculation about the economy with policy decisions, official remarks, and more than a few Tweets.
While some of Trump's economic policies have left certain pundits scratching their heads or nay-saying his decisions, John Traynor, Executive Vice President and Chief Investment Officer for People's United Advisors said it's not all bad news.
"We all want fair trade, and when you take a look at that, a lot of the business leaders we talk to believe the president is on the right track," Traynor said. "Where they really have a concern is with how he's doing it."

With Q4 picking up steam and the holidays around the corner, Traynor spent a few minutes to discuss some of People's United's economic observations and predictions for the near future.
As Chief Investment Officer, Traynor said he is responsible for making sure the client's portfolio is on the right path, which often means preserving existing wealth. He said his approach when handling asset allocation, and selecting stocks and bonds, is often to preserve principal rather than trying to get every last cent of return.
Overall, People's United Advisors are responsible for a little over $9 billion in assets, including individual clients assets, institutional assets, tax-exempt foundations, and other organizations.
People's United Advisors is a wholly-owned subsidiary of People's United Bank, N.A. People's United Bank was founded in 1842 in Bridgeport, Connecticut. Today, it is a subsidiary of People's United Financial, Inc., which is a diversified financial services company with more than $47 billion in assets.
Monitoring the Economic and Political Impact of Tariffs
Trump has enacted a number of tariffs in various industries since he took office in 2017, and Traynor said People's United has been monitoring their impacts.
"I'd say there are two things that we're watching regarding the tariffs," he said. "No. 1, the economic effect, and No. 2, the political effect, because we'll have third-quarter GDP out fairly soon. We're in the 3% range. Some people are predicting a higher percentage than us, but I think we'll probably come in at 3%."
Traynor said he doesn't think the tariffs have had as big of an impact on the economy in the third quarter as he expects they will have in future quarters. He said the economy will be more likely to see higher impacts from the tariffs in the 4th quarter of 2018 and into 2019.
Elaborating on his second point, Traynor said he's talking to clients about the upcoming midterm elections and the potential political impact of the tariffs.
"Donald Trump did very well in the heartland of the economy — in the farm belt — and that's where a lot of the worst impacts of the tariffs are going to take place," he said. "So you could see a big change in the House and potentially the Senate, in part due to the negative impact of the tariffs."
He said People's United is also keeping a close watch on capital spending.
"The more that manufacturers are expanding production, that adds to capital spending," he said. "So, if you see lower trade based on the tariffs, well that's going to really impact the economy, we believe, especially in capital spending."
Traynor Expects Continued Growth for the US Economy, but at a Slower Pace
Traynor said some economists are predicting that the economy will continue to grow at a rate of 3.5% to 4%, but People's United doesn't put the numbers quite so high.
"We just finished our 4th quarter outlook and we're actually forecasting that the economy is probably going to be slowing next year," he said. "We're going back to about 2.5% growth next year and 2% growth in 2020."
Part of the predicted slowdown has to do with the impact the tariffs will have on global trade.
"We don't think it's going to be horrendous. It won't push the US into a recession, but it's definitely going to slow the economy," Traynor said.
He said whether someone is on the liberal or conservative side, the market has responded well to changes in regulation and a lot of the policies that Trump has put into place. So, if it looks like those policies are going to slow or potentially get reversed, that could also have a negative impact on the market.
"One of the things we're guiding our clients on is, we don't believe the economy is going to be so strong next year that the Fed is going to be forced to really send interest rates up dramatically," Traynor said. "Some of our competitors at other firms out there are saying that interest rates are going to be much, much higher."
Traynor said People's United is taking a defensive stance on its investments, based on the organization's predictions. This includes slowly decreasing its amount of credit exposure and Treasury exposure in its portfolios.
"But when it comes to tariffs, that is probably going to support our thesis for a still growing — but not growing as strong — economy, which means we're not running for the exits in the bond market," he said. "We still own bonds, we're just trying to be defensive. If we thought the economy was really going to explode on the upside, we'd be much more defensive in the bond sector of our portfolio."
Indicators Point to a Strong Holiday Season
Based on current indications, Traynor said the economic outlook for the holiday season looks strong.
"We're positive on the retailers and the market in general in the 4th quarter," he said.
In September, consumer confidence reached its highest level in 18 years, according to the Conference Board, whose monthly survey "measures Americans' sentiment on current economic conditions and prospects for the next six months, including business and labor market conditions," according to CNBC.
Additionally, wages are on the rise, and the unemployment rate fell to a 49-year low in September. The 3.7% unemployment rate is the lowest it's been since December 1969.
Traynor said these are all important considerations to help predict the strength of the holiday season.
"We think we're going to have a very good holiday shopping season," he said. "If you take a look at consumer confidence, you take a look at the unemployment rate, you take a look at wage growth picking up — jobs are plentiful and wages are growing — we think we're going to have a very good Christmas season."
Traynor's evaluation falls in line with other predictions. In September, The Washington Post predicted a strong holiday season for retailers, based on the low unemployment rate and wage growth. The newspaper also based its prediction on spending growth seen over Labor Day weekend, and indications that Americans are purchasing more high-priced items.
So, even though Traynor expects a slight slowdown in economic growth in the near future, the current growth trends should continue through to the holiday season.
Historical Data Shows a Successful Market Following Elections, No Matter Who Wins
Judging by Traynor's expert evaluation and the People's United position on the market, the US economy will hopefully avoid any big drop-offs in the near future.
Traynor did offer some peace of mind for investors concerned about the upcoming midterm elections.
"One message we are reinforcing with clients is that historically, whether Democrats or Republicans have won, once the election is over, the market tends to do well because the worry and confusion about which party is going to win is out of the way," Traynor said. "Investors can adjust and then make some sound decisions."