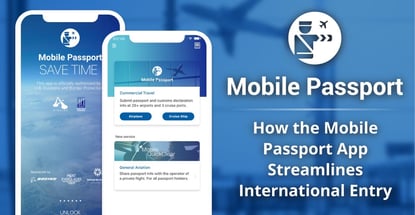 credit card news
Our experts and industry insiders blog the latest news, studies and current events from inside the credit card industry. Our articles follow strict editorial guidelines.
In a Nutshell: Many international travelers know that entry stations at a U.S. Customs and Border Protection (CBP) checkpoint can cause plenty of frustration — from lost time to missed flights. That's why CBP worked with digital product developer Airside Mobile, Inc., to develop the Mobile Passport and streamline the inspection process by securely storing passport credentials and automating checkpoint processes. Operating at air and cruise ports that see more than 85% of U.S. re-entries, Mobile Passport serves more than 6 million travelers who enjoy faster entry.
Imagine you're a frequent international business traveler who, through trial and error, has gotten it all together. You know what to pack in your regulation-size carry-on to maximize your fashion flexibility. Your electronics, credentials, and business essentials are tucked away in your shoulder bag. Your tickets are on your phone. You've thought of everything.
But you overlook one significant hurdle — getting through customs in time to make your connecting flight home. Whether you've done it a thousand times or really don't know what to expect, now you're at the mercy of others. You're lumped in a lengthy queue as CBP identifies people and their belongings, and intercepts identifiable suspects.
How quickly you get through depends on a slew of variables — airport or cruise port, time of day, and travel season, among many other factors. Believe it or not, CBP actually wants to speed you through the process as quickly as possible without compromising its essential mission because it improves administrative and operating functions, and lowers costs.
That's why digital identity platform provider Airside Mobile partnered with CBP to develop Mobile Passport, an app available on Android and iOS that allows travelers to automate the inspection process using their mobile device.
It sends passport information directly to CBP and allows travelers to answer questions and submit customs forms directly through the app. It also offers an expedited line at the entry point, especially for Mobile Passport users.
"People arriving back in the U.S. at one of our 26 airport or three cruise port locations can sometimes shave two or three hours off their journey," said Patrick Merfert, Airside Mobile VP of Marketing. "And that can easily make all the difference."
Since Airside Mobile created Mobile Passport in 2014, more than 6 million travelers have used it to make frequent international travel faster, secure, and more convenient. And the air and cruise port locations that support the app handle more than 85% of U.S. and Canadian re-entries to the United States.
Simplifying Passport Data Entry for Easy Processing
Mobile Passport is easy to set up and start using. Patrick said that users who first learn about the app on their flight home can download it once phone use is permitted after landing and have it up and running by the time they go through customs.
"Normally, you're handed a paper customs declaration form as your international flight is landing or as you're disembarking your cruise," Merfert said. "Mobile Passport allows you to fill out and submit that form electronically to CBP before you ever reach the customs line. The app securely stores passport profiles on the device and facilitates submission to CBP for review."
After the user answers the five required questions on the customs declaration form and submits their passport information to CBP, they receive a QR code on their phone that lets them bypass the usual long line and go straight to a designated express Mobile Passport line.
"That's a huge driver of the time-savings, because the general population is standing there with their physical forms and waiting in a giant queue," Merfert said. "Meanwhile, CBP has already checked your declaration and passport. During screening, the official simply scans your QR code and reviews your physical passport."
Mobile Passport users can also take advantage of the app's Passport Scanner feature. In lieu of entering passport information manually, Passport Scanner reads a code on the user's physical passport and automatically fills in the data fields on the app.
That makes the bulk of the process digital," Merfert said. "You still have to answer the declaration questions on the app and show your physical passport when you get there. But, the scanner helps decrease data entry time and manual error, making the process more streamlined."
Partnering with U.S. Customs to Ensure a Secure Experience
Mobile Passport originated within the U.S. port of entry security apparatus, so users can be sure that it not only works as advertised but also that it doesn't compromise necessary protections.
"The founders of Airside Mobile, CEO Hans Miller and COO Adam Tsao, started their careers at the U.S. Transportation Security Administration (TSA), in charge of standing-up that agency after 9/11," Patrick said. "They had deep experience in the complexities and challenges involved in transportation security. They leveraged all that expertise to start this innovative business."
Another benefit of the founders' background in transportation security is that they could quickly identify inefficiencies in the customer experience at airports. And they were asking questions at the right time in the development of mobile technology and connectivity — as secure solutions became available in the mobile space.
Airside Mobile's initial product was the first-ever mobile boarding pass for airlines. The company saw some success with that technology, until airlines started making their own proprietary ticketing technologies. Then came the partnership with CBP and the pivot to Mobile Passport.
"After a period of steady expansion, there are a few smaller international airports we don't cover yet, but we're rapidly pursuing those. Cruise ports are another area where we can save a ton of time for people by making the process more straightforward while preserving security imperatives," Merfert said.
A Free, Convenient App for All Travelers, Including Families
Even experienced international business travelers who think of everything don't always take into account the time involved in getting through customs when finalizing their itineraries. And with the Mobile Passport app, they don't need to.
For other travelers looking to expedite entry into the U.S., CBP also operates Global Entry, which is one of four Trusted Traveler programs administered within the U.S. Department of Homeland Security. Global Entry has a financial model that differs from Mobile Passport in that it requires a substantial fee — which many high-end credit card rewards programs offer to reimburse. Mobile Passport, on the other hand, is completely free to download and use for all U.S. and Canadian citizens.
Global Entry is also designed to handle the customs transaction entirely without interaction with human officials. To make that possible, however, considerable up-front preparation is required on the part of the user.
"Participation in Global Entry requires scheduling an in-person interview at an airport location, submitting to a background check, and potentially investing several months' time for processing," Merfert said. "With Mobile Passport, you visit the App Store or Play Store, download, and go — joining more than 6 million users who have already done so."
And for families that travel abroad infrequently, no solution matches Mobile Passport for ease of use.
"Within a single instance of the Mobile Passport app, users can submit up to nine family passports," Merfert said. "If you've ever watched parents with little ones struggle with baggage and credentials at an airport checkpoint, you know how much of a lifesaver that can be."
Meanwhile, Airside Mobile continues its mission of addressing the inefficiencies of international travel. "We're looking at developing additional ways to make travel abroad a more secure, enjoyable experience, so stay tuned," Patrick said.
That surely means fewer missed connecting flights and better international travel experiences for everyone.