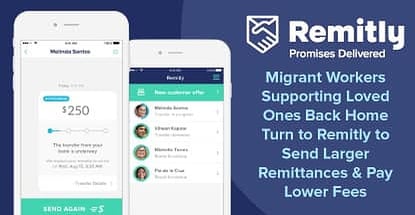 credit card news
Our experts and industry insiders blog the latest news, studies and current events from inside the credit card industry. Our articles follow strict editorial guidelines.
In a Nutshell: More than 3 million migrant workers travel each year to the US alone in search of better employment opportunities and wages to support their loved ones back home. These people often struggle to send money back to their families because of the high fees charged by remittance companies. Remitly saw this trend and created a technology-driven platform that charges as little as $6.99 to send money from the US, the UK, Australia, and Canada to dozens of countries around the globe. Remitly is the largest independent US-based digital remittance company, transferring over $5 billion in annualized volume over a secured network that prioritizes security for every dollar sent.
People normally associate professional athletes with great financial wealth, but they don't often know much of the life these marvels of human nature led before they became household names.
Professional basketball star Giannis Antetokounmpo was just a teenager when he left his native Greece to join the Milwaukee Bucks. When his first pay day rolled around, he thought he'd do something special for his family who was struggling financially back in Greece. He decided to send his entire first paycheck to them to cover the bills and provide some much-needed relief.
In his eagerness to help his family, he forgot to set aside some money for himself. So there he was, in sub-20 degree temperatures later that day with no way to get to that night's game. In nothing but a small windbreaker jacket he had brought from his homeland, he decided to jog to the game since he had no money for cab fare. Fortunately, a few fans spotted him and drove him the final few miles to the arena.
While Antetokounmpo's story is both entertaining and heartwarming, it isn't unique. Millions of foreign workers send money transfers to their families all over the world every day. In many cases, the money they send is the only way their families can purchase food, clothing, shelter, or medicine. Sending remittances is a $574 billion worldwide industry — and one that Remitly hopes to disrupt with its technology-driven approach.
Of the $574 billion — most of which flows to developing countries — sent each year, approximately 8% goes to service provider fees. In many cases, the fees are not transparent, and collecting the funds is an inconvenient process for recipients. With few other options, senders simply take whichever route they can to provide for their loved ones.

Remitly is the largest independent US-based digital remittance company, transferring over $5 billion in annualized volume from its customers in the United States, the United Kingdom, Canada, and Australia to their loved ones throughout the world.
Statistics on Remitly's website report that approximately 70% of the money sent worldwide provides for basic family needs. Of the remaining funds, 11% goes to education expenses and 3% to medical costs.
By harnessing modern technology, including mobile networks, Remitly allows users to send funds faster, and in many cases cheaper, than they have before. The company recently added Australia to the list of countries, which already included the US, the UK, and Canada, where people can send payments from.
"Indians and Filipinos in Australia are sending nearly $16 billion each year in remittances back to their homelands," said Shivaas Gulati, Co-Founder of Remitly. "We're super excited to launch our services there to help those customers."
Remitly, which was founded in 2011, recently raised $115 million in series D funding, led by Naspers-owned payment service provider PayU. It plans to use the investment to expand into Asia and several developing countries.
"Globally, we're already over 700 employees," Gulati said. "We're a pretty big global company and hopefully we continue to grow even more this year. It's been a great journey so far."
Sending Money is Safe & Affordable
Remitly provides extensive security measures and fraud prevention for every payment sent from its platform. Remitly's 256-bit SSL encryption with a 2048-bit signature helped the company gain registry as a Money Services Business with the US Department of the Treasury.
Canada licensed Remitly as a money transmitter with full operational abilities in all of its provinces except Quebec. The company operates in all of the US and the UK and offers a full refund of their fees to unsatisfied users of the service.
The company has also received financial support and backing from reputable investors like TomorrowVentures and Amazon founder Jeff Bezos.
Remitly's website and intuitive mobile application make it easy for users to send and receive funds to and from any bank within the company's large network. Users receive text message alerts throughout the transfer process, starting with the initiation of the transfer and ending when it completes.
The company's fees are also among the lowest in the industry, offering slower transfer options that charge as little as $6.99 to send funds with no fee for recipients, or expedited services that start at $9.99 to send and $3.99 to receive funds.
"By charging less than our competitors, our clients are able to keep more of the money they earn and send it to loved ones for much-needed support," Gulati said.
Economy & Express Services Give Customers Timely Options
Remitly gives its clients control over how quickly transfers are delivered with its Economy and Express services. Either choice requires the sender to link either a bank account or a debit or credit card to transfer funds.
Money sent using an Economy transfer usually arrives at its destination within three to five business days with fees as low as $6.99. An Express transfer arrives at its destination in minutes and is intended for people who need to send money fast. Fees for this service start at $9.99 to send and require funding with a debit or credit card, which might include additional card processing fees.
"The Express product allows us to get the money quickly when you use a card and we can disburse the money as fast as possible," Gulati said.
Signing up for a Remitly account takes only minutes and first-time payments of up to $2,999 can be sent right away. After providing the sender and recipient's financial account information, users can choose to have transaction progress updates sent to their phones through SMS text messages.
While many remittance companies set limits on how much money a user can send — usually around $10,000 per 30 days — Remitly recently raised its limit to $20,000 per 30 days, which is one of the highest remittance ceilings in the industry.
"This helps our clients a lot because we see a lot of migrants sending money back home for family support, investments, and mortgages," Gulati said. "This allows them to do that much more easily instead of juggling around and using multiple services."
Rapid Growth Expands Services Around the Globe
While users can send money from the US, the UK, Canada, and Australia, Remitly's network of banks allows users to receive funds in India, Mexico, the Philippines, and several Central American and Latin America countries.
"We're constantly expanding our footprint to provide the options recipients need, in any geography, to get their money," Gulati said.
But as more workers travel to areas with greater employment opportunities, the worldwide need for affordable remittance options only grows. Remitly plans to use its current momentum, and the financial backing from several large global organizations, to meet the needs of these workers who only want to provide for their families.
"Expansion is a big focus for us," Gulati said. "We plan to expand aggressively into other European and African markets. We recently launched in the Dominican Republic and Vietnam, and we're looking at other Asian countries as well. You can expect us to be in a lot more countries by the end of 2018 than we're in today."