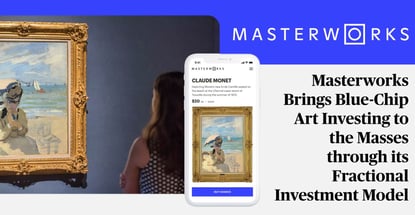 credit card news
Our experts and industry insiders blog the latest news, studies and current events from inside the credit card industry. Our articles follow strict editorial guidelines.
In a Nutshell: The appreciation for fine art spans continents and millennia, but as an investment class, the world of art has been almost exclusively limited to the wealthy. Masterworks is making art investment a reality for the average consumer with its fractional shares platform. For as little as $1,000, you could own part of a Monet or Picasso. Masterworks meticulously researches the artists and paintings in which it invests, to find the ones with the potential for maximum appreciation within three to five years. Once the painting sells, the proceeds are divided accordingly among the investors. Rather than needing a fund of $1 million (or more) to begin investing in art, consumers can now take advantage of fractional shares.
Although fine art is one of the oldest and most established ways to invest money, it has been limited almost exclusively to the wealthy.
Fine works of art have been held in esteem by countless cultures over the course of millennia. Historically, one of the first areas of value to be plundered during wartime has been a nation's cultural heritage, including works of art.
Art is prized not only for its beauty but for the skill involved in creating it, its cultural significance, statements about society, and its influence on art that came after it. And these are a few of the reasons that collecting art has long been popular among the most wealthy in society.

Hanging a Picasso on the wall is a status symbol if there ever was one. But art collectors also purchase art as an investment asset to diversify their portfolios.
And, until very recently, that meant the only people actually purchasing art as an investment were the very rich. That's because well-respected art doesn't come cheap. Even artists who sell paintings and sculptures for as much as $10,000 are not considered to be mainstream enough to gain traction in the market.
So, that $10,000 painting is not predicted to increase much in value over time. To gain entry into the world of art as an investor, think higher. For most people, thinking higher is not an option, and banks aren't exactly jumping to give the average consumer a loan to purchase expensive art.
But Masterworks is a startup that is making it possible for nearly anybody to become an art investor. The young company's fractional shares approach — a model gaining popularity in the stock market, as well — allows individuals to purchase just a small share of a work of art.
Masterworks stores, maintains, and manages the artwork until it sells, ideally at a higher price than it was purchased for.
"As a high-level primer on the art market, the way to think about this asset class is that it is roughly valued at $1.7 trillion. That's a number that's published by Deloitte and confirmed by Sotheby's," said Masterworks Founder and CEO Scott Lynn.
Lynn said that, in 2020, about $68 billion worth of art will sell through public auction while the other half will sell on the private market.
"The asset class is one of the oldest asset classes there are," he said. "Sotheby's, prior to going private — it's 275 years old — it was the oldest listed company on the New York Stock Exchange. So, this is an asset class that has been traded publicly at auction for literally centuries."
How the Masterworks Investment Platform Works
"For the first time, you can purchase shares representing ownership of a painting similar to how you would purchase shares in a traditional company," according to Masterworks.
Lynn elaborated on the Masterworks process and how it is able to lower the barriers to entry into the world of art as an investment.
Masterworks sources what it calls blue-chip art and commits its capital to purchase it. Masterworks identifies blue-chip artwork by the 100 top-performing artists at auction in terms of sales volume over the previous five years and that satisfies a liquidity criterion.
Once Masterworks purchases a painting, it circulates an offering to its members with an image of the painting, background on the artist and the piece, purchase value, speculated appreciation value, and other valuable details.
Masterworks members can then invest in the painting for as little as $1,000 per share.
"Our intention is to hold each painting for a three- to five-year period to allow it to appreciate in value, but it will be continuously offered for sale," according to the company.
Once a painting sells, the proceeds are distributed accordingly to the investors, Lynn said. The company charges a 1.5% annual management fee to cover storage, regulatory, insurance, and other expenses. And it earns 20% of the profit of the painting if it increases in value.
Over the past 20 years, the blue-chip art market has consistently performed better than the S&P 500 — sometimes 200% better. And visitors to the Masterworks website can browse hundreds of paintings that have provided impressive double-digit returns over the years.
When the company launched two years ago, the governance structure dictated that every stakeholder for a piece of art would vote on whether to sell the painting.
"We quickly realized that, after the first offering, that would be a bit cumbersome in practice because the world moves pretty quickly so you really need to be able to make decisions fast," he said. "So, in our current offerings, all of the discretion is given to us as the manager."
A Research Team Seeks Out Artwork with the Most Potential for Healthy Returns
"The most important thing to do is to choose the artists," Lynn said. "And we focus on two different buckets of artists. One category is the blue-chip artists, which are artists like Monet, Picasso, Warhol, etc. They tend to have high single-digit or low double-digit returns with what we describe as low-risk."
The other category of artists the company focuses on is mid-career living artists whose work tends to gain returns, such as George Condo, Lynn said. These are classified as having moderate risk.
Masterworks uses a database of more than 1 million auction records to select artists that meet its investment objectives, according to the company website.
"We select works by artists who we believe have demonstrated favorable risk-reward profiles based on prior auction sale results," according to Masterworks. "Once we choose an artist, we also focus on the ideal example by that artist to increase the odds that there will be demand for the work when we go to resell it."
Some of the main considerations that go into this selection process include whether the artist has a global collector base, the artist's appreciation rate, whether there is sufficient demand for the artist's work, and understanding the risk of the artist's market.
At the time of this writing, Masterworks had recently circulated "deal sheets" for Claude Monet's 1881 painting "Coup de Vent" and Alex Katz' 1974 painting "Maxine." Lynn said the Katz painting is currently about 90% sold.
Advice for New Art Investors
Even with a monetary entry point lower than ever for investing in fine art, newcomers may still be hesitant to just dive right into art investing. But Masterworks includes a wealth of informative articles on its website to help new and seasoned investors alike.
And Lynn said the company makes sure its investors understand the liquidity of art investments is not the same as more common investment assets.
"We tell investors to think about the liquidity horizon today as three to seven years," he said. "So, if you're allocating to a painting, you should expect to wait three to seven years until it has been sold."
Of course, there are some exceptions, he said. In 2019, Masterworks launched a Banksy painting and in the meantime, another Banksy painting sold for $12 million.
"It set a new record for Banksy, so now that whole market is kind of on fire," Lynn said. "So the Banksy painting we launched could be sold in less than a year, but that is really unusual."
Additionally, as mentioned above, even works of art that sell for $10,000 often have little hope of appreciating by any significant amount. Masterworks encourages those who are interested in investing but don't have the kind of funds to purchase a major work with the potential to increase in value to use Masterworks' fractional investing platform.
"With $10,000, an investor will have the ability to build a diversified portfolio of sought after objects by buying shares of several multimillion-dollar artworks," according to the company website.
Of course, as with any investment, research is extremely important. By investing with Masterworks, members can be confident each piece has been thoroughly researched by the company's research team, which has more than 75 years of combined expertise in the field.
The Masterworks Trading Platform is Coming Soon
Lynn said Masterworks is expanding its offerings in the near future with the launch of a trading component.
"At the end of Q1, we're launching a trading platform to allow people to trade securities in these paintings to provide for interim liquidity," he said. "It's something we've been working with the SEC on for the past year and a half. We finally got a framework for it maybe six months ago and have been building it out."