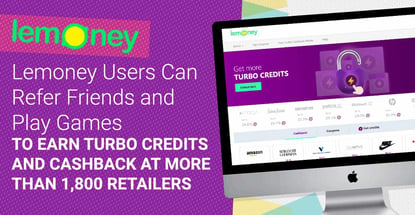 credit card news
Our experts and industry insiders blog the latest news, studies and current events from inside the credit card industry. Our articles follow strict editorial guidelines.
In a Nutshell: It's no secret why rewards cards and programs are so popular — people enjoy earning extras for items they were planning to buy anyway. Lemoney expands on those benefits by offering consumers even more opportunities to earn cashback. Users shop through Lemoney for their favorite brands and add to their rewards with an extra cashback reward — up to 50% or more— at more than 1,800 retailers. Lemoney also offers referral bonuses and challenges on its website so users can earn Turbo Cashback credits and even higher percentages of cashback.
Many consumers enjoy credit card rewards and learn the art of shopping for savings. Savvy card users build on their success by using coupons and cashback offers to save even more. It's called double-dipping, and it's a great way to transform routine shopping into extra money to spend on anything you want.
In one survey, respondents even ranked rewards as the most attractive feature of a credit card, ahead of interest rate, card brand, and even customer service. That shows just how serious consumers are about getting the most out of their purchases.
Lemoney caters to those who want to enhance those rewards. The difference between Lemoney and other cashback sites is that Lemoney is "turbo-powered," meaning users can boost their earnings with Turbo Credits that increase cashback percentages. The more credits users earn, the more cashback they receive.

The platform can make a good deal better — and then better again.
Sergio Ferrari, the Founder and CEO of Lemoney, calls Turbo Cashback a significant differentiator.
"It really sets us apart from the competition. With Turbo Cashback, our users can increase their cashback rates up to five times," he said.
Lemoney has partnerships with more than 1,800 U.S.-based retailers in a wide range of categories, including travel, entertainment, food, apparel, health, and beauty, among many others. Users can search for retailers by name or browse them by category, and when they're in the mood to save even more, Lemoney has hot deals and bargains from major retailers.
This business model has made Lemoney a popular platform where savvy consumers can earn increasing savings and rewards through a gamified experience. And, according to Ferrari, it all comes back to the company's commitment to giving users what they want.
"With Turbo Cashback, it's almost impossible for some websites to offer more cashback than Lemoney," he said.
Earn Turbo Credits for Purchases and When Friends Join
Lemoney is free to join, and there's no obligation beyond signing up and setting up a dashboard to keep track of savings. That's when the rewards start coming in.
"When you sign up, that's when you receive your first Turbo Credit," Ferrari said.
For many users, the savvy play is to earn as many credits as possible — they can apply up to five on each purchase. Applying five credits can increase a regular cashback rate of 8.5%, for example, to 40%, 50%, or even more.
The fastest way to earn credits is to refer friends to Lemoney. Each user receives a unique invite code that can be cut and pasted into social media and other applications. Or, they can invite friends through an email from the site. Friends must then sign up on Lemoney and make a qualifying purchase.
"You get one Turbo Credit for each friend you invite," Ferrari said.
If a user only has one credit and wants to earn more before they apply it for cashback, they can save it and shop at the regular cashback rate. Deciding when to use credits is part of the platform's fun.
"You can shop at the regular rates— but it's better to shop through the Turbo Cashback program," Ferrari said.
The Lemoney website features stores, and users simply click through to start shopping. Before they leave the site, they'll see their Turbo Credits and store-specific cashback rates on a transition page.
Lemoney automatically updates the cashback users have earned, so all they need to do is complete a purchase as they usually would, and the platform takes care of the rest.
Participate in Challenges to Earn Additional Cashback
Lemoney users can earn Turbo Credits in many other ways in addition to the referral program. And it can be fun, as unlocking additional Turbo Credits can be as easy as playing a game on the platform.
One way to earn additional credits is by shopping at stores suggested by Lemoney. The site has thousands of partnerships, and sometimes, those retailers award extra credits when a user buys something from them.
"Offers depend on the store and our relationship," Ferrari said.
Some partnerships award direct cashback on the transaction in addition to a Turbo Credit. Others award credit for purchases above a certain amount.
Opportunities to unlock Turbo Credits are often time-sensitive, so frequent Lemoney visitors will see the best offers.
Another way to earn Turbo Credits is by providing feedback to Lemoney or one of its partners. Retailers want to know who their customers are and are willing to reward them for that information.
Lemoney Turns Shopping Into a Savings Game You Can Win
Credit card rewards and cashback programs are popular because they provide consumers with extra perks for everyday purchases. And Lemoney takes that idea even further by allowing users to earn increasing amounts of cashback through more than 1,800 partner retailers.
The Lemoney dashboard not only allows users to keep track of the Turbo cCredits they earn, but it also allows them to monitor friend referrals and earned cashback.
And, so users can determine the best time to apply their credits to earn the biggest payout, Lemoney allows them to add or remove credits even while a transaction is pending. That provides even more control, and when they remove a credit from a purchase, it'll return to their account for future use.
"Our users are like our family. It's so important for us to understand them so we can try to solve their problems and offer better service to them." — Sergio Ferrari, Founder and CEO of Lemoney
The platform also develops additional ways to make shopping more rewarding. Users will find special holiday savings and offers throughout the year, which often produce hefty cashback rewards.
It's all part of what Ferrari calls the "gamification" of Lemoney, and the company wants its users to enjoy shopping and saving, so they keep coming back for more.
"Our users are like our family. It's so important for us to understand them so we can try to solve their problems and offer better service to them," Ferrari said. "Turbo Cashback is a great example. When we started, we didn't know if it would work. But we did our research, and now, everybody loves it."