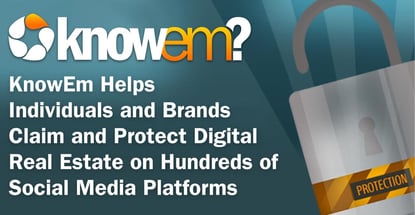 credit card news
Our experts and industry insiders blog the latest news, studies and current events from inside the credit card industry. Our articles follow strict editorial guidelines.
In a Nutshell: Social media has become one of the most important ways for businesses to reach potential and existing customers. But to engage those customers, you must secure your brand's name on each platform before someone else does. For one flat fee, KnowEm secures and registers an individual's or a brand's name on its index of more than 500 social media websites and other popular URLs. An optional subscription service continues to register your brand name on up-and-coming platforms as they emerge. KnowEm also provides a knowledge base to help clients submit claims when their brand's name is fraudulently registered.
Earlier this month, thousands of people opened their email boxes or checked their Facebook timeline to see messages from Eric Gold, who produces the Ellen Degeneres Show and manages the star's career.
It seems Degeneres, already known for her elaborate giveaways, was holding her biggest contest yet, and, by following a few links and signing a few forms, recipients could guarantee their winnings.
This was a life-changing opportunity for many people — if the contest had been real. The emails and Facebook page didn't belong to Gold, although they used his name, photos, and even included videos of Degeneres. Instead, they were created by a scammer who used all of the submitted form data to collect personal information from consumers who registered for the contest.
Scams like this are common on social media platforms, unfortunately. The anonymity of the internet makes it easy to assume a person's or company's identity and use their good reputation to setup a hoax that could damage their brand forever.
Barry Wise, Founder and CEO of KnowEm, has seen hundreds of these scams in the time he's spent helping individuals and corporations secure their names on popular and emerging social media platforms.
Wise also understands the importance of owning your brand name and securing it on as many websites as possible.
"KnowEm was developed to assist everyone, from individuals to Fortune 500 companies, in discovering where their names, brands, or trademarked terms are available — or already taken — on social media networks," he said.
The company indexes more than 500 popular social media networks, over 150 domain names, and the entire USPTO (United States Patent and Trademark Office) database to secure client brand names on the internet. This becomes especially handy when dealing with smaller or brand-new social media platforms where popular usernames can go fast.
KnowEm only charges one-time fees for most of its services, with optional subscription services available for long-term username curation. The company's most popular offering, the $249 business plan, creates 100 profiles on the most popular social networks, Wise said.
For an additional $59.95 monthly fee, the KnowEm Brand Protection Program will continue to create 20 new profiles each month on new social networks as they launch and before there's a rush for new names.
"KnowEm keeps the most up-to-date index of social networks for when we create social media profiles for a brand," Wise said. "We strive to provide contact info for reporting trademark violation on each network."
Limit Your Exposure to Brandjacking and Counterfeiting
Scams like the one linked to Ellen Degeneres' name are small compared to others that take over a brand's identity to sell counterfeit products and services or redirect customers to payment portals that steal their credit card or bank information.
These hoaxes can not only ruin the financial lives of consumers, but they can destroy a brand's reputation in a matter of hours.
That's why KnowEm helps clients not only secure their brand names on popular online networks but teaches them how to monitor the networks for possible fraudulent activity involving their brand's identity.
"Social media identity theft most often occurs via brandjacking or counterfeiting," Wise said. "There are many bad actors in both the U.S. and abroad who create profiles on social media pretending to be someone else."
By directing unsuspecting users to fake pages created on trusted social networks, scammers lend an air of legitimacy to the profiles that may help them obtain a user's information.
Taking these pages down can sometimes be difficult and time-consuming — especially if you aren't already the owner of the brand's name on the social network.
The same confusing process applies to disputing ownership of a trademark on most social media platforms. If you weren't the first to grab the name during the network's infancy, you could face an uphill battle obtaining your rightful property.
That's where KnowEm's history with brand relations on the internet comes into play. The company not only establishes ownership of your name on the platform, but it can show you how to contact each site to have the name released and returned to you if you weren't the first to claim it.
"Anyone can go to Twitter or Facebook and claim your brand or trademark, and they have every legal right to do so," Wise said. "But there is no one central authority that you can contact to resolve the dispute of ownership or have the username removed."
Secure Your Brand on Existing and Future Platforms
The only defense an individual or business has against social media fraud is to register their name before someone else does. But that can become a full-time job, as new networks seem to pop up or disappear every day. And there's no way to accurately predict which network will become the next big thing, and the one you should give attention to.
This is one area where it's especially hazardous for a company to come in second — as once a name is taken, you have to work to recover it.
"Sure, you can contact the owners of Twitter or Facebook to get your name back on those sites — but good luck trying that," Wise said. "And what about the other 500 social networks active today, and the ones being launched tomorrow?"
Besides being an early adopter on these platforms and securing your name before someone else does, there are other great advantages to being proactive in claiming your brand on up-and-coming social media networks.
Perhaps the most important comes from having consistency on each platform. For example, owning the name brand CardRates on every platform — rather than being @CardRates on one site and @card_rates1 on another — makes the page easier for fans, readers, or customers to find.
After all, the whole point of social marketing is for customers to find you easily so that you can interact with them.
By owning the same username on as many platforms as possible, you ensure that your voice — not the call of a scammer who seeks to leverage your good name for their bad deeds — is the one customers will hear when they search for you.
Claim Your Social Media Name — Before Someone Else Does
We live in a data-driven society, where usernames are often as important as trademarks. And having a username that's too long, too short, or too hard to remember can mean the difference between going viral or going under.

KnowEm has seen companies follow both paths with differing approaches to social media marketing. After all, not being the first to claim a name and fighting to get it turned over to you can cost thousands in both hours and dollars spent on legal fees.
"That's why KnowEm was created," Wise said. "It takes only a couple days for us to secure brands across all social networks before they're taken. Once they're gone, it usually takes a legal team years to recover them."
And what business has a few years to spare? After all, the shelf life of many social networks is barely that long. It's vital that an individual or company pounce on a platform in its infancy and take advantage of its customer reach, instead of fighting for usernames and missing out on untold numbers of sales or signups.
KnowEm helps brands be proactive in protecting their intellectual property and reputation online. For one flat fee or through the monthly subscription service, companies can essentially put their social network targeting on auto-pilot and rest easy, knowing their brand's name is in safe hands.
"KnowEm has been protecting and managing social media profiles for most of the brands you know since 2009," Wise said. "We've created and managed millions of social media profiles for thousands of the best and least known businesses. We're proud to offer the same service to small startups and massive brands alike."