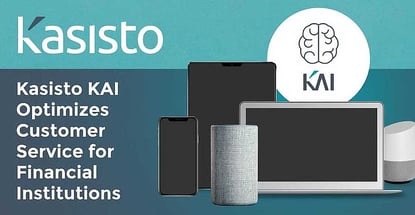 credit card news
Our experts and industry insiders blog the latest news, studies and current events from inside the credit card industry. Our articles follow strict editorial guidelines.
In a Nutshell: As customers have come to expect online and mobile banking capabilities, conversational AI has emerged as the next wave of digital transformation for financial institutions. The Kasisto KAI platform provides a prime example of how AI — powered by natural language processing, machine learning, and in-depth industry knowledge — can streamline customer interactions while optimizing how banks provide customer care, sell and market their products and services. Banks use the KAI platform to create virtual assistants and chatbots that empower their customers to complete routine banking tasks and questions themselves, which reduces call center volume and overhead. And KAI's AI-powered conversations are personal and contextual leveraging customer data to boost brand loyalty and increase customer value — all while seamlessly integrating with a bank's existing infrastructure.
Seeking to expand its presence in Asia, Singapore-based DBS Bank introduced digibank, India's first entirely digital bank, in 2016. With digibank, DBS wanted to proactively exceed customer expectations with an entirely new banking experience and rapidly reimagine its approach to serving modern, tech-savvy consumers.
So the bank turned to the KAI platform to help launch its vision and create a virtual assistant that would be the face of the bank. The platform is powered by Kasisto, a company that spun out of SRI International (where Siri was invented) with a long history of AI innovation — including natural language understanding, interpretation, reasoning, and natural language generation. As a platform, KAI is trained to understand the financial services industry, which ensures the conversations are intelligent and the virtual assistant understands what bank customers want to know and do.
"As financial institutions look at changing consumer expectations and assess the opportunities they have for quickly improving their digital customer experiences, they know they need a Conversational AI platform that is more than a generic framework. It must also have core expertise about banking," said Tracy DeMiroz, Kasisto VP of Marketing. "On day one, KAI is fluent in banking. This deep financial expertise eliminates the need for costly ramp-up time and training. Out of the box, KAI understands accounts, transactions, payments and transfers like pay a person, bill pay, move money between accounts, and more. It has everything needed to power intelligent, natural financial conversations that delight customers and mesh with business goals."
KAI quickly made a positive impression on digibank customers by easily answering thousands of questions and requests. As a digital-only bank, the KAI-powered assistant was the face of the bank and handled 82% of all customer interactions without the need for a human handoff. Digibank has more than 2 million customers and DBS was able to create the digital-only bank with 20% of the resources of a traditional bank.
"A lot of banks talk about going through a digital transformation — but DBS walked the talk," Tracy said. "Now, the KAI-powered assistant is front and center across many DBS channels beyond digibank."
KAI's flexibility allows it to act as an "AI brain" which makes it easily deployed across channels and markets. KAI virtual assistants and chatbots work across the bank's mobile apps and websites as well as third-party channels such as messaging platforms and voice-enabled devices with customized assistants that reflect the bank's brand.
"We've set ourselves apart in working with financial institutions to solve business objectives while improving the customer experience," Tracy said. "Our customers chose KAI for its proven track record to drive business results while improving customer experiences. The platform is engaging with millions of consumers around the world, across multiple channels, in different languages, and is optimized for performance, scalability, security and compliance.
Putting Customers in Control Limits Call Center Volume
KAI's ability to handle the most common customer care inquiries while knowing when to transition a conversation to a live agent ensures the experience is positive for customers. There will always be instances when the virtual assistant needs to connect the customer with a customer care representative – whether the assistant was not yet trained to know the response or the circumstance requires it, like reporting fraud.
KAI helps customers complete tasks like increasing a credit card limit, obtaining a routing number, making a payment or getting an account balance in a way that seems natural. "While there are certainly direct operational efficiencies to be gained using Conversational AI to deflect or triage customer care inquiries and reduce call center volume, that's just a starting point for us," Tracy said. "In helping customers to self-serve, we're empowering them to have a different kind of relationship — one in which customers are more in control and banks are more responsive and efficient."
While customers are delighted with easier interactions and more personalized experiences with their banks, banks are also driving business results with Conversational AI. At launch, most banks start with a narrow set of use cases to quickly learn and iterate. That's why KAI includes platform tools and services to put more control in the bank's hands. Post-production with KAI's Platform Tools & Services, financial institutions are empowered to maintain and improve their KAI-powered virtual assistants and chatbots as well as extend the capabilities and channels. It includes a Business Dashboard, AI Training and Conversation Management and other tools, which acts as the bank's portal to its conversational AI engine.
"After you put KAI in front of your customers, it's like giving them a microphone and it's that data that feeds the beast. The more KAI engages with customers the more it learns from this data. With KAI's platform tools, our clients can continue the design, training and deployment processes to increase what the virtual assistant can do and account for all the distinctive ways that their customers ask for specific things," Tracy said.
Tools that KAI provides to improve precision, learn phrases, and implement new features are part of this functionality. Those systems work with KAI's machine-learning capability to continually find more efficient and accurate ways to respond to customers' questions and requests.
The optimization process includes analysis of new customer questions and inquiries, prioritization of recommendations, and strategic deployment of new features. That means performance is improved, new use cases uncovered, and knowledge is transferred to financial institutions on a continuous basis.
Contextualization Builds Brand Loyalty and Increases Value
The power of Conversational AI is that it forms the foundation for personalized, contextual conversations that go a long way to improve the customer's relationship with their bank. During these conversations, customers can receive help managing their money as well as offers and promotions for products and services when they are relevant, so banks can maximize the long-term value of customers with contextual customer experiences.
"These conversational experiences that champion financial well-being increase brand loyalty. Banks want to be sure that their KAI-powered virtual assistant reflects their brand, their voice, and their business goals," Tracy said. "For example, some banks have a more formal persona while others are more casual. This type of customization is just one of the ways KAI contributes to the bank's brand."
Consistent with a bank's business objectives for Conversational AI, KAI can engage customers with goal-setting prompts, spending alerts, and other digital interactions. KAI can break down spending patterns and proactively notify customers when bills are due or account balances are low. The platform can even advise users on next steps.
"It's not just about replicating workflow — like typing a query into a bank website. It's about shifting that interaction from providing an answer to predicting what the customer needs next," Tracy said. "People tend to make specific requests, like asking for their routing number if they're getting ready to transfer money. It's KAI's job to understand the situation and know which follow-up questions to ask."
Answers that include contextually relevant offers and benefits can also boost new customer acquisition and increase a customer's lifetime value. For example, an auto loan offer might be presented in response to a customer meeting a savings goal for a new car.
"Because KAI understands a lot about accounts and transactions, it can tell you things like how much money you spent eating out last month," Tracy said. "And then it will offer to let you know when you hit that amount next month — or help you set a different goal."
KAI's Deep Domain Expertise and Smooth Integration Reduces Time to Market
At DBS, the KAI-powered virtual assistant in digibank quickly evolved from the digital-only bank into a core component of the bank's channels and was integrated across multiple countries and languages. That scalability shows that Kasisto's KAI platform is powerful enough to serve as any bank's AI brain.
In addition to DBS, Kasisto's customers include Wells Fargo, J.P. Morgan, Mastercard, TD Bank, Standard Chartered, DBS Bank, among others. They chose KAI Banking for its proven track record to drive business results while improving customer experiences. The platform is engaging with millions of consumers around the world, across multiple channels, in different languages, and is optimized for performance, scalability, security, and compliance.
KAI is designed to live in a bank and play well with the bank's back-end and front-end data, channels and infrastructure. It's been tested and proven to integrate and adhere to many leading banks' rigorous and challenging IT and architecture standards and technologies. Its API-centric design ensures smooth integration with the bank's infrastructure and data.
"KAI can put all the bank's data to work to serve customers best. They can ask for average checking account balance and credit card activity to start with. Then, on a higher level, the application starts to fine-tune," Tracy said. "If they are looking for a new credit card, is the customer more interested in points and rewards? The resulting recommendation varies depending on what KAI determines from the information it has. And customers are more likely to respond because the offer means something to them."
With Kasisto concentrating on what it does best — Conversational AI with deep domain knowledge about finance — banks can focus on leveraging the platform to increase operational efficiencies, decrease customer care costs and increase digital customer acquisition and enjoying returns on their AI investment.
"We recently watched a leading bank go through the process of planning and implementing an AI customer-service platform from scratch," Tracy said. "Development to launch was almost a three-year process. In that time, we completed DBS launches on three channels, in three countries and two languages, for voice, text, and touch — all while continually learning to provide a better banking experience."
With a smooth, secure, and compliant KAI platform, client care and other resources can be redirected to higher-level human interactions while KAI efficiently handles routine banking tasks. And banks can focus on achieving better results through its personal services.
"We don't see a world where AI systems like KAI ever replace human-to-human interactions. Instead, we see a world where Conversational AI streamlines digital customer journeys and these virtual assistants become little "do engines" to help people manage their money. They will always co-exist with the bank's team and together lead to gains across the board," Tracy said.
With KAI-powered Conversational AI, customers get faster, contextual and personalized banking with better response and follow through, and banks reap the benefits of serving those customers better for the long term.