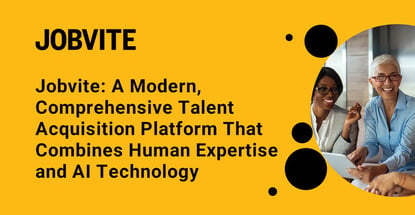 credit card news
Our experts and industry insiders blog the latest news, studies and current events from inside the credit card industry. Our articles follow strict editorial guidelines.
In a Nutshell: Companies can struggle with implementing a successful talent acquisition strategy because they are more focused on day-to-day operations. Jobvite offers an end-to-end solution with proven results. The company uses a combination of automation, AI technology, and human expertise to help companies find the best talent. Jobvite's solution works across a wide range of industries, counting well-known names like Trek Bikes, Hulu, and the Universal Music Group among its clients. Jobvite also owns Talemetry, a brand whose recruitment marketing offerings integrate with companies that may already utilize enterprise resource planning services.
Hiring the best and brightest people for the right positions in a company is a no-brainer as far as business strategies are concerned. The problem is that most companies are so intently focused on actually doing business — whether it's finance or making pizzas — that putting time and resources into hiring can take a back seat.
When this happens, businesses lose out in a wide variety of costly ways, including high employee turnover, inefficient workers, or in extreme cases, employees that can put the company's livelihood or reputation at risk.

That's why companies that have the means turn to software solutions to help manage their recruitment efforts. But even then, results may vary widely.
"The reality is that in software, sometimes a company can checkmark something and say, 'Oh, yeah, we do that.' But when you dig into it and really understand the depth of the solution, it's not there," said Kerry Gilliam, Senior Director of Marketing at Jobvite.
Gilliam explained that Jobvite delivers a comprehensive talent acquisition platform that possesses the breadth and depth of fully integrated solutions to help companies find the best talent.
The company's end-to-end talent acquisition offerings are powered by a combination of human expertise and modern technology. Because of its effective solutions that have helped companies across many different industries, we are recognizing Jobvite with our Editor's Choice™ Award for Business Recruitment Solutions.
We recently had the opportunity to chat with Gilliam to learn more about Jobvite's platform and what it can offer clients in search of the best employees.
Attracting and Hiring the Best Applicants for Emerging, Mid-Market, and Enterprise Companies
Jobvite began life in 2003 as ForumJobs, Inc. but took on its current moniker in 2006. Over the years, the company steadily grew its client list and reputation in the talent recruitment industry.
In February 2019, Jobvite got its biggest boost yet when K1 Investment Management made a majority investment in the company and acquired three other companies under the Jobvite name.
Gilliam said Jobvite was able to combine the best of all four companies (and maintains Talemetry as a separate brand) to offer the innovative, efficient solution used by clients today.
"Traditional talent acquisition is targeted to recruiters in the back office system," Gilliam said. "What we offer is a comprehensive talent acquisition platform that caters to the candidates as well to make sure it's a great candidate experience."
It wasn't that long ago that talent acquisition was largely based on reactive tactics in which companies had to wait for candidates to apply for jobs before they could really assess their skills and abilities. But with the internet, proactive efforts are much easier to implement.

And Jobvite helps clients meet potential candidates wherever they may be in the digital world.
"It gives talent acquisition leaders and recruiters the opportunity to converse with them in all different formats," Gilliam said. "So, whether it's text or chatbots, or phone calls or emails, or even through social media, you can communicate through all these different channels inherently within our platform."
But that doesn't mean a company has to devote hours and hours of valuable time to these efforts.
"We make it possible to automate communication through bot-powered texts and anticipate the employee journey with internal mobility and referral tools driven by human insight and assisted by AI," according to the website.
Jobvite also provides internal mobility and referral solutions, she said. These are valued by recruiters because referrals can be very important when it comes to finding the best-fit talent to help grow a company.
"And our internal mobility solution is super timely and important," she said. "Within an organization, why not leverage and optimize the (talents of) the people you have internally and give people the opportunity for growth."
Jobvite's onboarding solution also helps talent easily transition from candidate to employee and helps reinforce a positive view of the company.
All of this is made possible through Jobvite's innovative approach to talent acquisition and not being afraid to use modern technology to help clients achieve the results they seek.
Jobvite Success Stories from Some of the Biggest Names Across an Array of Industries
Jobvite's 2019 acquisitions resulted in more than 2,000 new customers including a number of Fortune 500 companies such as PayPal, Lenovo, and Panasonic.
The company has helped these and many other companies launch or maintain successful talent acquisition strategies, and Gilliam said Jobvite has numerous case studies illustrating the platform's success.
"We have a national retailer that we work with, and we have helped them run one-day national hiring programs," she said. "This past year, we were about to hire — I think — 30,000 employees in one day for the winter holiday."
Gilliam said it's Jobvite's breadth of abilities and expertise that make successes like this possible and makes a big difference for its customers.
She said the business insights Jobvite is able to provide for its clients surpass its competitors.
"We're providing some companies with a 45% cost savings when it comes to advertising, or we're increasing their conversion rates exponentially, from application completion to candidate conversions in general," Gilliam said.
Jobvite is no stranger to the finance industry either, with several success stories posted on its website.
"The world of finance is ever-changing, and you need the right talent to stay ahead of the next technology and economic curve," according to the website. "We help our financial services companies do just that by creating engaging experiences throughout the entire recruiting funnel — from sourcing to hiring to onboarding."
SoFi, Loan Depot, and Veterans United Home Loans are just a few of the organizations in the finance world where Jobvite has made a positive impact.
And companies can see a testimonial video from Walter Mar, Director of Talent Acquisition at Sovereign Lending Group about how he now uses social media to recruit for talent.
Hulu, the Universal Music Group, Wayfair, and Trek Bikes are just a few of the other well-known companies that use Jobvite's products.
Talemetry Offers Talent Acquisitions Services to Companies with Enterprise Solutions Already in Place
"The other brand that we're continuing to move forward with is Talemetry, which really focuses on the recruitment marketing end of things," Gilliam said. "It's really important that recruiters have that ability to market to and sell the company to candidates."
She said that, while Jobvite is the full, end-to-end recruitment platform, Talemetry's recruitment market focus integrates with some of the other major applicant tracking systems.
"The reality is that some companies, they're full ERP (enterprise resource planning), and so the Talemetry platform will integrate with those other ERPs and it makes sense to go forward with this service for those organizations," Gilliam said.
Talemetry manages more than 38 million candidate profiles for clients with a 70% average application completion rate. It has marketed 550,000 jobs that have garnered 205 million job search views.
"Talemetry offers award-winning, results-based solutions for enterprise organizations that simplify recruitment marketing, modernize engagement with candidate-centric recruiting AI, enable new recruiting strategies, and optimize performance," according to the Talemetry website.
One of Talemetry's main propositions comes with its Evolve product.
"The Evolve Maturity and Efficiency Framework helps you self-identify and develop strategies to improve the effectiveness of your recruitment marketing function," according to the website. "Start by understanding where you are currently. Then put into action the strategies and technologies to move your organization forward."
Gilliam said this framework is an integral part of Talemetry's success with customers.
Evolve's core recruitment marketing processes are divided into six categories: inbound marketing, sourcing, outbound marketing, relationship management, candidate management, and conversion and outcomes.
With its extensive expertise, implementation of technology, the success stories of high-profile clients, Jobvite embodies the modern face of talent acquisition.