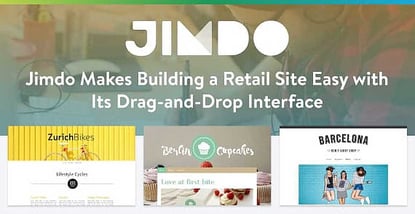 credit card news
Our experts and industry insiders blog the latest news, studies and current events from inside the credit card industry. Our articles follow strict editorial guidelines.
In a Nutshell: When companies venture into the online marketplace, it requires planning for many of the challenges online sales present. From payments to promo codes to shipping, entrepreneurs typically spend a lot of resources on hiring developers to plan ahead for a site that is built to deal with each issue, while also considering aesthetics. Jimdo began with the belief that anyone should be able to build a website without any knowledge of HTML. Jimdo has three tiers for building e-commerce sites through drag-and-drop, and its JimdoBusiness option is well-suited for serious entrepreneurs with hands-on customer support, unlimited inventory, and the ability to accept multiple payment options. The goal is for business people to have more time to focus on their business without sweating the technical details.
Creating an e-commerce website used to be complicated. A lot of details and planning went into making sure your site was equipped to handle anything and everything that came up during the shopping process. You had to consider the payment process, coupons and promo codes, shipping, returns, customer service, and a host of other issues, such as mobile optimization and customer personalization, that only experienced web store owners knew about through trial and error.
Building from the ground up required incorporating a multitude of essential plugins and possessing deep coding knowledge.
Thanks to Jimdo, and its simplified site building tools, diverse templates, and drag-and-drop web design, anyone can build a speedy, professional e-commerce site.
"The Jimdo user is in control of their website, so they don't need to depend on plugins or need to understand how to use HTML," said Maria Tarasova, the International PR and Communications Manager at Jimdo.
Company founders Matthias Henze, Fridtjof Detzner, and Christian Springub started Jimdo in Germany in 2007 to combat the idea that you had to understand coding to build a website, and that's evolved into an easy process of creating web stores.
As evidenced by its simplified site building platform, Jimdo's primary focus is serving customers, and that manifests itself with regular customer surveys, informational blog posts, meetups, and an open invitation for customers to visit its office in Hamburg for face-to-face assistance.
"We're very informal with our customers," Maria said. "We try to treat them as friends."
Free, Pro, and Business Pricing Tiers Meet Diverse E-Commerce Needs
Responding to the need for more features over the years, Jimdo now offers three pricing tiers for e-commerce site building and management that continue its commitment to providing superb customer service for all. It's simple to upgrade and downgrade according to needs so users are never stuck in one tier. All three include zero transaction fees, customer support, access to templates, secure checkout, and mobile optimization.
JimdoFree, as you might have guessed, is the free version, and it's a solid option if you're looking to establish an initial web presence or test out the drag-and-drop site building tools. Inventory is limited to five products, and payments are only through PayPal, so serious entrepreneurs would likely need to upgrade for large-scale e-commerce objectives. However, with JimdoFree, it's simple to set up a site quickly and begin receiving orders.
JimdoPro is geared toward freelancers, creatives, and bloggers, but it does begin venturing more into e-commerce with the ability to provide extra payment options and an inventory max of 15 products. This mid-level tier also allows you to establish more of an identity for your brand with a custom domain and business email account.
JimdoBusiness is the premium level and is recommended for serious e-commerce companies. Entrepreneurs using this option can scale up through an unlimited inventory. Also included are management tools to track coupon codes and affiliate marketing referrals. Most serious e-commerce sites will have more than one employee, so the ability to have up to 20 business email accounts and unlimited forwarding are really useful features.
An Interface that Simplifies Site Editing and Management
Non-tech savvy people view web developers as wizards for their abilities to conjure up beautifully designed websites out of thin air, and they certainly deserve respect for their talent.
However, not everyone has the same skill set. Many entrepreneurs are excellent at running businesses, but if you asked them to create an attractive, functional e-commerce site, they would look at you as if you were speaking a different language.
Constantly looking to update its already user-friendly software, Jimdo gives store owners new levels of control over their content. Jimdo makes it easy to set up your site for optimal conversions, with features that include full-size imagery, product descriptions, and videos and blog posts that advertise your products.
Users also have the ability to plug their sites into Google Analytics for advanced statistics and analytics that ensure site content is optimized for search engines. There's also a Jimdo upgrade called rankingCoach that helps your site rank in Google's search results. After all, it's hard to make sales on your site when nobody knows it exists.
Stress Less with Easy Customer and Inventory Management
Jimdo lets entrepreneurs around the world create websites without any knowledge of HTML, while navigating any issue with helpful settings and tools that handle customers and inventory.
After making a purchase, a customer has the expectation of being informed on the status of the order, and Jimdo allows for the creation of email templates for commonly sent correspondence such as order confirmations and shipping notices.
Inventory management is critical in e-commerce, and Jimdo makes it simple with the ability to list all of the products in your inventory, including variations such as colors and sizes, how many they've sold, and the asking prices.
Listing an item for sale that you don't have in inventory leads to delays that can drive customers to seek similar products on other sites. A mislabeled order can cause consumers to return items and cease doing business with you.
Create, Edit, and Track Your Site Statistics With the Jimdo Mobile App
Maria told us that when its mobile app hit the market in 2013, Jimdo positioned itself as a site-building pioneer.
"Nobody could offer anything like creating a website on the go at the time," Maria said.
Since then, the company has added extra functionality and improved loading times to the Jimdo mobile app to adapt to customer needs. Thanks to responsive templates that fit any screen shape, you can now edit your site from anywhere, adding pages and adjusting site navigations. On-the-go e-commerce site owners can track site statistics and alert buyers when products have been shipped.
"We're asking them for feedback," Maria said. "We're asking them for what features they need, and then we're trying to think what else could they need."
Integrated Business Email Templates Automate Sales Processes
A system of simple, efficient email is essential to running a successful e-commerce site because it represents your voice to consumers. Email problems can lead to unfilled orders and angry shoppers.
Business owners are busy people by nature, and between managing employees, bringing in new customers, and developing new product ideas, they don't have time to sit down and notify every customer via email each time they get a new order or send out a shipment.
Jimdo allows store owners to create automated email templates that are personalized to the customers receiving them, which saves a lot of time for businesses that receive a lot of orders.
These templates serve as your voice to your clients, and you can customize them to fit your message of appreciation for your customers. Also included is a template that notifies international customers of shipping information.
Jimdo on its Customers: "Their Success is Our Success
Retail e-commerce sites contributed $305 billion dollars to the U.S. economy in 2014, and that number is expected to grow to $548 billion by 2019. A fast-loading, professional website is essential in converting consumer purchases, and it's estimated that slow e-commerce sites resulted in as much as 18% of abandoned shopping carts.
Jimdo's drag-and-drop design and advanced store settings help entrepreneurs achieve speed and functionality without the need for any technical know-how. The company's development team takes care of the coding, allowing its customers to focus on their businesses.
The simple site creation process has become extremely popular, blossoming from 6 million websites to more than 15 million in the four years Maria has been at Jimdo. That growth has enabled the company to blossom right alongside its user base, and it now employs more than 180 team members.
"I remember when we were still counting paid subscriptions in each country, we would celebrate when we reached 5,000, 10,000, and so on," Maria said. "We stopped doing it because we wouldn't be getting any work done."
Treating customers as partners has paid dividends for Jimdo, which has enjoyed telling some of its customers' success stories in television commercials, only to see those sites flooded with traffic and purchases that outpace inventory.
"It's what keeps us going here at Jimdo, this motivation to make our customers successful," Maria said. "Their success is our success."