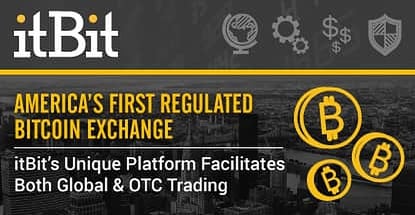 credit card news
Our experts and industry insiders blog the latest news, studies and current events from inside the credit card industry. Our articles follow strict editorial guidelines.
In a Nutshell: In less than a decade, bitcoin and blockchain technology have appeared and revolutionized business on a global scale. A peer-to-peer cryptocurrency with built-in security, bitcoin challenges traditional banking and significantly cuts transaction costs. These advantages have made it a hot trading commodity for individuals and businesses, as well as an investment opportunity for financial services who see its potential. Launched in 2013, itBit offers a suite of bitcoin trading services and stands alone in giving bitcoin traders access to both a global exchange market and a boutique OTC Trading Desk under one account. In 2015, itBit also gained the advantages of New York State oversight and security for U.S. traders by becoming a trust company. With assets held in FDIC-insured accounts and capital backing, itBit gives its U.S. customers greater bitcoin trading security and peace of mind.
Before 2016, the term "bitcoin" couldn't be found in the dictionary; before 2008, bitcoin didn't exist. Now, there are more than 16 million bitcoins in circulation and more than 100,000 merchants worldwide that accept bitcoin as payment for goods and services.
Even though this form of digital currency is becoming more familiar and accepted around the globe, it can still be a little confusing for those of us whose concept of virtual currency might be limited to the coins we collect while playing video games. So, what exactly is a bitcoin?
Created in 2008 by Satoshi Nakamoto, bitcoin is a type of cryptocurrency; digital funds that are designed to be exchanged with the use of cryptography (encryption). Cryptocurrencies like bitcoin allow extremely secure transactions and control over the creation of additional currency (new bitcoins are generated by individuals known as miners with advanced software and mathematics).
Bitcoin miners are responsible for verifying and recording bitcoin transactions in blockchain – a time-stamped, ultra-secure database that serves as the currency's publically owned (fully distributed) financial ledger.
The advantages of bitcoin and blockchain technology for financial transactions are obvious. Since its design resists duplication, bitcoin eliminates the problem of double charges, like the ones you might occasionally catch on a credit card statement. It isn't backed or regulated by any one government, doesn't require banks, involves few (if any) transaction fees, can be traded directly between two individuals in any location, and — unlike other forms of electronic payment — can be used anonymously.
With bitcoin, international payments instantly become easier and more cost-efficient; small businesses can avoid credit card fees, and remote economies can carry on business regardless of their location or affiliation. For these reasons, some see bitcoin as the currency of a growing global economy.
In 2013, itBit joined the ranks of financial services companies that offer trading services for bitcoin.
"Fully realized, bitcoin will fuel a truly global economy, and give the power and security of digital payments to the unbanked," itBit CEO of Asia, Rich Teo, said in a statement. "We built itBit to be part of the underlying infrastructure that supports that greater global economy."
What makes itBit unique among bitcoin exchanges is that it stands alone in offering bitcoin traders access to both the global exchange and a large-block OTC Trading Desk. Based in New York City, itBit also became a trust company about two years ago, allowing it to provide a greater level of security and integrity in the bitcoin exchange market.
Active Traders Buy & Sell on itBit's Global Bitcoin Exchange
ItBit's Global Bitcoin Exchange, accessible from an online platform that's also available on a mobile device, caters to both individuals and formal institutions. Once you set up an account, you can buy or sell bitcoins within a vast network of affiliated traders that spans more than 100 countries across the globe.
ItBit's Global Exchange's maker-taker pricing model offers higher liquidity and lower fees to its customers. If you follow the maker model, you're someone who purchases bitcoins by bidding lower than the current best offer and sells it by offering higher than the current best bid. In other words, you're a long-term trader who's patient and willing to wait out the market for the best profit. Because maker-model traders contribute to the liquidity of the exchange market by creating "resting" orders, itBit offers them commission-free transactions.
On the opposite end, taker-model traders have a more aggressive trading style — buying at an equal or higher bid and selling at an equal or lower bid, all within a short time. For this convenience, itBit charges takers a small transaction fee that depends on their trading volume. However, if you're an active trader with a 30-day volume that exceeds 2,500 bitcoins, itBit will discount your transaction fees. This policy encourages takers to trade at higher volumes, which benefits the market.
An OTC Agency Trading Desk Specializing in Large Trades
If you're an active bitcoin trader who can make large block trades (what itBit defines as at least 100 bitcoins per transaction), you can also gain access to the exclusive OTC Trading Desk.
Along with access to the desk, large block traders receive personalized customer support from a team of experienced traders and a flat fee of 0.10% per transaction.
U.S. Client Assets are Protected & Backed by Capital Reserves
Because of blockchain technology, bitcoin is one of the most secure, error-free forms of digital currency, but there's still the possibility of theft or loss based on how it's stored. Bitcoins never actually leave blockchain ledgers, but the keys, or credentials, used to access them can be stored either in a virtual wallet managed by a cloud service or on a computer's hard drive — neither of which are typically bank-regulated or FDIC-insured.
As large-scale data breaches in recent years show, even secure cloud services aren't impervious to hackers. Viruses can wipe computer hard drives, and humans can accidentally delete their own files. Like other bitcoin exchanges, itBit minimizes these concerns with sophisticated security measures on its trading platform, safe storage (bitcoin orders are stored offline, or in "cold" wallets), and careful employee vetting processes.
What truly sets itBit apart when it comes to security is the legal oversight and protection it offers its U.S. customers through its position as a trust company chartered by the state of New York. As their CEO told Business Insider, "What became clear to us was you really needed some kind of regulatory structure because if you're moving regulated assets, it's hard to do that without a regulated entity."
itBit's trust charter obligations go beyond the state's typical BitLicense requirements. All U.S. dollar assets held by itBit are held in partnering U.S. banks in FDIC-insured accounts, and U.S. customers' bitcoins are protected and backed by capital reserves.
Since the very concept of bitcoin and other cryptocurrencies is to eliminate the middleman in the form of financial institutions, itBit clarifies that it is not a bank, but more of a legal custodian, of its U.S. customers' assets. The company believes that working with U.S. regulators and financial institutions will improve and expand the services — along with the security and trust of the services — they can offer to those who desire to trade in cryptocurrencies.
A New York-Based Company Bringing Peace of Mind to Bitcoin Trading
Despite its relative infancy in the dictionary, bitcoin has quickly become a popular form of digital currency. Considering the advantages of its encryption security and ability to facilitate even the most remote exchange of funds, many companies like itBit have recognized its potential to revolutionize global commerce.
As a leader in the bitcoin space since 2013, itBit offers its customers the unparalleled ability to trade with ease, speed, and security on both the global market and a private OTC Trading Desk. A deep order book encompassing traders and institutions from more than 100 countries and a maker-taker pricing model increase the liquidity of its bitcoin market and rewards high-volume trading.
Using bitcoin financial services can offer greater freedom and lower costs to individuals, small business owners, and corporations alike, but it can still come at the cost of less security and reliability. itBit addresses this with the addition of its trust charter and the oversight of a trusted government regulator.
While retaining its customers' freedom to trade globally in bitcoin, itBit offers U.S. traders additional peace of mind knowing their assets are protected, yet ready to access at any moment.