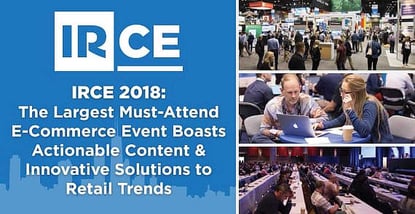 credit card news
Our experts and industry insiders blog the latest news, studies and current events from inside the credit card industry. Our articles follow strict editorial guidelines.
In a Nutshell: The line between in-store and online retail continues to blur as consumer demand for integrated, multi-channel shopping experiences drive retailers to restructure and restrategize — and leverage the latest technology to do so. That's what the annual Internet Retailer Conference and Exhibition (IRCE) has helped brands solve for more than a decade. IRCE 2018, held at Chicago's McCormick Place West from June 5–8, will bring the latest e-commerce industry insights and technology to more than 10,000 attendees. With over 130 sessions and workshops featuring fresh, actionable content from leading executives and entrepreneurs, and 600+ exhibitors presenting the latest technology and business solutions, attendees will come away with the strategies and tools they need to thrive in the evolving retail marketplace.
Competition between offline and online channels often encourages an "us versus them" approach that pits traditional brick-and-mortar brands against e-commerce platforms. But, as retailers are discovering, consumers continue to shop in-store even as they shop more online — and they want the best of what each experience has to offer.
As retailers strive to deliver the multi-channel shopping experience customers want, they're looking for ways to broaden their capabilities, including better integration of their online and offline operations. The question is shifting from "How can we compete with them?" to "How can we become them?"
Take, for example, the merging of digital technology and the in-store experience offered at checkout-free Amazon Go stores. To compete with that model, brick-and-mortar-rooted Walmart recently acquired a string of e-commerce brands to better address the growing interest in buy online, pickup in store options.
David Southworth, Vice President and Show Director for the annual Internet Retailer Conference and Exhibition (IRCE), sees the merging of retail channels as evidence of the power of consumer behavior.
"It's the disruption of shopper habits that drove this, and increasing use of mobile is leading significant changes in retail," he said. "Retailers of all sizes are trying to catch up and also stay ahead."
At IRCE 2018, held in Chicago's McCormick Place West from June 5-8, e-retailers will again have the opportunity to tap into expert insights and learn to leverage technology to address these changes and future-proof their businesses.
IRCE — the largest US e-commerce conference — has been at the forefront of the digital transformation since its first event in 2005. Through its combined conference and trade show format, IRCE connects small and large e-commerce companies with current, actionable content and the cutting-edge solutions they need to succeed in the evolving retail environment.
This year, attendees can expect all-new content, over 600 exhibitors, and the announcement of 2019's RetailX — a combination of three major shows that prepares retailers and solution providers for the convergence of e-commerce, in-store, and technology.
130+ Sessions of Fresh, Actionable Content and a Lineup of Hands-On Workshops
IRCE draws more than 10,000 attendees every year. Although each attendee has a unique agenda, David said those who attend IRCE are generally looking for two things. "On the conference side, they're looking for fresh content every year. They're also looking for a wide range of exhibitors, from marketing agencies to fulfillment vendors."
And IRCE delivers on both, starting with a lineup of workshops and content-packed sessions in a flexible format that allows attendees to create their own custom conference experience.
"The backbone is educational content. We feature over 130 sessions spread over four days," David said. "There are pre-conference workshops on Tuesday, June 5; two main conference days; then, on Friday, June 8, there are post-conference workshops. Spread across those four days are 16 total conference tracks, and each has unique content."
IRCE's workshops will include something for everyone. The debut of the New Recruit Boot Camp track is designed to equip young e-commerce businesses with the fundamentals of growing online, with topics ranging from website design to efficient order fulfillment. Post-conference, Search Workshop sessions will discuss the latest strategies for drawing site traffic while the Design & Usability Workshop will provide keys to creating user-friendly desktop and mobile sites that customers can more easily engage with.
Rather than ignoring the e-commerce giant that sets the pace in the online marketplace, the Amazon & Me workshop will tackle topics related to the universal challenges and opportunities of either competing against or working with Amazon on a global scale.
Wednesday morning's sessions will kick off with keynote speaker Dave Gilboa, Co-Founder and Co-CEO of Warby Parker — the young eyeglass brand whose growth demonstrates how a business model that delivers affordable, high-quality products to consumers through multiple channels can drive customer loyalty and success. Influential author and speaker Seth Godin will also appear on Wednesday, and Alon Cohen, President and Co-Founder of Houzz, will headline Thursday's conference sessions.
More than 200 innovative entrepreneurs and top executives from leading retail and e-retail brands will engage attendees over four days on topics that address the latest trends in e-commerce — from customer behavior and marketing to technology and operational efficiency.
"Our Success Strategies for Top Executives track is a combination of opportunities that exist today as well as forward-looking opportunities like how retailers might leverage artificial intelligence, should it be implemented today or is it a trend that's going to be more powerful in the future," David said.
Whether attending workshops or mainstage sessions, IRCE attendees will take relevant content back to their businesses that can be put into practice immediately.
"It's solid content that's actionable," David said. "Our session content is prepared in advance and curated by IRCE in partnership with editors at Internet Retailer magazine. We always come up with topics first and then find speakers for them based on their stories and experience."
600+ Exhibitors that Meet a Wide Range of Retailer Needs and IT Spend
IRCE 2018's Exhibit Hall, open Tuesday through Thursday during conference hours, will be the venue for Tuesday's and Wednesday's cocktail reception and will feature seven lounges where attendees can relax, recharge, and connect with each other.
But the key focus of the Exhibit Hall will be the more than 600 exhibitors demonstrating the latest in e-retail technology and business solutions.
"Exhibitor categories range from website design and hosting to e-commerce platforms and search engine marketing to logistics and fulfillment to AI and the Internet of Things," David said. "There's a broad base of exhibitors to meet every e-commerce need. Some of our larger ones are NetSuite, Bronto, ROI Revolution, Maropost, Magento, and Shopify Plus."
Based on exhibitor feedback, David said, the variety and scale of the businesses represented by IRCE's attendees is what, in turn, attracts such a wide range of exhibitors to the event. "They appreciate that we draw attendees with a wide spectrum of needs. We attract single-person businesses all the way up to large enterprise retailers," David said.
IRCE also offers an Exhibit Hall-Only Pass that provides a more flexible way for attendees to make the most of time or budget limitations. Whether it's the executive with an enterprise business or the entrepreneur just seeing growth, over 2,000 IRCE attendees are expected to choose this option to find the right business solution to meet their needs.
And getting the chance to lay eyes and hands on the latest technologies for retail while gaining knowledge of industry-specific trends and strategies is what makes IRCE 2018 such a powerful event for e-commerce retailers of all sizes.
RetailX 2019 will Address the Intersection of E-commerce, Store Design, and Innovation
As consumers demand more seamless and integrated experiences, the industry has struggled to answer to convergence of in-store and online retail.
To address this, IRCE has announced the launch of a new event for 2019 titled RetailX. The innovative conference will bring together three distinct shows: IRCE, GlobalShop — the largest event for in-store design and marketing — and RFID Journal LIVE! Retail — the tagging technology event devoted to retail applications.
"The line between e-commerce and retail stores is blurring. Buy online, pick up in store is almost a given, as well as order online, fulfill from store. There's a need for more inventory accuracy to do those initiatives, which is where RFID comes in," David said.
"We identified compelling affinities across the three shows and the opportunity to create a unique destination became very clear. By unifying under the new RetailX brand, IRCE will continue to draw our loyal attendees as well as high-level chief technical and marketing officers that look after both brick and e-commerce initiatives and customer experiences."
The inaugural RetailX is expected to draw about 20,000 attendees and 1,200 exhibiting brands to the 400,000-square-foot exhibit space at McCormick Place in Chicago June 25-28, 2019.
"The key is very expansive and targeted educational content," David said. "The content will remain as fresh and innovative as it was under each of the legacy shows, so attendees who are used to the content of each show will be refreshed to find that the content will be even more tailored to their needs."
Providing Businesses E-Commerce Insights to Exceed Consumer Expectations
The digital age has enabled online, mobile, and social e-commerce — yet consumers still gravitate to stores as places to tangibly engage with products and brands. The desire for mix-and-match shopping capabilities is driving a blurred definition of online and offline channels, and retailers are taking steps to adapt and evolve.
"It's not online versus stores anymore," David noted.
Instead, the focus has shifted to delivering integration that improves the customer experience and meets them wherever they choose to shop, which is causing retailers to examine the integration of their own departments.
"It's shaping how teams at these companies are formed internally to answer these kinds of questions and initiatives," David said. "We're seeing more collaborative teams being built across channels and more innovation teams taking a single-view-of–the-customer approach."
Modern retail businesses need to leverage the latest insights and technologies, and IRCE 2018 will give retailers access to action-oriented strategies that will help them provide the integrated experiences their customers are looking for.
"As they allocate IT and infrastructure spend across e-commerce and brick-and-mortar, the show will provide them with a more comprehensive view of how they should wisely spend their capital," David said.
Presenting the latest industry insights and cutting-edge technology solutions, IRCE 2018 is a must-attend conference for not just e-commerce players but anyone in retail today.