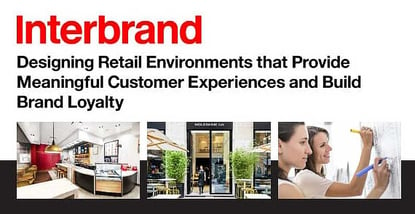 credit card news
Our experts and industry insiders blog the latest news, studies and current events from inside the credit card industry. Our articles follow strict editorial guidelines.
In a Nutshell: To stand out in a competitive market, it's always a good idea to have a thorough understanding of your customer. Understanding when it might be time for a brand redesign or how to go about doing it, however, is something that requires finesse. Founded in 1974, Interbrand is a consultancy that helps brands change their images using market research, strategic forecasts, and creative design. The agency helps global companies identify customer needs and bridge the gap between those unmet needs and business growth. Partnering with a brand consultancy like Interbrand can help you determine the steps needed to propel your brand to the next level, or simply to remain fresh and relevant. 
Most ice cream lovers are familiar with Häagen-Dazs — the frozen dessert brand associated with quality ingredients and delicious flavor offerings. One thing Häagen-Dazs hasn't always strongly focused on, however, is its brick-and-mortar retail experience.
"The ice cream shops didn't go with the prestige and premium quality of the brand," said Ryan Brazelton, Executive Creative Director at Interbrand, a brand consultancy that specializes in creating consumer and retail brand experiences. "There was a complete disconnect."
As a response, Häagen-Dazs wanted to step outside of the box and do something different. Häagen-Dazs wanted its retail shop to be one that matched the quality of its brand and stood out from competing ice cream parlors, so it partnered with Interbrand to create a more iconic experience.
The first thing that Interbrand did when partnering with Häagen-Dazs was a comprehensive audit of the landscape. By looking at other ice cream shops and analyzing the stereotypes that occur within that landscape, Interbrand helped discover what Häagen-Dazs really was as a brand.
"Almost without exception — almost every ice cream store you walk into, you're looking at five-gallon buckets of ice cream," Ryan said. "When you look across the category, there aren't a lot of stand-out ice cream parlor leaders. There really are no leaders in the space from the experience standpoint"
The end result was a drastic departure from everyday ice cream parlors. The new shops feature beautiful photography, marble countertops with brass joinery, carved wood stools, and not a trace of five-gallon buckets at the counter. At the new Häagen-Dazs shops, customers can sit on a barstool, look at a flavor menu, choose their toppings, and enjoy a premium experience that matches the quality of the brand.
"We wanted to make an easy, simple, more iconic way to choose your flavor," Ryan said. "And we make it all about the finishing. Sort of a classic twist on the old soda pop counters from back in the day."
In creating an inviting experience, Interbrand helps businesses stand out in the marketplace through a thorough understanding of customers and how to speak to their needs in an innovative way.
Why Businesses Turn to Interbrand for Innovative Redesigns
According to Ryan, businesses approach Interbrand for a variety of reasons. The first relates directly to strong, iconic brands, which place an importance on the value of customer experience in retail. These brands have a desire to stay relevant, and they're responding to the changes in the market.
"They're continuing to innovate and push the quality of their product," Ryan said.
Interbrand is also called upon when brands are coming from a place of distress. More specifically, the market has moved on, experiences have changed, and design in their respective market has evolved. All of this needs to be addressed.
"Premium design, with a sophistication in typography and color usage, is now seen across any category and any brand," Ryan said. "Today, design is for everybody — it's the Apple-ization of the world."
Interbrand is also enlisted when there's been a fundamental shift in business strategy, brand strategy, and innovation offering. More specifically, something major is changing in the market and the experience no longer supports what's changing. Brands experiencing these types of shifts in the marketplace need to evolve in order to maintain relevance.
Auditing the Market to Determine Unmet Consumer Desires
For brands looking to undergo a redesign, coming up with new ideas is one part of the equation. Determining the unmet needs of a customer, however, is an entirely different process. When working with Häagen-Dazs and other brands, Interbrand uses research, analytics, and creativity to understand these unmet needs and craft an experience that resonates with their customers.
"Bringing experience in line with the brand was one of the key motivators," Ryan said of Interbrand's work with Haagen-Dazs.
The first major step in aligning these experiences is to audit the landscape, which is what Interbrand did before they came up with the new Häagen-Dazs venue. The next steps involve questioning why things are the way they are, what's working, and what can be improved upon.
"We did a very comprehensive audit of the landscape," Ryan said. "We also looked at the frozen yogurt movement because it's closely related. There's a whole design ideology and language that's associated with that, and it's so much more exciting and well done because it's newer and fresher."
Once a thorough exploration of related brands and industries is complete, Interbrand then takes a look at the market to determine why things need to be the way they are within that market. This helps to establish brand identity, which is critical when it comes to crafting a winning customer experience.
"For Häagen-Dazs, it's about being premium, it's about the quality of the ingredients, and it's about the artistry and the craftsmanship," Ryan said.
The Creative Strategy Behind Building a Brand Experience
Establishing identity is an essential step in the branding process, and once this step is complete, it's time to create an experience that aligns with it. For Häagen-Dazs, it was important to create a retail experience that was just as memorable as its ice cream.
The dessert purveyor hid the five-gallon buckets of ice cream at the back counter and presented an upgraded, consumer-facing experience through enhanced signage and photography that highlights the products. Encouraging samples and creative desserts, Häagen-Dazs moved the toppings and finishing bar to the front to encourage customers to get creative with their desserts.
Having crafted a retail experience that is now, in every sense, a destination means that Häagen-Dazs is always inspired to adhere to its core values: "constructing thoughtfully crafted moments that invite everyone to indulge." Its efforts produced immediate results with brick-and-mortar sales up by 16% within the year of implementation.
Using market research, analytics surrounding what drives sales, and creative branding measures, Interbrand gives businesses a more thorough understanding of what drives customers. This helps to create meaningful brand experiences that provide value for companies, giving them a strong brand identity for long-term growth.
Understanding & Satisfying the Customer Leads to Success
Thoroughly identifying what drives customers, and aligning these factors with the brand, are key ingredients to a world-class retail experience. Häagen-Dazs quickly saw sales increase when it updated its in-store experience with the help of Interbrand.
The brand consultancy's creativity and talent hasn't gone unnoticed, claiming nine awards in the 2018 REBRAND 100 Global Awards competition, including the prestigious Best of Award.
The agency has worked with leading brands like Disney, Nike, AT&T, Porsche, Samsung, Xerox, and countless others, using an understanding of individual markets to deliver redesigns that help brands stand out in competitive environments.
"No two clients are the same; they're all so different," Ryan said. "We have our set of tools and we think, 'What do they need?'"