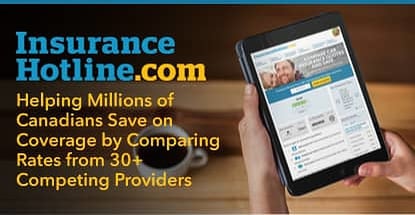 credit card news
Our experts and industry insiders blog the latest news, studies and current events from inside the credit card industry. Our articles follow strict editorial guidelines.
In a Nutshell: One of the most intelligent things you can do when shopping for insurance is to compare quotes from several providers. After all, taking the time to look around for competing rates and knowing what each provides in terms of coverage leads to better value. As Canada's largest online insurance comparison network, InsuranceHotline.com does the legwork in helping people get ideal rates on coverage by leveraging its network of more than 30 providers. Consumers who use InsuranceHotline.com to do their comparison shopping save an average of $700 annually on auto insurance, while also getting the best value on home, life, motorcycle, commercial, and travel insurance.
When navigating through a sea of insurance companies, there seems to be no apparent logic behind the huge disparity between prices from one provider to the next. This alone can make shopping for insurance daunting.
Many people are spending more than they should on insurance, particularly when it comes to auto coverage, and this is largely because most people don't want to deal with the hassle of the search. What most don't realize, however, is how significant the savings can be when they take a few extra steps to find the right policy.
"I don't think people realize how easy it is to compare because the majority of people pay monthly, so they think it's a bit of a headache to switch insurance companies, but it's not really," said Anne Marie Thomas, Senior Manager of Partner Relations at InsuranceHotline.com.
"We get busy, we see the renewal, and we say, 'we'll get to that.' Then the date comes, and we're still left with the same policy. It's kind of a set it and forget it mentality."
This "set it and forget it mentality" that Anne Marie is talking about applies to auto coverage, and it can also be true of home, life, and commercial insurance policies.
By working with over 30 insurance providers, InsuranceHotline.com negotiates the best possible rates for its Canadian-based customers. "We maintain relationships with companies whose rates we get because we want to make sure that the rates we're providing on the site are accurate and the best that we can get for customers," Anne Marie said.
Millions of Canadians use InsuranceHotline.com's services each year, and they're saving quite a bit of money on their coverage. The process of comparing quotes on the site is fairly simple, and Anne Marie estimates that it takes around seven minutes to enter all of the necessary information to get started.
Consumers Receive Broker Rates from Leading Providers
Knowing who to call and where to begin shopping for a policy is the first step in the process of getting more value for your insurance money. InsuranceHotline.com's rates provider, one of the largest in Canada, offers Canadians the same rates that brokers are getting.
"What happens on the back end is, once we collect all of that consumer information, we send out a call to our rates provider, who is a provider for the majority of the insurance industry here in Canada," Anne Marie said. "So the consumer and the broker are all getting the same rates."
Getting a broker rate means you're not paying anyone a commission for setting up your policy. InsuranceHotline.com has established relationships with these providers and brokers, so when you sign up and are connected through them, you're likely going to receive a much lower rate than you would if you were doing the negotiating on your own.
"We send the consumer the broker file. In essence, it's like matchmaking," Anne Marie said. "We connect consumers with the brokers who can get them the lowest rate for their profile."
Answer a Few Questions for Free Quote Comparisons
Requesting a car insurance quote on InsuranceHotline.com is a fairly straightforward process, and it doesn't cost anything. You're not required to hand over any of your personal contact information until you've agreed to a quote so the process is also risk-free. You'll be asked to provide details, including your vehicle make and model, whether you finance or lease, your driving history, and how long you've been driving.
"Consumers go on the site, enter their information, and it takes them about 7 minutes if they have a lot of thinking to do," Ann Marie said. "Once you enter in all your information, we present you with a rate."
InsuranceHotline.com then does all of the comparisons. Following this process, you'll be presented with your free quote, and then it's up to you to decide whether you'd like to move forward with it.
"Once we talk to the company, we get back a bunch of rates; we sort through those rates to find the lowest one, and we present the rate to the consumer," Anne Marie said. "If the consumer likes the rate we present, and they're currently paying more than that, the consumer then commits by giving their email and phone number, but not until they get that rate."
Not disclosing any personal information until you've agreed on the rate means that if you decide not to move forward, no one will be able to contact you down the road to try and get the sale. This allows you to continue shopping around and comparing if you feel like it without being bombarded by emails and phone calls. You can come back to InsuranceHotline.com if and when you're ready, and if you do decide to move forward with the rate, you'll be put directly into contact with the provider.
Fair-Priced Coverage for Your Life, Home, Travel & Business
While most of the consumers who use InsuranceHotline.com are shopping for auto insurance, the company also provides quotes for life, home, travel, and commercial insurance. Because they work with so many providers, you can find fair deals on these types of policies in addition to your auto policy.
"Life insurance — that's a little bit quicker of a quote," Anne Marie said. "Consumers just enter their age, what kind of coverage they're looking for, or how much of a term policy they're looking for. They enter what kind of a partner policy they want — so, like, a husband or wife or something. They enter if they're a smoker or non-smoker, and that's it — they get a premium and we connect them."
If you run your own business, own a home, need life insurance, or are planning a trip, having an affordable and comprehensive insurance policy for these is a good idea. InsuranceHotline.com can help, and it eliminates the need to do all of the comparison shopping yourself.
Helping Canadians Save an Average of $700 Annually
Shopping around for the right insurance policy doesn't have to cause headaches, particularly when services like InsuranceHotline.com exist to do the bulk of the work for you.
"We encourage consumers to shop around," Anne Marie said. "And even if you're not going to shop around, phone up your existing broker and ask if there are any discounts out there that you don't currently have."
By working within its large network of providers, InsuranceHotline.com gives Canadians access to some of the industry's most competitive rates. It's worth revisiting your current policy to determine whether you can improve on the rate you're paying. If you can save an average of $700 per year on car insurance, that's a lot of extra cash in your pocket.