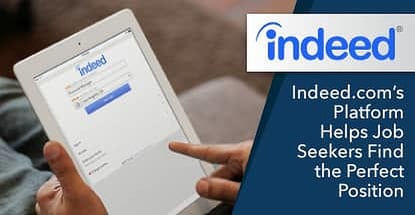 credit card news
Our experts and industry insiders blog the latest news, studies and current events from inside the credit card industry. Our articles follow strict editorial guidelines.
In a Nutshell: We all have that person on our social media timeline who shares a little too much information about their lives. While many modern web surfers are quick to display pictures and details about their daily routines, many are hesitant to tell online friends, or co-workers, they're searching for a job. Every day, thousands of people across the globe buck that trend with an "I Got A Job!" Post on Indeed.com. Indeed is the world's largest job search engine and fills more positions than all other online job marketplaces combined. The website logs more than 200 million unique visitors each month, with 90 million résumés currently on file and thousands of new jobs added daily.
Social media networks have grown over the last decade into an odd form of online journaling, where people share (and often overshare) every intimate detail of their lives with the public. The lack of a filter with some posts can be astounding.
But while it seems half of America is in a hurry to share pictures of what they ate for dinner last night, far fewer are comfortable sharing details about their online search for a job.
Every month, more than 200 million unique visitors from over 60 different countries visit Indeed.com's job marketplace, making it one of the most-trafficked sites on the web. Indeed has connected millions of people with their perfect career match, whether it's an employer looking to hire or an employee looking to advance their career.
The company recently surveyed 10,000 of its users in nine different countries and asked about their privacy concerns when applying online for a job. Survey questions asked Indeed.com users about sharing job-search details and what other life events they were more comfortable talking about online.
Of the worldwide respondents, 65% said they worried others would find out about their job search, while 66% of American survey takers shared that sentiment. Meanwhile, 58% of Americans said they wouldn't tell their partner they were looking for a new job. Of those same respondents, 36% said they're most likely to talk about their relationship openly online without concern.
Many job seekers choose to keep their search private in fear of co-worker or supervisor retaliation. Others, despite a worldwide penchant for dishing the dirt about other topics online, are simply embarrassed to admit they're looking for work.
Indeed's vast database of résumés and available employment opportunities have earned the company the title of World's No. 1 Job Site. The process of uploading or updating a résumé to Indeed's current collection of 90 million résumés is secure, private, and easy. Applying for a posted job can take less than five minutes. Thousands of employers search and filter through potential applicants each day to find and contact the right hire.
More than 700,000 New Jobs Added Each Week
With an ever-growing list of new job listings added daily, employment opportunities for skilled workers exist in almost any field. A search function even lets users search for unusual jobs in their area.
Job posts can be filtered by salary estimate, job type (full time, part time, contract, etc.), location, company name, and experience level. Users can also sift through more than 15 million company reviews before applying for a job, or peruse the list of top companies to work for. At the time of publication, the list was led by Southwest Airlines' overall rating of 4.4 out of 5 after 989 reviews.
The platform is available in 63 countries and 28 languages. Candidates seeking jobs can use Indeed's traditional website, as well as a mobile site and app that hosts the same information and resources. Daily email updates alert users to possible matches with new job openings in their area.
The job search engine has been ranked as the top source for external hires and interviews six years in a row by SilkRoad. In 2016, the company helped more people get jobs than all other competing sites combined.
The Hiring Lab Researches Labor Market News and Trends
Finding and acquiring the right job isn't just about sending out stacks of résumés and hoping for a few hits. America's jobs market is changing as the economy shifts and emerging technologies change the way we do our jobs.
Indeed stays on top of these changes with its Hiring Lab. The blog posts original stories that cover the state of the North American job market in detail, breaking down monthly jobs reports in the US, and providing analysis of the Canadian labor market.
An email subscription tool delivers new content from the lab to readers' email inbox when it's published.
The site was unveiled in 2014 as a global research institute committed to advancing the knowledge of employers and job seekers. An expansion in 2016 brought in Jed Kolko as the company's full-time chief economist to help employers understand the trends affecting their industries.
Be the Next Indeed.com User to say 'I Got a Job!'
A fun and inspirational feature on Indeed's website is the "I Got a Job!" page, where more than 11 million users who found a new job through the website share their stories. Hundreds of new success stories are added every hour, each highlighted through a constant scrolling through new posts.
The page shows how a job search may not be something people want to share online, but finding a new job is an exciting, life-changing moment that deserves a post and celebration.
Every day, thousands of job openings in over 60 countries are filled using Indeed.com's job search engine. The company is the world's top online jobs marketplace and fills more positions each year than all other jobs websites combined.
Across the globe, more than 90 million résumés are listed for review by employers who post thousands of new job listings each day. The company has earned the title of top online jobs provider six years in a row by SilkRoad and shows no signs of slowing down.
Users can upload and update their résumés, as well as apply for posted jobs, on the go through Indeed's website and mobile app.