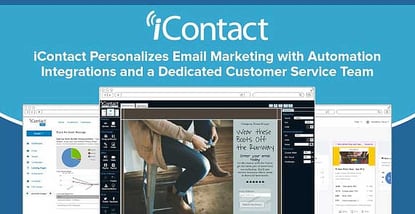 credit card news
Our experts and industry insiders blog the latest news, studies and current events from inside the credit card industry. Our articles follow strict editorial guidelines.
In a Nutshell: Many email marketing automation companies rely heavily on self-service or a knowledge base to do most of their customer support legwork, which can lead to a bit of a disconnect. But that personal connection is vital for businesses — especially SMBs — which is why iContact is highly focused on providing customized and robust service along with a state-of-the-art email marketing platform. Through iContact Pro, a company can automate emails, create responsive workflows, and even monitor campaigns on social media. The company is on a mission to provide comprehensive customer service, and iContact's ultimate goal is to serve as just another member of your marketing team.
When smaller companies — or companies with small marketing teams — go looking for an email automation platform, they are met with plenty of responsive software, stunning interfaces, and the prospect of dramatically higher ROI.
But when those companies have trouble with the software or need advice on a particular email marketing campaign, many software-as-a-service (SaaS) providers miss the mark on communication. An email solution that has a responsive interface but a distant support structure can hinder the efforts of an overtaxed marketing team as their schedules are full of other vital duties.
One email marketing automation company, iContact, is trying to change that trend by offering more than robust software and an intuitive interface.
"We like to think of ourselves as a partner because so many smaller organizations have a marketing person wearing five different hats," said Monica Hoyer, iContact's Interim Marketing Director. "They can't be an expert in email marketing, so we are that resource for them, and we empower them to do what they want to do."
Customization and customer service are two of iContact's biggest differentiators, and the company has also listened to customer feedback and upgraded its design and features to stay ahead of the email curve.
Through automation, easy drag-and-drop design editor features, and dedicated support iContact offers businesses of all sizes a holistic approach to email automation that can be like adding another member to your marketing team.
A Technology Company That Puts Customized Support First
As many technology companies are beginning to steer clients and customers toward self-service, marketing often requires fast answers and even faster strategy shifts. Those objectives are rarely accomplished by reading the FAQs on a website or a white paper on email marketing.
Personalized support is offered to all of iContact's clients, but the company also offers an additional service layer for retailers that need a dedicated email marketing expert. Businesses that use this service layer can contact a dedicated point person for their account to ask technical questions or talk campaign strategy.
"And our strategic services team touts an outstanding 97% customer retention rate across platforms," said Monica. "With that service added, you pick up the phone, and you know you are getting the same person every time, which will be your day-to-day contact. We're trying to bring that personal aspect to technology."
And iContact doesn't just serve its customers, the company listens to them as well. In fact, it relies heavily on feedback to further initiatives like its latest redesign.
"We pay attention to what our customers say, and they wanted a product that was easier to use with drag-and-drop functionality, so we redesigned our product," Monica said. "And the redesign is really resonating with them. Now, you can change colors, fonts, layouts, and padding, and you don't have to be a designer to have a sleek looking email anymore."
With robust service providing peace of mind and knowledge that their feedback matters, businesses can focus on building a winning marketing strategy using iContact's intuitive platform for email marketing and automation.
From Design to Social Media — iContact Pro Makes Automation Easy
The company has two versions of its platform — iContact and iContact Pro — both of which bring enterprise-level email marketing services to any size business. The base iContact version boasts email marketing tools like drag-and-drop editing, campaign tracking, social media sharing capabilities, and an autoresponder. The Pro version takes those email marketing capabilities to the next level, though, starting with automation.
Pro offers all of the features of iContact but includes marketing automation, customizable workflows, easy-to-implement drip campaigns and landing pages. The automation of email workflows allows a business to set up a customer journey for every type of customer interaction and easily set it in motion.
The Pro version also goes beyond social media posting with monitoring and analytics tools. And each version is customizable with add-on layers to address retailer-specific needs. There is a design services team that creates email templates and a social media team that helps identify effective strategies.
This makes iContact highly adaptable to a retailer's needs, and, as Monica says, customizing the platform is a lot like fixing a hot dog.
"Our email marketing service is like a hot dog on a bun, and our Pro service is the ketchup and mustard," Monica explained. "Our service layers are like the relish, onions, and maybe the chili. All of our products build on each other and work together well."
And iContact has additional tools and integrations for businesses that are trying to create more engaging email campaigns.
Built-In Email Tools and Integrations Give Retailers Flexibility
Not many email marketing campaigns are perfect the first time, which is why iContact offers its customers the ability to A/B test campaigns. This feature allows a business to test out two emails on a subset of its customer base and learn not only which one is preferable, but also if there are elements of both that are effective.
"If you do an A/B test, you may see a higher open rate due to version A's subject line, but perhaps a higher click-through rate on version B because of a button's color or words," Monica said. "So, they can use the subject line from email A with the button from version B to maximize performance."
Integration with Salesforce's CRM platform also means iContact Pro can plug into many retailers' customer lists seamlessly. But iContact can also export information, making a Salesforce database even stronger.
"Salesforce can push the information into iContact Pro, and then iContact Pro can push information back out," Monica told us. "So if you use a CRM like Salesforce as your main source of information, the platforms communicate with each other and you can pull reports based on your email campaigns."
In iContact Pro, there is also a tool that allows a retailer to build a customized email sign-up form. That means a business can even use iContact Pro as their CRM because it can gather that information about customers in one centralized place.
iContact's Mission: Serve as Another Member of Your Marketing Team
When a business is looking to build its email marketing presence — or reap the benefits of automation — some software and an owner's manual just won't cut it. Retailers need a company that will provide service to support their growth, which is why iContact views its relationships with businesses more as partnerships.
"We become an extension of your team. If you have a marketing team of three people, an iContact strategic advisor can be that fourth member," Monica told us. "They can be someone who looks objectively at campaigns and gives advice on how to improve them and then help you with every aspect."
With marketing resources being stretched so thin today, many companies can't afford to dedicate as much time to email marketing — even though it can be vital to their bottom line. With iContact, retailers have access to the advanced email marketing automation they need and personalized service that can make them feel like they've added another member to the team.