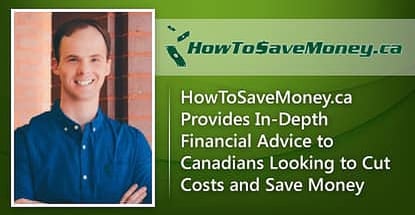 credit card news
Our experts and industry insiders blog the latest news, studies and current events from inside the credit card industry. Our articles follow strict editorial guidelines.
In a Nutshell: Consumers around the globe are constantly on the hunt for new ways to cut costs and increase savings. Each country has its own unique ways of finding deals and building wealth that may not work in other places. HowToSaveMoney.ca provides researched, in-depth articles on finding savings in retail, travel, and other areas tailored to Canadian consumers. Topics include advice on stacking multiple deals to create extra savings, using rewards programs, and improving your investment opportunities and outlook. The website started as founder Stephen Weyman's personal blog and quickly grew into a resource that Canadians in all provinces use before making a big financial decision or purchase.
I've been an overzealous money saver since I was young. While other kids collected baseball cards, I collected money. I wasn't averse to spending, I just enjoyed watching my collection grow over time and always looked for new ways to add to it.
It was obvious from the start that I'd somehow end up in the financial industry. When I was 7 years old, a neighbor wanted to run a lemonade stand in front of her house. She lacked some of the tools needed to open her business, but I was glad to sell her the plastic cups I had leftover from my recent birthday party.
I thought for years that no one else shared my interests. I certainly was unique among my circle of friends. During my teenage years, when the internet made its way into most homes, I learned that I wasn't alone.
Stephen Weyman has a similar story. A lifelong saver, he spent his college years finding new ways to hunt for deals and stretch his income. His passion led to a personal blog that grew into HowToSaveMoney.ca (HTS), one of Canada's largest online resources for tips, tools, and techniques that help consumers maximize their money.
"The website really is a collection of detailed and well-researched articles on all matters and subjects that someone may be interested in while looking to improve their finances," he said.

Stephen purchased the website's domain in 2007, but his career as a software developer and the arrival of a newborn daughter put his internet plans on hold until 2010. Over the last eight years, he's built the website into an authority on money-saving tips and techniques that cover credit cards, bank accounts, retail, travel, and more.
"We look at different sales that may be happening and how you can stack multiple deals together to produce a better deal than what you'd get with the original sale," he said.
Today, Stephen employs a staff that helps research and write stories that are read throughout the country.
"Our goal is to provide researched and in-depth articles on any topic so that when someone visits the site, they can immediately implement the advice," Stephen said. "We don't want there to be leftover questions after someone reads one of our articles. Our goal is to provide as much information and detail in our writing as possible."
Topics Focus on Cutting Expenses and Building Wealth
Canadians searching for an array of financial advice often find themselves at HTS. The variety of topics covered on the site grows constantly, but Stephen finds that certain stories continue to be popular years after they've been published.
"We have a massive article on free internet TV that we're always updating," he said. "A few years ago, cord-cutting was a hotter topic, but it still continues to be one of our most popular resources. People want to access content legally online without having to pay a cable bill."
Stephen pointed to the difference between the American and Canadian streaming market as a reason why many Canadians struggle to find adequate entertainment once they decide to go without cable.
Another popular topic that Stephen has covered in depth on HTS is investing. His family background is extensive on the topic, as his father was a respected financial advisor for many years.
"The regulation on financial advisors and what you need to call yourself a financial advisor in Canada is quite light," he said. "People end up taking financial advice and buying investments from people who are more salespeople. They aren't educating people on the things they should be buying and giving them the full picture."
To help readers differentiate between good and bad advisors in their area, Stephen published the popular 11 signs your financial advisor may be robbing you blind. The article is one of many that Stephen said still prompts reader feedback.
"We occasionally get emails that thank us for offering this resource and telling us about the money they saved because of the advice we gave them," he said. "Those emails obviously make our day and are wonderful to read."
Stacking Deals and Using Rewards Programs to Save More
Stephen and his loyal HTS readers can tell you that the only thing better than getting a good deal on a purchase is stacking multiple good deals together to create a great deal.
Stacking deals is one of Stephen's specialties, and it's part of the reason HTS exists today.
During his college years, he needed to purchase a memory card for his digital camera. At the time, the cards were priced at Staples for $150. Before he could make the purchase, he found an advertisement at another store offering the same card for $100. Armed with the ad, he took advantage of a now-defunct Staples 150% lowest price guarantee. In the end, he ended up stacking the two deals to get the card for $75.
That experience ignited Stephen's passion for saving money and deal hunting.
"We're all about finding good deals at HTS," he said. "But when we can find other deals that can be stacked together, it makes it that much better. The savings can be huge."
In the past, the website has been able to stack deals on travel, clothes, food, and other retail purchases. New posts are regularly added to alert readers to recently announced deals and sales.
HTS also extensively covers loyalty and reward programs like the popular Aeroplan, as well as the robust offerings from Shoppers Optimum from Canadian pharmacy and retailer Shoppers Drug Mart.
Helpful Advice for Canadians with Any Size Budget
No matter what condition your finances are in, HowToSaveMoney.ca offers well-researched, in-depth advice and techniques that help consumers cut costs and save money.
Eight years after starting his personal blog, the site's content — and staff — has grown to match its audience and has proven to consumers everywhere that the love of building savings and finding deals is a universal language.
Going forward, Stephen envisions a website that gives readers even more of what they need.
"Our goals are to rework the site so that it's even more focused on saving people money, no matter what they're interested in," he said. "I want to move away from just being a blog and toward being a resource that people can come to first when they think about saving money on anything."