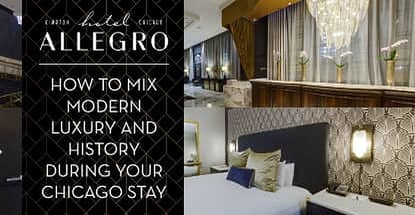 credit card news
Our experts and industry insiders blog the latest news, studies and current events from inside the credit card industry. Our articles follow strict editorial guidelines.
In a Nutshell: People travel for different reasons. Whether you're on the move for business or pleasure, Chicago offers a little something for visitors with any type of to-do list. Nestled among the award-winning shopping, dining, and entertainment options the city offers is Hotel Allegro, which manages to easily combine modern luxury in a historic setting. Located in Chicago's Theater District, immediately adjacent to the renowned Cadillac Palace Theater, Hotel Allegro offers guest rooms that are only steps from many of the Windy City's most popular attractions. The Kimpton Group, which owns Hotel Allegro, recently merged its loyalty program with that of parent company IHG, making stays at this luxurious Chicago destination easier to obtain for rewards enthusiasts.
I grew up in an era of physical information — a time when looking up a word meant actually picking up a heavy dictionary or encyclopedia and flipping through pages to learn its definition.
While the digital age has generally done away with the need for alphabetization and the Dewey Decimal System, technology has made many tasks — including looking up the definitions of words — easier and faster.
For example, I decided to look up the true meaning of the word "rewards." Anyone who frequents this site knows how much we talk about the perks many credit cards give to customers in exchange for their loyalty, but a closer examination of the word shows that your cash back, miles, and points are far more than perks.
Thanks to the Oxford Dictionary (in its modern, digital form), a quick search shows the word reward means "A thing given in recognition of service, effort, or achievement." You've earned your credit card travel rewards — they weren't just given to you. So if you're going to use those points to fund a vacation, shouldn't your trip be an equally rewarding experience?
More than 50 million people visit Chicago each year. Most come for the award-winning shopping, dining, and entertainment options. Others come for the top-notch accommodations and luxurious hotels the city offers. Visitors who choose to stay at Hotel Allegro receive the best of both worlds.
Located in the heart of the Windy City's Theater District, and only steps from the shopping and dining experience in The Loop, the Hotel Allegro houses modern luxury in a building Fodor's has called one of the most historic and architecturally interesting hotels in Chicago.

The hotel embraces the rich history of its iconic 1920s building and features luxurious accommodations, extraordinary amenities, and attentive service from check-in to check-out.
Whether you're in town for business or pleasure, Hotel Allegro places you next door to the Cadillac Palace Theatre, across the street from Chicago's City Hall, and within minutes from the Civic Opera House.
Guests enjoy easy access to all of the Loop theaters and cultural attractions, world-class shopping and fine dining on State Street and the Magnificent Mile, and the bustling nightlife of nearby River North.
Most non-branded travel reward credit cards will reimburse for flights, cruises, or hotel stays at any location and with any brand, while branded credit cards may be more particular with your choice of travel provider. Either option typically provides an online portal to access your account and cash in rewards for either statement credit, cash, or immediate discounts on your travel expenses.
Depending on the number of rewards points or miles currently in your account, you could be well on your way to a memorable trip to one of Chicago's most luxurious and accommodating hotels.
Stay Close to Chicago's Most Popular Destinations
Full disclosure: I'm a Chicago native. With that said, I've traveled to many of the world's most popular destinations and have yet to find cuisine as diverse and enjoyable as I've had in the city.
Hotel Allegro guests — whether they're foodies or just want a good meal — only need to take a few steps from the building to have access to the city's best food, drink, and entertainment.
"The hotel is in the middle of everything Chicago has to offer," said Marco Scherer, General Manager of Kimpton Hotel Allegro. "We're steps away from the L train stop which can take you to various neighborhoods throughout the city. It's very convenient when you want to catch a Cubs game in Wrigleyville or a White Sox game on the South Side."
Hotel Allegro's location, next to the Chicago River Walk, gives guests access to restaurants, bars, and activities, including the famed Architectural River Tours or kayaking rides. A night at the renowned Cadillac Palace Theatre is a snap since the theater's historic building abuts the hotel.
"Adjacent to the hotel is 312 Chicago which stands out as one of the city's favorite Italian restaurants," Scherer said. "The restaurant showcases innovative takes on Northern Italian classics as devised by Italian-born Chef Luca Corazzina. Located in our lobby, Bar Allegro is a classic American bar with a contemporary twist."
A Revamped Building that Remains Historically Significant
Hotel Allegro rests on the site of the Bismarck Hotel — opened in 1894 by the four Eitel brothers. Thirty years later, the brothers demolished the building and built the Eitel Block, which included the Metropolitan Building, the 2,500-seat Palace Theater, and the New Bismarck Hotel.
The New Bismarck instantly became the hottest spot in Chicago and hosted parties for such socialites as Oscar Mayer and Duncan Hines. After the hotel closed in 1996, The Kimpton group, which operates boutique hotels, including Hotel Palomar and Hotel Monaco, purchased the Bismarck and re-opened it two years later as the Hotel Allegro.
Multiple renovations to the interior and exterior of the building have restored the historical significance of the hotel, while still providing the modern accommodations travelers expect.
"We cherish and honor the history of the building every day with touches of Art Deco design and unique artwork such as our Lady Lucent painting in our lobby," Scherer said. "We also have guest programs like our nightly social hour where guests enjoy complimentary Prosecco. In our most recent renovation, we refurbished the original light fixtures and displayed them on our lobby ceiling. Recently we had three custom-made art murals painted in our fitness center which really shows off our hotel and the Loop."
Maximize Rewards with the IHG Rewards Program
Chicago offers a little something for travelers from all backgrounds at nearly any time of year.
"Chicago is beautiful during the summertime," Scherer said. "There is everything from outdoor neighborhood festivals to free concerts in Millennium Park. There's so much to see and do during the summer and all within easy access of the hotel."
In early 2018, Kimpton's parent company, IHG, announced it would merge the two rewards programs, allowing Kimpton loyalists an expanded selection of IHG-branded hotels where they can use their rewards points. For IHG loyalty members, a stay at Hotel Allegro using rewards credit is now possible.
"Now that we're part of IHG, we are excited to be able to offer our loyal guests the IHG Rewards, which they can get points for staying with us," Scherer said. "Those points can then be redeemed for complimentary stays at any of the IHG's 5,000 hotels worldwide or in exchange for airline miles."
Those rewards points will also be redeemable for stays at future Kimpton locations planned for Grenada, Bali, Toronto, and Taipei.
The Oxford Dictionary defines the word "luxury" as "A pleasure obtained only rarely." If you've saved up enough credit card rewards points or miles and are ready to cash them in for a memorable trip, you may find a pleasurable time isn't as rare as you may think at Hotel Allegro in Chicago.