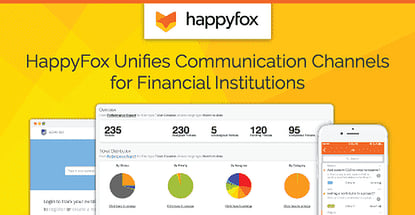 credit card news
Our experts and industry insiders blog the latest news, studies and current events from inside the credit card industry. Our articles follow strict editorial guidelines.
In a Nutshell: The flip side to the ease of using credit and debit cards is when they don't work. That's not just a problem for customers. It's a big problem for the financial institutions issuing those cards. They have to try and handle customers' problems, answering their queries and complaints as quickly as possible. HappyFox is a California-based help desk software company that steps in behind the scenes, to help these institutions get organized and overcome these obstacles more easily. HappyFox specializes in streamlining companies' messaging systems — including email, phone, chat, and web requests — into a single channel with a unified view. More than 12,000 customers in over 70 countries and 35 languages have successfully relied on HappyFox — ultimately making their own customers happier.
Whether it happens while traveling, shopping for groceries, or filling up the gas tank, we've all probably been in a situation where our credit or debit card fails during a transaction. In other words, at the worst possible moment, like when the ice cream is melting at the register.
Sometimes the problem takes an entire day to resolve, which can be extremely inconvenient. But imagine if it only took minutes to fix. That would make a lot of credit and debit card users very happy, which is exactly the goal of a company that's managed to achieve just that.
HappyFox, an Irvine, California-based company, helps financial institutions (and other kinds of companies) streamline their messaging systems, including email, phone, chat, and web, into a single system, so priority items are handled more efficiently. CEO Shalin Jain calls it a "one-stop shop."
"Whether you're a startup or an established bank, you would find the app easy to use," he said.

Shalin started the company 16 years ago as an internal help desk. It's now morphed into a cloud-based help platform that serves businesses of various types and sizes. Some of its clients include big names like Whirlpool and Lowe's.
Whatever the industry, the mission is the same: to keep clients happy. Hence the name of the company.
"We wanted to do something with the word 'happiness,'" Shalin said. "What we like about the word 'fox' is it's supposed to be smart and clever. We basically said, 'This is it.'"
And indeed, HappyFox is 'it' — for some 12,000 customers in over 70 countries and in 35 languages.
Converting Email, Chat & Phone Messages Into One Channel
Just as we've all invariably had a blocked credit or ATM card, many of us have also experienced delayed responses to customer service queries that seem simple. On the other end, though, a company with a backlog of messages — from various sources — has meant that it can take days to answer your message.
HappyFox reduces that time by essentially doing one major task: "It converts email, phone, chat, and web requests into tickets under one ticketing service," Shalin said. For example, private Facebook messages that are help requests are funneled to one help desk section on a company website, along with other help requests that might have come via email or phone.
This application also integrates with platforms such as Twitter, Facebook, G Suite, Zapier, and WordPress, Shalin said. "With any customer, we try to learn what is not working for them," he added.
"The main problem seems to be a lot of disconnected processes due to disconnected channels. When everything is disconnected, information channels are not so seamless. We offer a one-channel solution."
HappyFox also provides chat tools to customers — via software, not human resources, Shalin clarifies. "Chat is extremely successful in this space. It has the highest satisfaction score in the industry," Shalin said, adding that chat is his "number-one recommendation" for companies — especially young startups eager to improve their response time and social media presence.
"Email is considered slow. Chat, Facebook Messenger, and SMS can result in a higher success rate for companies," Shalin said. "Multiple chats can be handled by the same person at the same time. Chats get more responses per minute to customers than any of the channels."
HappyFox's prices are also reasonable, ranging from $29 to $89 per month, with the basics included in all packages, and more sophisticated features such as a multilingual knowledge base and satisfaction surveys included in the more extensive packages.
From Startups to Established Banks, Financial Institutions Stand to Gain
Shalin told us financial institutions sometimes have the most to gain from streamlining communication because they generally have a long-standing client base whom they want to please.
"What we have seen as the biggest challenge for financial companies is upgrading to the newest technology," Shalin said, adding that financial customers are among their most numerous and happiest.
Depending on the size of the institution, it can take as little as one day for companies to adapt to the app, including one or two hours of presentation, with various times for implementation.
"The larger the company, the more features they typically activate, and we are more interested in automation," Shalin said. "The setup process is more detailed out for larger companies."
Larger businesses often require more of a consultative approach, so HappyFox works with them in a step-by-step approach that includes going over methodology to import data, as well as training several employees on HappyFox software.
He added that one particularly helpful feature for financial service providers are satisfaction surveys since banks count on customer satisfaction. "They want to know that the customer is satisfied, not just overall, but at every operation," Shalin said. "A simple customer service failure could result in a big change for a customer."
HappyFox provides them with two survey options, he added. Customers can rate a reply immediately, or wait until the company resolves the problem.

Other smart features that appeal to financial institutions are multiple SLAs, or service-level agreement modules. "Banks like this because it allows them to differentiate between ATM issues and mortgage questions. Having one SLA would not make sense," Shalin said.
The Smart Rules engine is another feature banks appreciate, he said. It can, for example, remind customers of forgotten passwords by automatically sending them a step-by-step reset guide.
"The automation kills the need for a human to be involved," he said. "Your ticket can automatically be reopened. This is something that a lot of banks love, especially since they are tremendously under pressure to cut costs. There's nothing better than a system that understands problems."
HappyFox Enables Clients to Keep Satisfaction Scores High
Customers of financial institutions might not know that it's HappyFox behind the scenes empowering their banks and credit card issuers to solve problems quickly. All they know is their own experience with a company, and those issues that are handled efficiently breed customer loyalty.
This satisfaction holds true for customers of other financial services, as well. Take LoanLogics, which serves the needs of residential mortgage and consumer lenders looking to improve loan quality. Looking for simplicity in reporting and greater access to support staff, the company contacted HappyFox.
"Overall it went great for both customer service and our internal help desk support," a testimonial reads. "Our staff are enjoying the ability to use canned responses to address repeated queries. In addition, many of our managers and administrators enjoy the reporting widgets and overnight reporting, as well as the ability to customize fields or behaviors based upon specific conditions."
LoanLogics also appreciates the ability to measure multiple performance metrics, since that information was previously self-generated and time-consuming. "Today, we can customize reports and view widgets that focus primarily on SLA objectives and client satisfaction, ultimately benefiting the business and our customers," the testimonial reported.