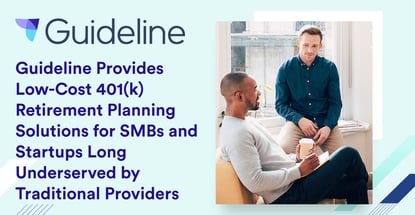 credit card news
Our experts and industry insiders blog the latest news, studies and current events from inside the credit card industry. Our articles follow strict editorial guidelines.
In a Nutshell: Regardless of the size of the company, employees request retirement planning options over any other benefit aside from health insurance. But the expense and administrative burden associated with traditional retirement solutions result in only about 10% of small businesses offering a 401(k). But Guideline is changing that with an accessible fee structure and an automated employee onboarding process that encourages high participation rates. Guideline aims to level the retirement benefit playing field for SMBs and startups as they compete with larger companies for the best talent.
In 2015, Kevin Busque, Co-Founder of TaskRabbit, an online labor marketplace, needed to secure 401(k) retirement benefits for his workforce. He chose a solution that was common in the retirement benefits industry — a legacy plan offered by TaskRabbit's payroll provider.
Then Busque found out that, sometimes, even the best-laid plans go awry. TaskRabbit, a small company, was paying between $10,000 and $15,000 per year for a 401(k) with only about a 36% employee participation rate. And that relatively small number of participants was paying upwards of 3% a year in asset-based fees.
It was a recipe for stagnation, not long-term security. So Busque set about to solve that problem by asking employees why they weren't using the benefit, what they didn't like, and — most importantly — asking the provider why it cost so much.

From those answers, Guideline was born. The company offers simple, affordable 401(k) plans for SMBs and startups, and takes the guesswork out of retirement planning for employees. Guideline also handles the burdens of recordkeeping, administration, and compliance testing for employers. The company is now the fastest-growing platform in the retirement planning space and manages more than $2 billion in assets for more than 11,000 customers.
And it accomplishes that in an industry that has traditionally overlooked small businesses. In fact, 90% of American SMBs and startups don't even offer retirement plans.
"We're a technology company — we build software solutions," said Busque, Guideline's CEO. "And because what we do is so integrated, we have an 84% participation rate inside our product. In a super-tight labor market, we make it simple for companies to offer a benefit that employees really value."
A Turnkey 401(k) Solution Aimed Directly at an Underserved Market
Guideline typically distributes its products through online payroll providers, including Gusto and Intuit. The company also offers direct signup on its own website.
"You log into a Gusto or Intuit as an employer, and we're in that list where you can just connect your payroll — that's where all the magic happens," Busque said. "We collect your employees' Census information, invite those who are eligible based on your plan design, and away you go."
Beyond its user-friendly approach to initial setup, what ultimately differentiates Guideline's approach is that it's built for startups and small businesses.
"The main difference between legacy providers and Guideline is we don't charge on assets," Busque said.
That means Guideline doesn't shy away from startups or SMBs. The opposite proves true, as Guideline actively seeks out companies that may have never considered offering a 401(k) option.
"If you're a John Hancock and you're charging asset-based fees, you're not going after new plans because they don't have assets, and you can't monetize them," Busque said. "Instead, we charge a transparent per-participant fee — $8 per month per participant. That means we can monetize from day one and create a high-quality experience immediately for our customers."
Guideline also eliminates other road blocks as well, dispensing with the startup costs and recordkeeping fees associated with traditional providers, integrating tightly with its partners to minimize complexity, and handling all compliance testing.
"You get our solution right out of the box as soon as you connect," Busque said. "It's essential to understand that these are largely underserved small businesses that never thought they could afford a 401(k) plan — in the traditional sense."
Risk Tolerance and Confidence Score Automations Facilitate Onboarding
As Guideline's 84% employee participation rate attests, the company offers a reassuring process for workers, too. Guideline's clientele includes companies with one employee and others with as many as 1,700. And the emphasis at startup is on matching up with each employee's investment philosophy.
"We're not a one-size-fits-all product, Busque said. "Different vesting schedules, different profit-sharing algorithms, new comparability with service hours — you name it in 401(k), we have it."
Once a Guideline employer creates an account, the platform automatically brings eligible employees up to speed, notifying them about auto-enrollment, pay periods, contribution percentages, and other information.
An automated "suitability wizard" establishes each worker's parameters and goals for retirement and determines risk tolerance.
"We want to ensure you understand the ramifications of how you're investing," Busque said.
That process also generates a confidence score based on an assessment of the worker's responses.
"To compute the confidence score, we ask the same question in multiple ways," Busque said. "If the score falls short of an internal threshold, Guideline refrains from recommending a portfolio. But in most cases, the process of moving through the suitability wizard and receiving a recommendation takes only about six minutes."
Guideline Helps Close the Retirement Access Gap
Guideline set out to provide employee retirement planning options for an underserved market of small businesses and startups. And the company helps clients at every turn, which may explain the pace at which it's scaling.
"For us, it's about closing that access gap for small businesses," Busque said.
In 2019, Guideline added almost 6,000 plans, putting it at number four on the list of the largest new 401(k) providers.
And there's more to come, including the company adding IRAs to its portfolio.
"More than three-quarters of all investors learn through their 401(k) program — that's a very interesting statistic," Busque said. "But as you change jobs or otherwise move on, we want you to keep your same investment philosophy, your same flat-fee structure, all the way through your investing career. That's why we launched our IRA product."
About 50% of the company's clients are in the professional services industry — including law offices, medical offices, surgery centers, and tech companies. The other half is a diverse collection of industries.
That means that Guideline's virtues of simplicity and affordability are always a fit, especially in a labor market where attracting and retaining great employees at small businesses can be such a challenge.
"Small business owners should take a look — this product is designed for them," Busque said. "We're not trying to go up-market. For less than the cost of offering coffee to your employees, you can provide a manageable benefit that you can afford, and that can generate amazing outcomes."