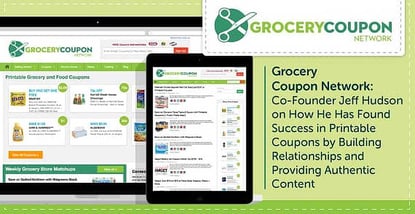 credit card news
Our experts and industry insiders blog the latest news, studies and current events from inside the credit card industry. Our articles follow strict editorial guidelines.
In a Nutshell: In the vast world of coupons, it can be hard for a website to differentiate itself. Many are reliant on third-party coupon feeds or in-house content production teams that are far removed from the world of their readers. But Grocery Coupon Network Co-Founder and CMO Jeff Hudson has found a way to stand out from that crowd by fostering direct relationships with manufacturers and employing real people all over the country — many of them moms — to produce its content. Grocery Coupon Network also works with smaller companies to bring discounts on healthy eating options to its users. And unlike many of its competitors, GCN has developed its own coupon gallery and email software to reach out to consumers with savings relevant to their individual shopping experiences.
Even though technology has come a long way, it still has plenty of ground to make up in the coupon space. Consumers still overwhelmingly trust the paper product, with eMarketer reporting that 80% of people use printed coupons while only 48% use the mobile variety.
The printable coupon is clearly still the standard, and the grocery market is a huge driver of that, as shoppers often use coupons for weekly necessities. This is where Grocery Coupon Network is using time-saving software and authenticity to become more dynamic in a space littered with static, transactional coupon websites.
"Other sites can be very mechanical about how they distribute content and coupons," Grocery Coupon Network Co-Founder and CMO Jeff Hudson told us. "We did research on our audience to see where they were shopping so we could personalize coupons and content to those locations."
Part of what makes GCN unique is that it builds direct relationships with manufacturers, allowing for open lines of communication about what coupons users want. GCN's network of bloggers — many of them moms — also help the site stand out by delivering relevant and store-specific content to users through posts about coupon match ups that maximize savings.
GCN's goal is to provide the consumer with an easy, intuitive savings experience, and the company has built relationships with manufacturers and bloggers, and even developed its own software, to accomplish that mission.
Proprietary Technology Sends Relevant Coupons to Shoppers
Unlike most other coupon sites and blogs, Grocery Coupon Network is heavily focused on technology. In fact, GCN's owners and management team mostly come from marketing and engineering backgrounds. That expertise led to the site building its own software to streamline the customer process.
"Compared to our competitors, we are much more technically accomplished," Jeff told us. "We even have our own email solution and coupon gallery software for merchandising."
After users sign in, GCN can determine patterns in their coupon-clicking habits to predict products they may use or would want to try. Using its proprietary email software, GCN can then send personalized, printable coupons directly to consumers.
"Our system is powerful," Jeff said. "When you are signed in, we can see what coupons you like, pull those coupons — and similar ones — and send them to you dynamically on a personal basis."
Another distinguishing feature of GCN's printable coupon gallery — besides its underlying software — is a sleek design that makes it simple to navigate. Sometimes, technically complicated sites can lead to a confusing layout or too many menu options. GCN's coupon galleries are as straightforward as they are intelligent.
But GCN isn't just about technology; it combines a love of software with the ability to build lasting connections with users.
"We are a technical company with a strong stable of real moms that are blogging about coupons," Jeff said. "We are unique in that way — we have the best of both worlds."
Relationships With Manufacturers & Real Moms Means More Relevant Savings
As coupon websites become more prevalent, the time it takes to sort through them all to find a good deal can add up. Many budget-minded shoppers also try to match up manufacturer coupons with store coupons and promotions to capitalize on even bigger savings, but that means a more significant time investment.
Grocery Coupon Network set out to help those consumers by partnering with manufacturers and a team of localized bloggers to deliver relevant coupons to users and save them time. On its blog, GCN has match ups that direct shoppers to the right combination of coupons and weekly store circulars to have a greater impact on their final grocery bill.
This saves GCN readers time, which can be as precious a commodity as money in some households.
"Our writers spend hours putting together match ups and run all the numbers so our readers don't have to spend that time," Jeff said. "No mom has an hour and a half in the morning to spend comparing coupons."
GCN strives to make sure its readers have all of the tools and knowledge necessary to save, and the company even works directly with manufacturers to ensure the best printable coupons appear on its site. GCN doesn't just work with established brands, it helps smaller retailers realize growing trends and demands for their products.
Helping Both Shoppers & Brands to Capitalize on Healthy Eating Trends
As healthy living becomes more popular, GCN wants to make sure families can afford to capitalize on the trend. It partners with smaller, organic and health-conscious companies to provide coupons for high-demand products. The reception has been overwhelmingly positive, and smaller manufacturers can get their products in front of a massive crowd.
"Every time we get an organic or healthy coupon, it is really popular with our audience," Jeff told us. "People want those brands, but those smaller companies often don't have the budget to spend money on promoting, so we help to get them in front of our large audience."
"We send over 20 million emails a month and generate thousands of print sessions every day. If you are a small retailer and can get in front of a large audience at a fraction of the cost, it's a no-brainer. We get the best brands, our audience is happy, and we're happy." — Grocery Coupon Network Co-Founder Jeff Hudson
GCN tries to help its users pursue healthier options by reaching out to smaller manufacturers. Cost often drives people to an unhealthy diet because, as Jeff told us, "It is cheaper to feed your family fast food than to buy vegetables."
By giving its users access to healthier options at a discount, GCN is actively combatting that dilemma. Part of its strategy to acquire coupons from smaller companies is to cost-effectively distribute them to a wide consumer base.
"We send over 20 million emails a month and generate thousands of print sessions every day," Jeff said. "If you are a small retailer and can get in front of a large audience at a fraction of the cost, it's a no-brainer. We get the best brands, our audience is happy, and we're happy."
GCN is passionate about building relationships with brands and consumers, and that genuine concern for consumer savings shows up throughout its site and future goals.
Authenticity Drives Engagement for Grocery Coupon Network
Printed coupons are clearly still the preferred method for many shoppers, and Grocery Coupon Network is doing its part to keep it that way. Some coupon sites don't go the extra mile to make the savings experience seamless for users. Not only does GCN have a network of real lifestyle bloggers devoting time to laying out the best coupon match ups to save readers time, but the company also invests in proprietary software development and relationships with manufacturers to provide a better experience with more ways to save.
Up next, Grocery Coupon Network is planning to expand its already heavy presence on social media. GCN boasts more than 100,000 Facebook followers and wants to give them more insights, such as examples of grocery hauls other coupon users have achieved.
"We are trying to incorporate video, like Facebook Live, with our team this year," Jeff said. "Authenticity is really at the center of it; coupon users want to see other coupons users."
GCN's genuine approach has resonated with its users and has helped the company carve out market share in an industry filled with monotony. Focusing its efforts on enhancing the real-life consumer experience is how Grocery Coupon Network differentiates itself.