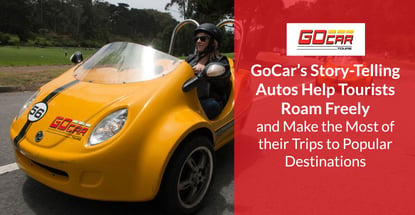 credit card news
Our experts and industry insiders blog the latest news, studies and current events from inside the credit card industry. Our articles follow strict editorial guidelines.
In a Nutshell: For adventurous travelers who find charting their own paths more rewarding, GoCar Tours provides open-air vehicles for exploring popular tourist destinations. The affordable, GPS-enabled tours allow travelers to customize their sightseeing experiences, while the vehicle's internal software tells them stories about the areas they visit — and even cracks jokes along the way. Renting a GoCar is a unique way for tourists to see cities throughout the world and helps them make the most of their getaways.
The continuous growth of the travel industry means that major cities around the world are often jammed with tour buses and sightseeing expeditions that move people around to popular attractions day and night.
Many tourists have experienced these groups before — whether participating in one or seeing a group pass by. They often include a tour leader on a loudspeaker retelling stories to a bus full of tourists who try to soak it all in before their trip is over.
That certainly isn't the most personal way to create memories while on vacation. But there aren't many alternatives, and people still choose those tours because they can see the sights, hear the stories, and stick to their own schedules.
But GoCar Tours is changing that dynamic.
Launched in 2004 by veteran engineer Nathan Withrington, GoCar Tours allows tourists to roam the streets of popular destinations in a three-wheel, open-air vehicle that seats two. The users pick where they want to go, and the GoCar guides them and tells stories along the way.

"The car has a personality," Withrington said. "As you drive, it will crack jokes while it navigates and recommends restaurants and other stops. The car tells you all of the stories that bring the city to life. We call it a story-telling car."
Withrington came up with the idea for the tours after he spent a year traveling the world following his college graduation in England. He settled in San Francisco and took a job that left him feeling unfulfilled. He wanted to make a job out of the things he loved — and traveling and tourism topped that list.
"So, I came up with this idea where you can use GPS technology in a vehicle to tell you about the place you're driving past instead of just telling you where to drive," Withrington said. "But if we did this in normal cars, it just wouldn't be very interesting."
Soon after it launched in San Francisco, the company expanded to San Diego before hopping overseas to Lisbon and Barcelona. Today, tourists can also book a GoCar tour in Monterey, California; Madrid; Porto, Portugal; and Bordeaux, France.
For travel enthusiasts who always look for new ways to use their credit card rewards to see the world, taking a GoCar for a spin can help them experience it on their own terms.
An Interactive Tour that Drivers Control from Start to Finish
Schedules don't dictate GoCar Tours, so travelers don't have to worry about herding onto a big bus and sitting through several stops in hopes of seeing something interesting. When you reserve a GoCar, you control what you see and learn — and how long you stay out.
"You pretty much get into the car, and, while you're driving, it gives you multiple options that dictate how long the tour will be," Withrington said. "You can go farther out on a loop. And once you get back, you have an option to take another loop."
So if travelers have specific interests in a city, their GoCar can help them immerse themselves in that world without watering down the experience with sights that don't appeal to them. And they don't have to watch the clock throughout the tour since they control the entire experience.
"The idea is that someone might book a one-hour tour, but they might have a lot of fun when they get out there and decide to stay out for a while longer," Withrington said. "As long as we don't have the car booked for another rental, you can stay out as long as you'd like."
People can book a GoCar for an hour or an entire day. And they aren't limited by mileage or where they travel.
"Our average rental is about two hours, but we always recommend booking for a little longer than what you might think you'll need," Withrington said. "The best deal is if you book for the whole day. That way, you only pay for five hours, but you get the vehicle from 8:45 a.m. until we close at 8:00 p.m."
Cities often limit where larger tour buses and vans traverse. For example, they aren't allowed on the famous winding Lombard Street in San Francisco. With a GoCar, though, tourists are free to travel just about anywhere within a city's limits without worrying about size restrictions.
But if you're cramped for time, and don't feel like taking the same old tour, Withrington said that GoCar Tours can still provide a memorable experience in a short time frame.
"All of our other tours are totally customizable," Withrington said. "You can have one set tour, or you can have multiple tours that give you different options of what you want to see and do. The individual user has full control over their tour."
Technology Makes Excursions Fun and Educational
Withrington and his team set out to build a program that would revive a sleepy sightseeing tour industry. The team developed the software on a flexible backbone that can adapt to today's rapidly changing technology — and they watched as the public demand exploded.
"We built a mapping and messaging platform where you can deliver location-based content and messaging while selling tickets," Withrington said. "So you can buy things like bus tickets through it and see a map on the screen where all of the bus stops are."
The GoCar can also give restaurant recommendations or suggest places where tourists may want to stop and take a picture or pick up a souvenir. And since they aren't restricted to a tour company's schedule — or clumped into a group with a few dozen other people — they can make any stop they wish.
"The user has the freedom to go or stop anywhere they want," Withrington said. "The tour is completely interactive. The car will tell you to turn right to go to one destination or turn left to go to another. You pick where you go and what you see and do."
Before GoCar Tours, that kind of tour was virtually impossible. If travelers rented a car, they typically focused on reading directions and navigating turns. If they took a guided tour, they got a scripted experience. With GoCar Tours, travelers can drive and tour at the same time — and create lasting memories along the way.
"We empower tourists to take themselves on guided tours. But, at the same time, we still let them get out and experience the good stuff," Withrington said.
New Electric Vehicles Open Up More Possibilities
GoCar Tours thrives because most tourists want to experience personal sightseeing in popular cities around the world. But the company's latest vehicles may expand just how much of a city people can see on their GoCar Tours.
"We just started working with our first electric vehicle, which I'm very excited about," Withrington said. "It's an amazing vehicle. That's going to open up the entire North Bay of San Francisco to us because they can drive over the Golden Gate Bridge with it since it's freeway legal."
Arcimoto builds the vehicle, dubbed the FUV — or Fun Utility Vehicle — in Eugene, Oregon. The FUV provides an open-air ride with a 100-mile range between charges. Withrington recently experienced the vehicle for himself and proclaimed it a game-changer for his company.
"This can revolutionize tourist mobility," he said. "You can go practically anywhere. And since there are fewer moving parts in an electric vehicle, you don't have to worry as much about breakdowns or other issues."
Whether it's zipping around the city for a few hours, or making a day out of sightseeing, GoCar Tours allows tourists to customize their trips and go at their own pace.