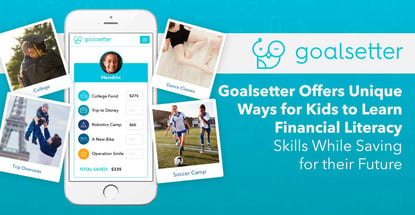 credit card news
Our experts and industry insiders blog the latest news, studies and current events from inside the credit card industry. Our articles follow strict editorial guidelines.
In a Nutshell: The Goalsetter app teaches children financial literacy skills through online games, quizzes, and lessons while helping them save money toward their goals. Family members can also send children funds through the app's GoalCards to help them reach their objectives faster. And parents can use Goalsetter to pay allowances, bestow gifts or round up their debit card purchases to boost their child's savings opportunities. And soon, Goalsetter will introduce a version of the app for parents so they can save for their own personal or family-related goals.
Every day, children around the world head off to school — ready to learn. They'll encounter reading, writing, and math lessons that will serve them well and help them land a job one day.
But what many of them won't learn about is how to manage the money they'll earn from those jobs.
Financial literacy was once a vital component of the public school curriculum, but schools have cut back on the subject in recent decades in favor of standardized test preparation. Studies show that students without a financial education are more likely to have low credit scores and other financial problems. But one company strives to ensure students have access to the knowledge they need.
The Goalsetter app is the brainchild of Tanya Van Court, former head of preschool and parenting digital products at Nickelodeon and previous SVP of Marketing for Discovery Education. Van Court leveraged her vast experience with building engaging online platforms for children to create Goalsetter, an app that teaches children about saving and growing their money.
The project is also a labor of love that honors the careers of her parents, who were both elementary school educators.
"From the time I was young, my parents cared so much about closing gaps," Van Court said. "Closing knowledge gaps, closing wealth gaps, and closing education gaps for the kids they served in elementary schools in Oakland — and for kids everywhere else."
Goalsetter acts as a modernized piggy bank that allows children to collect and save money for their goals — from concert tickets to college. And all of the money they save remains safe in an FDIC-insured savings account.
Parents and family members can also contribute through the app's GoalCards, which they use to pay out a regular allowance o maker a one-time gift. They can also give through the autosave feature, or by rounding up their purchases to the next dollar on a linked checking account and depositing the difference.
"GoalCards give kids real money toward their real dreams," Van Court said. "They tell the kid that 'I can't wait to see what you'll do next,' instead of just giving a gift card that tells them 'I can't wait to see what you'll buy next.'"
But Goalsetter isn't just about saving money. The app also teaches kids why they should save. The platform's ever-growing number of online lessons and quizzes deliver vital concepts in a language they understand.
Anyone can download the app, which uses a pay-what-you-can model allowing users to pay a monthly fee that fits into their budget. If users can't afford to pay anything, they can still access Goalsetter's key features, including savings accounts, autosave, roundups, and allowance payouts.
"Goalsetter is all about teaching our kids financial literacy, financial language, and how to have great money habits," Van Court said. "But, most importantly, we want to do it in a way that is both engaging and exciting."
Kid-Tailored Lessons and Quizzes Teach the Value of Money
Producing reading material that engages and informs young minds is not an easy task. But Van Court has years of experience doing just that — and it shows through Goalsetter's "It's Lit" quizzes.
"We've gamified financial learning," she said. "The quizzes are all matched to national financial literacy standards that are put out by Jumpstart.org. And they have real educational content in them, but they're rooted in pop culture."
The quizzes feature social media influencers, cartoon characters, hip-hop personalities, and other familiar faces to engage children. And the kids earn "Cred-lit" score points and/or money from their parents for each quiz question they answer correctly.
One quiz, for example, includes lyrics from the hit song "Bills, Bills, Bills" by Destiny's Child that asks "Can you pay my bills? Can you pay my telephone bills?" The lesson teaches children that they won't need anyone to pay their bills if they create an emergency fund.
"They're funny, they're fun, and they're educational," Van Court said. "There's nothing else like them in the market."
Quizzes and online lessons also serve a diverse group of children. Van Court mentioned one mother who has two blind sons who are using Goalsetter to attend a week at National Space Camp which caters to visually impaired children.
"She wrote in and said that she is so grateful for Goalsetter because our quizzes are VoiceOver enabled," Van Court said. "Because of that, she said her kids are now learning better savings habits, but also learning financial literacy and financial language."
Creating a Network of Savers with Family Support Circles
It's not just parents who can participate in helping children save for their dreams. Family circles can include aunts, uncles, grandparents, or anyone else who wants to support the goals of young savers.
The app — available on iOS and Android — charges only a $1 fee to send a GoalCard. Gifts given with a debit or credit card will incur an additional processing fee. But for most families, the small fee is worth it.
"When it comes to finances for kids, parents want all of the things to be in one place," Van Court said. "They don't want to go and get a card and put a check in it and send it off. That's why we created Goalsetter, where kids can get GoalCards instead of gift cards to contribute to their goals."
Family members often use GoalCards instead of checks or gift cards to celebrate holidays, milestones, or to support the child's goal. And just like parents, family members can use the auto-save feature, as well as rounding up purchases made with their linked checking account to the nearest $1 — or $2 — to contribute to the child's savings.
And, as Van Court noted, many new mothers use Goalsetter instead of asking for items for their newborn baby.
"The mothers often say 'I don't need more stuff, but please contribute to our child's college fund or Mommy and Me classes,'" she said. "But we also have teenagers on the platform who are saving for things like their first car."
Goalsetter differentiates itself from other savings platforms with its many ways children can save and receive money.
"Adult savings platforms typically only have one way for you to get money in and out," she said. "But we've made the entire platform with kids in mind. Any way that they can get money, we're going to enable them to save it."
Helping Kids and Parents Make a Habit Out of Saving Money
Goalsetter is in negotiations with several school districts, corporations, and financial institutions to bring its unique educational and savings platform to more young consumers. But it isn't just those kids who enjoy the service.
"We've heard from around 80% of the parents who are using our platform that they love Goalsetter so much that they want to use it to save for their own goals," Van Court said. "So that is a whole new feature we're developing that we're excited to unveil."
But at its core, Goalsetter is all about improving children's financial literacy — and the company gets plenty of feedback that it's on the right track.
One father recently emailed the company following a vacation with his 13-year-old daughter. While most children her age may talk about the latest boy bands or TV shows, Goalsetter helped her learn a whole new vocabulary.
"The daughter, who had been taking the quizzes, used the term opportunity cost in a conversation," Van Court said. "When kids can casually use terms like that, it becomes game-changing."
Whether it's advanced terms like opportunity cost or learning the financial lingo they'll need as adults, Goalsetter helps children get a jumpstart on adulthood.
"Financial language is like a foreign language if you've never been taught it properly," Van Court said. "If you don't know that language, you're going to have a real challenge with getting a mortgage, getting a credit card, understanding the terms of a loan, and building wealth."
That understanding can go a long way toward securing a successful future. And Goalsetter doesn't stop when children reach their goals. Instead, the platform moves on to the next lesson that may help them become lifelong savers.
"I think that saving is kind of addictive once you start doing it," Van Court said. "The same is true for kids. Once they start saving and seeing their money grow, it becomes empowering. That's what keeps kids coming back to save more."