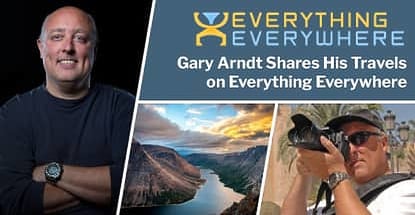 credit card news
Our experts and industry insiders blog the latest news, studies and current events from inside the credit card industry. Our articles follow strict editorial guidelines.
In a Nutshell: Gary Arndt admittedly knew very little about photography when he started recording memories from his travels more than a decade ago on his blog, Everything Everywhere. Today, Arndt is an award-winning photographer who has chronicled trips to all seven continents and over 180 countries and territories. Arndt helps fund some of his adventures through his credit card travel rewards and shared his story on why a credit card is so important when traveling far from home.
Gary Arndt thought he'd experienced it all after years of traveling the world in search of new adventures and beautiful things to photograph.
But a not-so-average Monday morning in the Australian Outback changed that opinion, and has altered the way he travels ever since.
In the first six years of chronicling his adventures on his blog, Everything Everywhere, Arndt visited and photographed locations so remote that most geography buffs hadn't heard of them — and he did so without a credit card.
"I used a debit card, which actually got me into trouble a couple of times because it flags your account for fraud when you make certain purchases," he said from his home in Minneapolis. "One time, I was driving in the Australian Outback and stopped to buy gas. I didn't realize the bank had flagged my card earlier in the day, so I couldn't pay for the gas and had no money on me."

The average consumer's reaction would be to call their bank and have the hold removed, but due to the differences in time zones, a Monday morning in Australia coincides with a Sunday night in the US.
"I was truly stuck in the middle of nowhere with nothing I could do," Arndt said. "Ultimately, the seller agreed to take an impression of my card and process it later. That's when I decided I should probably get a credit card."
He now has multiple cards in his wallet and uses their travel rewards to increase the number of destinations he can visit and blog about. To date, Arndt has visited all seven continents and over 180 countries and territories, intricately detailing every step of his journeys along the way.
"I go to a lot of unusual places and focus on world heritage sites, some of which are commonplace, but many that are more obscure," Arndt said. "I've been to most of the remote National Parks and many tiny countries — I've been to Tuvalu, Nauru, and Vanuatu, but I haven't visited big places like Russia or Mainland China yet."
Arndt's most memorable adventures include swimming with jellyfish in Palau, dog sledding in the Yukon, and spending a night on a nuclear aircraft carrier, the USS Harry S. Truman.
"The US Navy invited me to come visit the carrier when they were doing training maneuvers off the coast of Virginia," he said. "We got to get on one of their planes, land on the carrier, and stay there overnight. We were on the deck of the carrier when they were doing landings and takeoffs. It was a truly incredible experience."
From Novice to Award-Winning Photographer
Despite more than a decade of travel writing experience, Arndt admits most people know him for his photography. That says a lot, considering his lack of photo-taking training before he decided to start traveling.
"When I started out, I didn't know anything about photography, but now I've been named Travel Photographer of the Year in North America three times," he said.
Arndt's blog has hundreds of captivating photographs posted from many of his trips. Each provides a glimpse into life in destinations both remote and well-traveled. His progression as a photographer is obvious as you scroll through the years of adventures, but he says he follows only one rule when capturing his trips.
"The secret is to stick yourself in front of something beautiful," he said. "Everything else takes care of itself after that."
Arndt's Trips Now Include Credit Card Travel Rewards
After Arndt's dilemma with a flagged debit card deep in the Australian Outback, he realized it was time to apply for his first credit card. Although he had no previous financial blemishes, he quickly learned how fickle the financial industry can be.
"I applied for a credit card, and the company rejected me  — not because I had a bad credit history, but because I had no credit history," he said. "I wasn't in the system for ages and was basically a ghost."
He turned to his bank, which saw his positive history and gave him a secured credit card. After six months of on-time payments, he upgraded to an unsecured card. Today, Arndt said he carries both the Chase Sapphire Reserve® and the Chase Sapphire Preferred® — two of the most prestigious and lucrative travel cards on the market.
"I've used the rewards to pay for parts of several trips and hotel stays," he said. "Some cards have a small $50 annual fee but come with a free hotel night during the year. Some of those hotel nights can be $150 or more. That pays for the card by itself."
"Ignore Everything You See and Hear on the News"
Arndt regularly receives correspondence and questions from people who are looking to travel but have hesitations about visiting remote areas. He said his advice for everyone is always the same.
"Ignore everything you see and hear in the news," he said. "Most of what people know about a place is what they've gathered from the news — and you only hear about a place on the news when something bad happens."
Arndt pointed to Colombia and Vietnam as two places that have developed undeserved bad reputations.
"The first thing people think about when they hear Colombia is drug lords — and that's from the '80s. Since then, a lot has changed in Colombia, but nothing has replaced that bad image. After I visited Vietnam, all anyone asked me about was the Vietnam War, because that's all they knew. That ended more than 40 years ago."
Arndt's travels have taught him that countries may have different languages, customs, and cultures than America, but everyone has one main commonality.
"There are billions of people around the world walking around every day and not being murdered or attacked while going about their daily lives," he said. "That's what most of the world is like. You don't hear about that on the news, though."