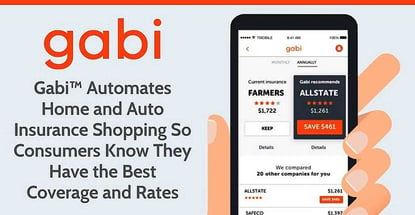 credit card news
Our experts and industry insiders blog the latest news, studies and current events from inside the credit card industry. Our articles follow strict editorial guidelines.
In a Nutshell: Historically, shopping for home and auto insurance meant either manually comparing rates online or working with a broker to choose from a limited set of options. But Gabi dispenses with those inefficiencies by comparing existing insurance accounts with all available policies to determine — in two minutes or less — the best product for a user's needs. The platform also dynamically monitors the market on behalf of customers, accounting for changes in circumstances and automatically checking prices before renewal to confirm they have the best deal. By acting as an insurance concierge for its customers, Gabi saves them money, time, and ensures they retain the best long-term coverage.
While technology has streamlined the buying process for everything from household products to big-ticket items like cars, purchasing home and auto insurance has remained fairly traditional.
That's because there's no set market price for a specific level of insurance coverage — the purchaser's circumstances have to be taken into account. That typically meant people who wanted the best deals and coverage had to dig through site after site, enter their information, and select coverages and deductibles to manually compare quotes. Some chose to work with a broker, but that meant accepting a more limited set of choices.
But Gabi provides the best of both worlds: personalized service and wide selection. The platform works as a broker to find the best value for the customer, but, unlike traditional brokers, Gabi covers the entire industry. And when Gabi presents a quote, the customer knows there's data to back it up.
Founder and CEO Dr. Hanno Fichtner said that Gabi, which is licensed in all 50 states, brings more to the purchasing experience than comprehensiveness. It also brings a level of convenience that is unmatched in the industry. To do business with Gabi, customers simply connect their existing policies, and its technology does the rest.
"Other insurance comparison sites ask you to fill out long forms where you provide detailed info about your car or home. And then they just return a list of links," he said. "You then have to enter the information all over again with the providers you choose to compare. Eventually, you're fielding calls from agents."
Gabi, on the other hand, pulls details from the customer's policy and finds the best deal automatically. The results often lead to happy Gabi customers.
"One of our customers, a busy schoolteacher from California, told us it would have taken her days to do herself what we did automatically in minutes," Fichtner said. "Our average customer saves $720, and we're not just setting up our customers with cheaper coverage. We're matching existing coverage and finding a better offer for it."
Conveniently Compare Auto and Home Rates Separately or Shop for a Bundle
The process of entering policy account information on Gabi is simple. Users select their current carrier, enter their personal information, and the username and password associated with their insurance accounts. After Gabi validates those credentials, its software goes to work. It's not necessary to even know the account number. In less than two minutes, Gabi lists any opportunities for savings.
"You don't have to fill anything out. You don't have to shop around. It's all automatically done by our software," Fichtner said.
The California-based Gabi executive team hails from Germany and Poland. Some members have been working together as tech entrepreneurs for years. In Europe, the market for car insurance comparison is much more transparent than it traditionally has been in the US. So Gabi is bringing that European-style transparency to the American insurance market.
"We saw how difficult and time-consuming it was to compare rates here," Fichtner said. "What inspired us was knowing how easy it is in other parts of the world. Why not here, too?"
After building out the technology in 2016, the team got Gabi up and running in California in 2017. The platform went nationwide in early 2018.
The company's initial focus was on auto insurance before it added services for home insurance. The Gabi team also incorporated functionality for comparing home and auto insurance bundles.
"Our bundling experience takes all the discounts and other variables into account and enables the customer to mix and match policies — or switch from one bundle to another," Fichtner said. "Before Gabi, software for navigating that complex process didn't exist in the US market. Now, all US auto and home insurance customers have a convenient, free tool that does all the legwork to find the very best bundled coverage available."
Accounting for Changes to Ensure Continuous Coverage
In traditional insurance relationships, companies are more than happy to automatically renew policies, putting the onus on the customer to search for a better deal and bigger savings. But Gabi alters that balance.
"We like to think of Gabi as an insurance concierge, not just a broker," Fichtner said. "Like any concierge or caretaker, we look out for your best interests, not the interests of insurance companies. You can relax knowing that Gabi is always working behind the scenes on your behalf."
That level of service is especially critical prior to auto-renewal when Gabi steps in to compare prices all over again. Before the customer continues with the status quo, Gabi can alert him or her to a better deal elsewhere.
"We can alert you when a driving point is removed from your record, meaning you may qualify for a better rate before your renewal period. Those points mean different things to different companies at different times, and we stay on top of it all for you." — Dr. Hanno Fichtner, Gabi Founder and CEO
At renewal points, Gabi either informs users they already have the best offer or shows them a new policy to consider. Fichtner said that Gabi finds consumers a better deal about two-thirds of the time. And, in cases in where users already have the best option, they still get the peace of mind that comes from knowing."
Gabi also monitors the customer's situation for changes to their driving records. "We can alert you when a driving point is removed from your record, meaning you may qualify for a better rate before your renewal period," Fichtner said. "And that works not just for the policy you have, but for any policy you may want. Those points mean different things to different companies at different times, and we stay on top of it all for you."
Gabi Treats Insurance Like a Relationship, Not a Commodity
Gabi provides the best of both worlds in the insurance industry — the personal service of a broker and the value of a wide search. The company also takes a relationship-based approach to insurance and strives to take care of the customer over the long term, not just maximize margins for any one company. By leveraging technology to streamline the insurance purchasing process and finding the best products for users, Gabi puts power back in the consumer's hands.
"It's our goal to work with customers for life. As a concierge, we want to get to know your needs better over time. When you treat insurance as a commodity, you end up with customers who are underinsured — and undersatisfied," Fichtner said. "Our relationship-based approach calls on us to ensure our customers have the insurance that's best for them. We believe our approach combines the best of both worlds — the relationship of a broker and the power of technology."
The relationship part of the equation includes listening to customer feedback and building desired features into the platform. For instance, when Gabi heard feedback from customers who wanted an easier way to change drivers and cars on the platform, it went to work on developing a feature that allowed those switches to occur automatically.
And the company's commitment to innovation doesn't end there. The team is working on a "coverage advice" functionality that leverages the platform's intelligence and learning capabilities to recommend coverage strategies to customers.
"We assume that the coverage our customers have is the coverage they want and need," Fichtner said. "But is that really the case? We're building a way to compare each customer's life situation with their peer group and inform them about the choices others like them are making. We'll be able to say, '60% of people like you have this type of coverage.'"
That's a powerful testament to the team's dedication to shifting the insurance playing field in favor of consumers. As Gabi's influence grows, it will continue to transform the traditional ways of comparing and buying home and auto insurance.