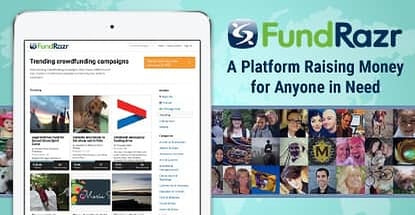 credit card news
Our experts and industry insiders blog the latest news, studies and current events from inside the credit card industry. Our articles follow strict editorial guidelines.
In a Nutshell: Life often comes with unexpected costs; sometimes your budget can handle it, and sometimes it can't. If you find yourself needing money for a good cause, you can get help by sharing your story on FundRazr — an alternative funding source for startups, charities, and personal causes. From medical bills to disaster relief, FundRazr harnesses the power of social media to help spread the word and raise money for thousands of worthy campaigns. The platform is free for anyone to create an account and seek financial support from an established network of donors. So far, FundRazr has raised in excess of $120 million from individuals and organizations worldwide.
On September 21, 2001, Sean Huze stood in line at a US Marine Corps recruiting station in Hollywood, California. The 26-year-old actor had rushed to enlist in the days following 9/11, not knowing the long-term psychological, financial, and physical consequences that decision would have. By February of 2003, he was leaving behind his wife, Nicole, and their newborn son, Andrew, for a two-year tour in Iraq.
When Sean returned home after an honorable discharge, he struggled to process all he'd experienced. He wrote a play about the war called "Sandstorm," which was critically lauded, and he soon became an advocate against the Iraq War and for veterans' issues — but all that publicity didn't end his troubles as a veteran diagnosed with PTSD and nerve damage.
For Sean, acting was a way to cope with all he'd seen; but he was soon straining to pay his bills and support his family. By October 2014, their money problems had reached a breaking point, and his family faced losing their home unless they could come up with $3,000 by the end of the month.
That's when the National Veterans Foundation stepped in on behalf of the man who'd spent years advocating for veterans. The organization created a campaign on FundRazr to raise money for the family of four.
"Here is a vet who needs the help he's earned by his service," the campaign's description read, "and the system is so unwieldy, it can't deliver that help this time. So we're turning to you."
Eight days later, the FundRazr campaign had raised $1,790 from 44 contributors. People rallied behind the decorated Marine, touched by his family's dilemma.
Sean isn't the only person whose call for help found a compassionate response through this website. The tremendous generosity of donors online has come to the aid of many good people facing difficult situations. Since its founding in 2008, FundRazr has offered networking support to thousands of worthy causes and raised over $120 million through peer-to-peer contributions.
Active in dozens of countries worldwide, the platform gives voice to individuals, nonprofits, and other organizations seeking financial help — oftentimes under urgent deadlines. Its crowdfunding resources offer free aid to entrepreneurs, veterans, children, animals, victims of natural disasters or crime, and anyone else in need.
"Across the industry, we're definitely seeing an increase in interest for crowdfunding," said Mira Soullen, VP of Marketing at FundRazr. "Back around 2010, there were still a lot of people who were donating money, but not online. They did it through credit cards, checks, or at events. Since that time, there's been a huge increase in online donations."
Soullen attributes that shift to the influx of millennials who are contributing to various causes and prefer to do so online. That method of giving is new to baby boomers, who have for years made up a majority of the charitable donors in America with in-person, credit, or bank transfer donations.
Making a Difference: FundRazr Connects People with Donors
FundRazr doesn't limit the type of campaigns it promotes — the site advocates on behalf of more than 4,000 nonprofits and corporations, as well as everyday people. Whether the crisis is financial, medical, or personal, anyone can go to this platform and ask for funding.
No cause is too big or small to post on the site. You can find campaigns raising funds to help wildlife rehabilitation efforts or to create an urban agricultural space. Categories range from travel to memorials, so anyone seeking a financial goal can use the site to get fast funding.

FundRazr doesn't charge platform fees, which puts more of the donated money into the intended recipient's pockets.
"Anybody who comes to our platform, including nonprofits and businesses, can run their platform for free," Soullen said. "It's very innovative and disruptive to the market because there are only a few companies that are introducing free fundraising — especially for nonprofits."
How the Site's Peer-to-Peer Fundraising Works (3 Steps)
FundRazr's simple tools empower people to create campaigns and get financing. Fundraisers have complete control over how they market their brands and tell their stories on the site.
"There's significant interest in innovative and creative kinds of crowdfunding that isn't just peer-to-peer donating," Soullen said.
This change does away with traditional ways nonprofits or charitable organizations have promoted themselves within their campaigns. Instead of focusing on the organization's story, they're opting instead to highlight the individuals being helped by donations with human interest stories.
After a quick setup, you can start sharing your cause and appealing to donors for support. FundRazr's built-in social networking features offer an instant boost in visibility to make it even easier to raise money online.
"There's a misconception that people just create a fundraiser on the platform and money comes flowing into them," Soullen said. "That isn't the case. You have to activate social network and convince those people to donate in order to start raising money for your campaign."
1. Create an Account for Free
Setting up your account on FundRazr is quick, simple, and free. You can sign up via your Facebook, Google, LinkedIn, or email account. The site uses your contacts as a baseline for fundraising.
You'll then make your pitch in two places: a 255-character default message for social media and a long-form version for the campaign page. Some tips in the text space help guide you on how to write the most compelling statement.
A picture is optional but encouraged — donors like putting a face to the cause, so it's worth it to upload a family photo or a motivational image.
You'll also choose the currency you want to use, set a fundraising goal, and put your campaign on a deadline (or select "no deadline"). There are two "Funding Types" on FundRazr:
Keep it all: This is the most popular option. You keep all the funds you raise. Period.
All or nothing: This is more of a risk. Transactions won't go through until you reach your fundraising goal. If you fall short and the deadline passes, you don't get any of the contributions.
While no raffles or online contests are allowed on the site, FundRazr does let fundraisers offer their donors free incentives like perks, products, tickets, or wishes. It's the responsibility of the campaign to provide and distribute incentives.
2. Share Your Campaign Across Social Networks
FundRazr reaches out to friends and friends of friends about your cause through Facebook, Twitter, Google+, LinkedIn, and email.
On Facebook, automatic updates are sent out about your campaigns, including the contributions, likes, and comments. FundRazr publishes certain milestones — such as your first donation or reaching the halfway point to a fundraising goal — to show the campaign's progress and attract more donors.
By spreading the word about the campaign and its activities, FundRazr increases the likelihood that more supporters will lend a hand.
3. Receive Funds Right Away
If you choose the Keep It All," you'll be paid in real time as contributions come rolling in through PayPal, Stripe, or Chase-WePay. You just have to be 18 years or older and a resident of the US or Canada to receive payment.
Contributions can be made with Visa, Mastercard, Discover, American Express, and any bank card, and are charged a 2.9% processing fee by the credit card companies, not by FundRazr.
"Excellent amount of information as to how to use social media," raves Senior Animals in Need Today (SAINTS). "But, most of all, such an ease of use and receiving the funds immediately."
Personal Coaching & Support: Live Chat, How-to Guides, Help Center & Blog
FundRazr doesn't leave its campaigns hanging or expect you to figure it out on your own. Tons of resources are available at the Help Center where crowdfunding novices are introduced to the site's features.
The Help Center provides solutions and answers questions through step-by-step guides. The site also provides troubleshooting for technical issues. For more interactive or specific queries, anyone can join and post in the FundRazr Community Forum to get feedback, tips, and support from a reliable network of savvy users.
The FundRazr blog advises and encourages fundraisers on the site. Articles detail best practices on topics like "Turn Your Donors Into Ambassadors with These Six Tips." The blog gives beginners good tips so they get a running start at their fundraising goals, and champions their success throughout the process.
The blog is also a source of news, posting when FundRazr comes out with new tools for the platform. You can subscribe with an email address for direct access to experienced and upbeat guidance.
FundRazr's Built-In Network Helps You Spread the Word
From CorgiPals to Save the Children, FundRazr has played an important part in raising funds for thousands of worthy causes worldwide. The compassionate website makes it possible for ordinary people to lend a helping hand to someone who needs and deserves it. Sean Huze and his family can attest to the difference even small donations can have.
Whether it's a child living in poverty or a veteran battling PTSD, FundRazr provides a free and fast way to get crowdfunded financial assistance.
"The tools available to those who use FundRazr are phenomenal," reads one TrustPilot review of FundRazr. "You won't find another fundraising platform as robust or value-driven as this!"