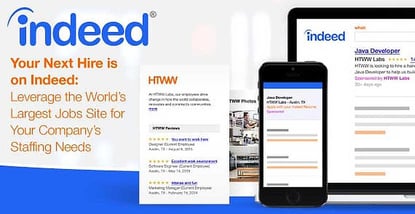 credit card news
Our experts and industry insiders blog the latest news, studies and current events from inside the credit card industry. Our articles follow strict editorial guidelines.
In a Nutshell: When it's time for thriving companies to scale up, they are turning to Indeed, the world's largest employment search engine. Research shows that Indeed, which receives more than 200 million unique visits per month, is responsible for five times the number of external hires than any of the other leading jobs sites. Sponsoring jobs on Indeed for as little as $5 per day is a cost-effective way of ensuring your job listings stand out on the site. Another feature for employers is Indeed Resume, which gives users access to a constantly growing database of more than 80 million résumés with built-in email alerts. Once you've posted a job on Indeed, you can use its company pages to keep all of your listings organized and tell the story of your business to prospective hires.
Pier 1 Imports, known for its unique home furnishings and decor, was launching a new e-commerce website in 2012 and needed to hire more than 100 customer relations specialists in expedited fashion.
The retailer had already used Indeed for past hires and decided to increase its recruiting campaign's visibility by sponsoring job listings on the site to bring in the highest volume of qualified applicants.
"We needed to hire people in a short timeframe," said Kaye Miller, Director of Talent Acquisition for Pier 1 Imports, in a case study. "We had success with Indeed before, and we decided to sponsor jobs for those customer relations roles we knew we needed to fill."
Out of the more than 100 new team members Pier 1 hired that month, 75 percent of the openings were filled by candidates from Indeed, the world's largest jobs site. Indeed produced 502 applicants for just over $1,000 spent on sponsored posts. And Pier 1 didn't just get a high volume of job-seekers; it got well-qualified ones, too.
"I wasn't surprised by the traffic we got to those jobs, because we knew that our candidate volume from Indeed was good," Kaye said. "I was impressed, though, by the high quality of the candidates we saw. By far, the highest quality candidates came from Indeed."
Reach Over 200M Monthly Visitors with Free or Sponsored Jobs Ads
Indeed has dominated the job listings website market for the past five years thanks to an algorithm-based search engine that gives users access to millions of jobs in 60 different countries in 28 languages. According to SilkRoad, the site is responsible for more than six times as many job interviews as CareerBuilder and 10 times as many as LinkedIn and Craigslist. Indeed also delivers two and a half times as many external hires as all the other top jobs sites combined.
"Our mission is simple – we help people get jobs," said Paul D'Arcy, senior vice president at Indeed. "The SilkRoad research demonstrates our success in delivering on this mission of helping companies and candidates find the right fit."
The site reached 200 million unique visits in January of 2016 and has remained over that number every month since. This massive volume gives employers the ability to hire local candidates as Indeed users are in nearly every corner of the world.
It's free for an employer to post a job on Indeed, but with so many people using the site, a new listing can sometimes be lost in the shuffle after a few days.
Some companies choose to sponsor job listings because it keeps their posts near the top of search results, drawing more interested candidates. Sponsoring a job on Indeed can cost as little as $5 a day, and these posts get up to five times more clicks than free posts. Best of all, you only pay when someone clicks on your listing.
Once candidates start pouring in for a job listing, Indeed's employer dashboard helps you stay organized with the ability to view all of your applicants in one place. You can also view résumés, schedule interviews, reject candidates, send messages, and attach pertinent notes to each user profile.
Indeed also provides a free screening service that lets you send an automated phone call to candidates in which they answer key questions via the phone system. If someone else is involved in the hiring process, you can also forward applications from the dashboard.
If you need to scale up for a particularly busy part of the year, you can classify job listings as contract or temporary, so interested parties will know upfront that you're not hiring for full-time positions.
Access a Database of 80M Résumés via Indeed Resume™
Competitive companies will sometimes actively seek out talent instead of listing a job and waiting for candidates to come to them. Indeed Resume is a resource that gives employers and recruiters access to a database of more than 80 million résumés, with more than 2 million résumés added each month across every industry and location.
Searches are free, and can be as broad as looking worldwide for a specific job title or skill or as specific as seeking a multilingual customer service representative in Las Vegas.
The more precise you get in the search fields, the more the advanced search will narrow down your results to candidates who embody your ideal hire.
If you find someone that piques your interest, contacting them directly from Indeed Resume involves only a couple of clicks. The platform also allows you to contact multiple prospective hires at the same time, boosting efficiency in the hiring process. If a candidate responds to your email, their contact information becomes visible, and you can correspond with them more directly. Think of Indeed Resume as an employment matchmaker.
Indeed Resume lets you contact the first 100 candidates at no cost. If you need to contact more than 100 job seekers, it's only $1 per person at that point. Employers can also sign up for résumé alerts and daily emails that feature the best matches for your listings so you'll never miss out on a new candidate who might be a perfect fit for your company.
Customizable Company Pages Showcase Your Brand Story and Reviews
When an employer posts a job on Indeed, a company page is automatically created — it just needs to be claimed by someone within the business. Once you've taken ownership of your company page, customizable features are unlocked that allow you to tell your company's story. You can brand your page by including a logo and uploading photos.
People interested in joining your company can ask questions and see all of your open positions in one place, even seeing average salaries by position so they'll know what to expect in an offer if they thrive in the interview process.
Another important feature on company pages is allowing employees and applicants to review your company. Companies can even respond to reviews so visitors to the site will get both sides of the story if a negative review is posted.
Employees can rate your company in several different categories, including work/life balance, compensation/benefits, job security/advancement, management, and company culture.
A well-developed company page on Indeed adds transparency to the hiring process and gives great companies the chance to show talented prospective hires what they would have to gain by joining your team.
Find Better Employees on the Site Responsible for 5X More Hires Than the Competition
High-quality employees are crucial to a company's success, which emphasizes the importance of the recruiting and hiring process. With the high volume of talent on Indeed, employers can have their choice of the best and most qualified workers.
Since 2011, Indeed has been the leading source of hires, and the gap is only getting wider. In 2016, Indeed was responsible for 58% of external hires.
With employer-friendly features, like sponsored listings, email alerts, and branded company pages, there's no reason to think that number will do anything but go up as more companies find value in posting their openings on the site.
Pier 1 made more than 75 high-quality hires in the span of a month using the site, and that's just one example of a company that relies on Indeed to supply the lifeblood of their business.