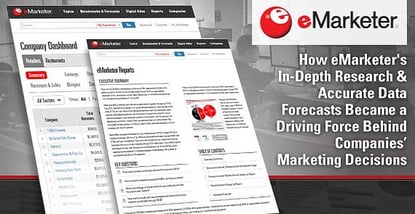 credit card news
Our experts and industry insiders blog the latest news, studies and current events from inside the credit card industry. Our articles follow strict editorial guidelines.
In a Nutshell: The more information a company has, the better prepared it is to react to shifts in trends and strategies. For more than 20 years, eMarketer has been helping businesses stay ahead of the curve by producing the most in-depth digital marketing reports and forecasts for a variety of different industries. Recently, eMarketer created eMarketer Retail, a dedicated site for the retail industry, with the latest news and statistics on over 300 stores and establishments. Some of the world's largest businesses trust eMarketer to provide them with the latest digital marketing information, and with the backing of digital publication giant Axel Springer SE, eMarketer is positioned to shed light on a path into the future.
The world of digital marketing can be tricky for retailers of all sizes to navigate because of the foresight it takes to prepare and implement strategies. Much of the process can depend on the quality of research that has been done before a campaign or product is rolled out.
Research is so fundamental to digital marketing that many of the world's largest companies have turned to insight specialist eMarketer for more accurate projections and reports. Over the past 20 years, eMarketer has been helping companies make sense of the vast amount of data that is constantly being churned out around the world.
A significant difference between eMarketer and other firms is that it doesn't carry out its own panels or tests, meaning it has no ties or biases about any of the information. Instead, eMarketer takes all available research on a subject and independently analyzes it, coming up with its own predictions and models based on a wide swath of data.
That number-crunching leads to marketing insights on what is working now and what trends to keep an eye on. And, because of the way retail has been disrupted in recent years, new strategies are constantly emerging in the form of new data on everything from mobile apps to virtual reality.
"Companies like Amazon have really changed customer behavior, so traditional brick-and-mortar retailers are still trying to figure out how to compete in that space," eMarketer Public Relations Manager Douglas Clark told us. "Some have figured it out, and others are playing catch up. We have comprehensive research on e-commerce, mobile usage, social commerce, and different aspects of the digital marketing space so that retailers can stay ahead of the curve."
By including many different sources and making calculations and projections through statistical models, eMarketer provides comprehensive reports that are driving decisions in the marketing world.
Businesses Use eMarketer PRO for Deep Industry Insights
While eMarketer has a public site that is filled with useful information, businesses making long-term decisions on investments and strategies need all of the data available before taking action. With eMarketer PRO, companies have access to more comprehensive reports and projections.
"Our PRO offering provides more depth than you can get from the public site," Douglas told us. "You have access to the more than 15,000 charts and nearly 200 reports we publish every year. Anything from ad spending in various countries worldwide to the proliferation of artificial intelligence in retail."
Through eMarketer PRO, a retailer can access to a wide variety of reports on numerous industries and trends. And the data is not just a pile of information that a business must sift through; it has already gone through a three-step process that concentrates it into actionable insights.
First, eMarketer compiles relevant data from more than 3,000 sources worldwide — including research firms, governments, and even media reports. The fact-gathering also includes interviews with marketers, media buyers, and advertisers to get a qualitative perspective on a topic. Next, the data is refined to weed out inaccurate or irrelevant information that may be due to an issue with a source's expertise on the subject or the methodology used. Finally, eMarketer analyzes the results and provides a forecast filled with the most relevant data — and puts it in context.
"It is about the story behind the numbers and why things are moving the way they are," Douglas said. "A lot of background and commentary that we put into the reports comes from the analysis of the numbers, and the insights are from conversations our analysts are having with industry leaders — CEOs, CMOs, and e-commerce retailers."
Other than specific marketing strategies, eMarketer produces several predictions each year that can focus on seasonal events — like the holiday shopping season — or larger-scale industry trends — like breaking down the year in retail, including e-commerce.
Retailers are particularly concerned about being kept up to date on these trends. That is why eMarketer rolled out a dedicated site to give professionals in the industry access to updated business statistics and news infused with data and insights.
eMarketer Retail Compiles Current News, Trends, & Statistics
On eMarketer Retail, the company delves into some of the most recent retail topics, adding its own in-depth analysis to trends reports. The site is also home to an updated database of financial statistics for more than 270 major retailers and 100 restaurants.
"Our retail site contains news stories tying our research into the latest headlines, but you can also get statistics for other major retailers and create custom charts or Excel spreadsheets," Douglas said. "It is a powerful one-stop shop if you are looking for metrics on retailers or restaurants, and it is all interactive."
By browsing the financial data from other companies, a retailer can see exactly how it stacks up to comparable — or much larger — businesses in key areas like revenue growth and average sales per store. The retail section covers companies from Apple to Zulily, while the restaurant section has insights on chains large and small — from Starbucks and its 25,734 locations to Lime Fresh Mexican Grill and its two locations.
Retailers can also learn more about industry challenges by reading articles that infuse eMarketer research into the latest industry news. Whether a retailer is curious about what it can accomplish with all of the customer data it collects or wants to learn how to adapt the brick-and-mortar experience to align with changes in consumer behavior, eMarketer's retail site serves as a deeply educational resource.
Quantitative & Qualitative Perspectives on Marketing Topics
One of the reasons eMarketer can provide such impactful reports, projections, and insights is its research methodology, which thoroughly delves into a subject and does not prioritize data quantity over quality.
"It is not just about the amount of information we put into our reports and forecasts, but it is about the quality, too," Douglas told us. "If there isn't enough reliable information out there, we won't put out a forecast. We are always looking at the methodologies and hidden biases of the information we gather before factoring statistics into our models."
That approach gives companies confidence that the data is accurate and worth using in the decision-making process. The retailers and corporations that rely on eMarketer's research are a diverse group, but many of them share a common admiration for the important work the company does.
And since the retail world must stay constantly vigilant for new trends and insights rooted in specific areas of digital marketing, eMarketer plans to produce the latest, thoroughly vetted data in the context that businesses need well into the future.
Backed by a Digital Publication Powerhouse, eMarketer Continues to Grow
As retailers both large and small know, reliable marketing data can be difficult — and expensive — to come by. But that data can mean the difference between being ahead of the curve or behind it, which is why companies, from small businesses to global Fortune 500 firms, have turned to eMarketer's robust digital marketing reports and projections to move forward on large-scale projects.
And because it was purchased last year by digital publishing giant Axel Springer SE, eMarketer is positioned to provide companies with those reports and projections for many years to come.
"Our acquisition by Axel Springer SE — who also owns Business Insider — shows just how important our research is and our commitment to analyzing the digital growth we are seeing," Douglas said. "They saw an opportunity to help us grow, and it is a win-win because we are now an important piece of their digital business."
Companies will always have a need for the most reliable, up-to-date research on trends and strategies to make more informed boardroom decisions. Through eMarketer, those businesses can be confident they are getting the most current digital intelligence available presented in succinct reports and projections for actionable insights.