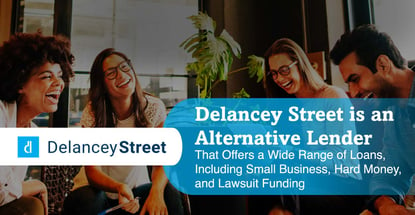 credit card news
Our experts and industry insiders blog the latest news, studies and current events from inside the credit card industry. Our articles follow strict editorial guidelines.
In a Nutshell: Being denied a loan can be a difficult experience for business owners and entrepreneurs trying to make ends meet or get to the next level in their businesses. Delancey Street is a company that offers alternative lending options for those unable to get funding from banks, whether it's due to credit scores, lack of assets, or debt-to-income ratio. The company provides small business loans, merchant cash advances, lawsuit loans, hard money loans, fix-and-flip loans, and more. And it prides itself on providing high-quality customer service through its quick and easy online application process and loan approval. Delancey Street customers offer glowing reviews of the lender's services.
In today's fast-moving world, there are countless reasons small businesses or entrepreneurs may seek funding. Unfortunately, traditional financial institutions are not able to fund every request they receive.
The rationale behind a bank denying a loan can be wide-ranging — a business may have less than ideal credit scores, insufficient collateral, cash flow concerns, or a high debt-to-income ratio, among many other possibilities.

But the fact remains that being turned down for a loan can be a devastating experience for a small business owner or entrepreneur. Unlike large companies, small or independent businesses often don't have backup resources to fall back on when times are tough or important business expansions need to be made.
When banks aren't an option, businesses often turn to alternatives lenders like Delancey Street to secure the funds they need.
"When banks say no, we say yes," according to the Delancey Street website. "We're the premier alternative lender that handles virtually any lending scenario, ranging from hard money loans to merchant cash advance, and even litigation financing. We evaluate a financial situation, and using the tools at our disposal — come up with a unique offer that is irreplicable by the mainstream industry."
Brian Ofsie is Delancey Street's Senior Vice President, and he recently took some time to chat with us about how the company can help those who have been denied bank loans, the types of loans and other services the company offers, and Delancey Street's focus on customer service.
Delancey Street Holds Funding Potential for Many Who Can't Obtain Loans Through Traditional Means
"Companies are going up and down in the business cycle so their needs are changing," Ofsie said. "But a lot of times new businesses, and even older ones, can't just walk into local banks and qualify because of the bank's stringent guidelines. In situations like this, you need a partner who is going to work with you."
He said that's where Delancey Street comes in to lend a hand.
"They need firms like us to help them, where their credit doesn't have to be 700-plus, they don't have to have a certain amount of assets," Ofsie said. "We're a lot more liberal."
Additionally, banks can often take anywhere from 30 to 90 days to fund a small business loan, whereas Delancey Street can fund loans within 48 hours.
Delancey Street offers a wide variety of loans to fit nearly any need. In addition to small business loans, the company facilitates hard money loans for developers, fix-and-flip loans geared toward the real estate industry, private money loans, and even lawsuit loans.
"We've capitalized on all of our legal contacts to offer lawsuit funding for individuals who are in the middle of a lawsuit," Ofsie said. "These lawsuits can take years before they get any settlement, and they need money to survive. We're able to lend to those individuals to help them out during their tough times."
The company prides itself on its ability to offer solutions for a variety of situations individuals or businesses may be dealing with.
"We are the first lender to be able to handle virtually any scenario you throw at us. Got real estate and want to use it as collateral to get a small business loan? We can do it. It doesn't matter how 'out of the box' your situation is, we can do it," according to the company website.
The Company Strives to Help Entrepreneurs and Other Borrowers Have the Best Experience Possible
At Delancey Street, one of the highest priorities is to always provide customers with a great experience through high-quality customer service and a fast and easy application process.
"In business, relationships are everything. We want to make sure our customers have the best experience," Ofsie said. "We do multiple touches so they understand the loan, and they're getting follow-ups from us after the funding. We don't just give you the best offer, we explain why it's the best offer – and more importantly, the right offer for your situation. Every member of our team has experience running a business — and understands the challenges you face."
He said Delancey Street maintains contact even after the loans are dispersed to answer any questions or provide assistance however it can.
"At the end of the day, we hope our clients do great and that they don't need additional funding," Ofsie said. "But if they do, we're here for them."
Ofsie recalled a recent client who was in a bind to make payroll on the Friday of the same week. The client applied for a $50,000 working capital loan, and Delancey Street was able to fund the customer by Thursday.
"They were very nervous because they didn't have any other way to make payroll, but we were able to get it done for them," he said. "These are very fast loans which is one of the highlights of the business. We look at the health of the business as opposed to things like credit score. For example, daily balances, where the revenue is coming from, how consistent the revenue is, etc. We use a complex formula, but ultimately it allows us to quickly understand the health of a business."
He said being able to help clients in times of need, expand their businesses, or get to the next level is extremely gratifying.
Delancey Street can provide loan decisions in as little as 30 seconds, according to its website. And the online application process is straightforward and quick.
Applicants simply answer a few basic questions about themselves, fill out, and submit the application online.
"We'll pair you with an experienced Delancey Street specialist who will reach out to you and understand your needs. We'll try to determine which financial product is right for you," according to the website. "We give you a few different loan offers based on your scenario and what options you qualify for."
The company advertises rates from 8.99% per year. And loans can range from $10,000 to $5 million with a repayment period of three to 48 months.
Satisfied Customers Attest to Delancey Street's Value
The borrower who was able to make payroll because of Delancey Street's speedy application and approval process is just one of numerous satisfied customers who have done business with the company.
Other recent successfully funded and happy clients include an ambulance service that was able to secure a $100,000 term loan to purchase a new ambulance. Customer Jon Norris received an $85,000 term loan to help purchase equipment for his restaurant.
"Delancey Street is the best. They ran multiple scenarios for me, and were really friendly to work with," he wrote on the Delancey Street website. "I kept on going back and forth, and changing my mind — and they never got annoyed — they kept working with me. I feel like this is huge and amazing."
And Adam Baxter received a $55,000 merchant cash advance to hire new team members for his company, Baxter Trucking.
"Getting funding in a high-risk industry is difficult, and I got rejected plenty of times. I was finally able to get approved by Delancey, at a rate and term that made financial sense," he wrote. "I highly recommend them if you're in a tough-to-fund industry."
Another customer, Steven Norris, wrote, "Delancey Street understands funding like no one else!"
Small businesses, real estate developers, entrepreneurs, and others looking for an alternative lender can visit the Delancey Street website to learn more about the company's funding options. They can also join the 30,000-plus subscribers who receive email updates and finance articles from Delancey Street in their inbox.