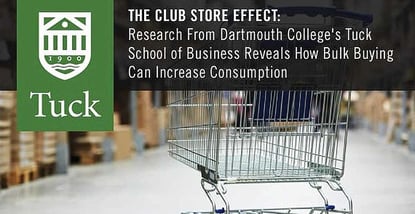 credit card news
Our experts and industry insiders blog the latest news, studies and current events from inside the credit card industry. Our articles follow strict editorial guidelines.
In a Nutshell: Wholesale club stores — such as Sam's Club, Costco, and BJ's — are popular options for shoppers looking to save time and money by buying in bulk. But a recent study led by Dartmouth College Tuck School of Business professor Kusum Ailawadi reveals that those benefits can also have negative effects. The study examines the Club Store Effect, which shows that, on average, warehouse club shoppers shop more frequently, eat more packaged food, and spend more than they would if did not patronize club stores. At a time when obesity and diabetes pose significant public health issues, the study recommends multiple steps marketers and club stores can take to curb consumer consumption without adversely affecting their bulk-selling business models.
Sometimes, good intentions, thoughtful planning, and savings strategies can have unintended consequences for consumers. A recent study, led by Dartmouth College Tuck School of Business Marketing Professor Kusum Ailawadi, showed the inadvertent effects of buying in bulk at wholesale club stores such as Costco or Sam's Club.
Consumers pay membership fees at wholesale stores to save money and shop less — by buying products in larger quantities. But the study, The Club Store Effect: Impact of Shopping in Warehouse Club Stores on Consumers' Packaged Food Purchases, shows that consumers who shop at club stores eat more, spend more, and shop more often than if they shopped at a smaller grocery store or big-box retailer.
"The implications for a consumer are, 'Don't kid yourself into thinking that you're going to buy all this extra stuff and then have the self-control to consume it at your normal rate,'" said Kusum Ailawadi. "When there's more at home, you eat more."
Kusum has researched retail and consumer behavior for 25 years. She has increasingly focused on how marketing affects consumption of packaged foods — especially as diabetes and obesity become widespread public health issues.
The Club Store Effect study comes at a time when childhood obesity rates are climbing — particularly among 2- to 5-year-olds — and more than 100 million Americans have diabetes or prediabetes.
The study was published in the Journal of Marketing Research, and Kusum said the results are not intended to be an indictment of the $148 billion club store industry in the US.
"Clearly, shopping at club stores has a benefit. There's no ambiguity that the prices per unit are lower. There is an opportunity to shop and save as long as there is the self-control to not over-consume," she said. "The lesson for the consumer is: be aware, plan your shopping, make a list, and don't tell yourself that you're going to buy extra and have self-control. You won't. The majority of us don't have that."
The researchers, including marketing professors from McGill University in Quebec and Babson College in Massachusetts, also recommended a series of steps that marketers can take to address the increase in food consumption while maintaining the bulk-selling business plan.
Bulk Purchases Often Lead to Overspending and Overeating
The study compared households that shopped at club stores with a control group of households that did not. The families agreed to scan the barcodes on food products they brought into the home. Researchers also collected data through consumer and health surveys, and an online database that showed the nutrition content of packaged foods.
The results showed that buying from bulk retailers can lead consumers to add unwanted bulk.
Shopping at club stores was associated with significantly higher packaged food purchases in total. The average increase was more than 300 calories and 60 grams of saturated fat per capita per month. That is significant because, considering the commonly cited rule of thumb that an extra 100 calories per day can translate into weight gain of 10 pounds over the course of a year.
The findings revealed that even individuals with higher education levels and consumers who identified themselves as health-conscious were no less vulnerable to increased consumption. Larger households also consumed more calories, fat, and sugar per person.

"Unfortunately, large families are more vulnerable to this. What happens is that you have more people at home, so you're buying more of these quantities, thinking, 'I'll just save myself a trip and store it in the pantry or freezer,'" Kusum said."Then people at home consume it more quickly."
The results also showed that increased consumption of storable foods led to the most significant hikes in calorie, sugar, and saturated fat intake.
"Households increase purchases of storable products when they shop at club stores, not of perishable ones, presumably because they intend to store them for consumption at a normal rate, but then they appear to use them up faster," the researchers concluded. "The club store effect is also derived more from high impulse foods. This result too makes sense in light of our finding that club store shopping does not substitute for trips to other formats.
Consequently, opportunities to make impulse purchases are not reduced, and nor is total spending."
Marketers Can Create Win-Win Opportunities from Findings
Kusum said the findings were a wake-up call to club-store shoppers and a chance for both marketers and stores to create win-win opportunities without abandoning their business models.
"Marketers must balance their goal of profitably with making food affordable and convenient for consumers against public health concerns," the researchers wrote.
Already, grocery stores and mass-merchandisers are carrying larger selections of healthy products and, in some cases, urging food manufacturers to make products more healthy.
"Decisions about which items to bundle can be made on the basis of basket analysis and household purchase histories, which are easily available to club store retailers from their member databases." — Excerpt from The Club Store Effect: Impact of Shopping in Warehouse Club Stores on Consumers' Packaged Food Purchases
Researchers recommended that club stores begin bundling different food items into variety packs. That would reduce the total amount of any single item while maintaining the large package size. It would also help satisfy the varying tastes of family members, particularly in large households.
"Decisions about which items to bundle can be made on the basis of basket analysis and household purchase histories, which are easily available to club store retailers from their member databases," the researchers wrote.
They specifically recommended that club stores begin selling variety packages of fresh produce. That could persuade shoppers who do not buy large bags of fruits or vegetables — because of concerns over spoilage — to purchase more healthy foods.
The researchers also recommended a slight increase in the package size of healthy food products and a slight decrease in the package size of less healthy foods. That move would come with a corresponding reminder of the appropriate serving size.
Research Shows Consumer Behavior Affects Health
Academics, retailers, and marketers regularly study consumer behavior to understand shopping preferences and product selection. The Club Store Effect study takes on added importance because it also has public health implications.
The Centers for Disease Control and Prevention (CDC) found nearly 2 in 10 children and 4 in 10 adults in the US are obese. Childhood and adult obesity rates both continue to rise and diabetes or prediabetes now affect 100 million people.
Against that backdrop, the findings that households consume more calories and saturated fats when they purchase food from club stores is a lesson for both consumers and the food marketers facing heightened scrutiny over the increase in obesity-related health problems.