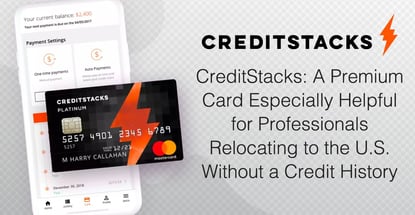 In a Nutshell: For professionals moving to the U.S. from other countries, establishing and building credit can be a significant challenge. But the CreditStacks Mastercard® helps these professionals by offering a premium card that does not require a U.S. credit history. (If applicant has been living in the U.S. for more than one year at time of application, a social security number must be provided and the application review will include a credit check.) The company also seeks to educate customers about how to build their credit and uses its mobile app to offer assistance in real time. The CreditStacks Mastercard is packed with appealing benefits, such as fraud protection and top-level security, for newcomers to the U.S.
A person can be highly successful in his or her home country, have years of good credit and a great financial reputation, and a high salary, but those attributes often go out the window if he or she relocates to the U.S. and applies for a credit card.
That's because creditworthiness doesn't necessarily translate across borders. Moving to a new country is a challenging endeavor in and of itself. Add to that being denied a credit card despite having a stellar track record in your home country, and it can be downright disheartening, to say the least.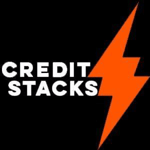 But that's how the U.S. credit system works. For many U.S. credit card companies, no U.S. credit history equals no credit card.
Thankfully, the CreditStacks Mastercard helps solve this long-standing challenge by serving this consumer base of relocating professionals who often bring high salaries and high potential to the U.S. but may not qualify for a credit card.
The founders of CreditStacks faced this problem themselves, which is what led them to create a credit card for people like them.
We recently spoke with Elnor Rozenrot, CreditStacks' CEO and Co-Founder (along with Jonathan Jacobi, Shahar Nechmad, and Robert Hartheimer), who told us about his and his colleagues' experiences as Israel-based entrepreneurs trying to relocate to the U.S. and the benefits of the CreditStacks card.
"Essentially, three of us went through the very painful experience of moving to the U.S. at an established stage in our careers and were just shocked that, at that point in our lives, we were deemed not creditworthy," Rozenrot said.
Hartheimer, who has decades of banking experience, was always puzzled by these types of gaping holes in the U.S. credit system, Rozenrot said.
"So we all came together to solve this unholy problem," he said.
Or as the CreditStacks website states: "We couldn't find a credit card company that could meet our needs, so we started our own."
How the CreditStacks Mastercard Makes Transitioning to the U.S. Easier for Professionals and Skilled Workers
The CreditStacks Mastercard was designed with the relocating professional in mind and offers advantages that make transitioning to the U.S. a smoother experience. The first and most obvious benefit of the CreditStacks Mastercard is that it does not require applicants to have any credit history. (If applicant has been living in the U.S. for more than one year at time of application, a social security number must be provided and the application review will include a credit check.)
"It's strange to say this in the context of a credit card, but this is really very much a social mission," Rozenrot said. "You've just come from another country and you've got a great future ahead of you. But you're suspect just because you have no credit history. That's horrible."
He said the CreditStacks team wants to make sure that professionals coming to the U.S. should be treated the way they deserve to be treated.
Another big sticking point for newcomers looking to do business in the U.S. is the absence of a U.S.-issued Social Security number. Again, the CreditStacks Mastercard supports these professionals by not requiring a Social Security number to apply (although a Social Security number will need to be provided within 60 days of card activation).
Other CardStacks features would be appealing to nearly any credit card applicant, newly relocated or not.
"Transparency is the cornerstone of CreditStacks," according to the company website. "That's why all our cardholders will always enjoy low interest rates, no annual fees, zero international transaction fees (see cardholder agreement and fee schedule for full details), high credit limits, and round-the-clock customer support."
It also gives cardholders the opportunity to build a credit history so they can apply for other lines of credit in the future.
The company takes a mobile-first approach to its card services with an app that "includes innovative payment schedules, real-time notifications, and the ability to report your card lost or stolen in a single click."
The Company is Working to Reinvent the Credit Experience
"When we came up with this product, we didn't just decide to find a segment of the market that's underserved and pursue it," Rozenrot said. "We basically said to ourselves, 'Let's reinvent the credit experience.'"
He said many people have had less-than-stellar experiences in the traditional credit system currently in effect. He added that credit cards are very complex products and are often accompanied by a learning curve to use them properly.
"You need to learn what to do to basically not blow up your financial life," he said.
Rozenrot said a major part of CreditStacks' approach to reinventing the credit experience is making sure customers get the knowledge they need when they need it.
"We don't want to send you a big letter up front telling you how to work with credit," he said. "We want to constantly communicate with you in real time to give you the advice you need in the moment."
For CreditStacks customers, he said that may mean something as basic as a reminder about an upcoming due date because in many other countries credit cards are automatically linked to the customer's bank account.
"It doesn't happen in the U.S., and that's news to a lot of customers," Rozenrot said. "And then there are the questions around utilization rates and other parameters."
CreditStacks addresses these issues in two main ways. The first way is the educational piece of simply letting customers know in real time how the U.S. credit card world works.
"The other piece is to automate a lot of actions that will benefit the customer," Rozenrot said. "So, if you want to build a strong credit score, for instance, we have a module that will tweak your payment structure, time, and amount to make sure you're maximizing your credit score and building it as fast as possible."
The goal is to add convenience to the experience of CreditStacks cardholders, he said, so they can focus on other important things in their lives.
The Card Comes with Top-Level Security and an Abundance of Appealing Benefits
The CreditStacks team understands that uploading personal information over the internet, some of which is required to apply for the credit card, can make some people nervous. But the company prioritizes security.
"We know how important your privacy and security are," according to the CreditStacks website. "We protect all our users' information with the utmost security measures. Rest assured that all documents uploaded are encrypted, and all data is safely stored."
As far as other benefits, Rozenrot said the company essentially explored every possible credit card benefit available and added all the ones the CreditStacks team believed would be relevant to its customer base.
"It's a very rich benefit list because our customers deserve that," he said. "You'll find travel insurance, you'll find 60-day satisfaction guaranteed insurance in case a retailer refused to take an item back that you purchased, rental car insurance, and lots more."
The CreditStacks website highlights the full list of cardholder benefits, which include 60-day price protection, 90-day purchase assurance to protect against damage or theft, and a zero liability policy for unauthorized transactions. CreditStacks also doubles original manufacturers' warranties of 12 months or less, for up to 24 months of warranty coverage. In addition, offering all its clients a credit limit up to $5,000.
Cardholders also gain access to special travel offers at top destinations through Mastercard Travel Services, can save on airport concierge services, and have lost or damaged luggage insurance. Another valuable benefit is cellphone protection in the event a cardholder's phone is damaged or stolen.
Again, it's all about treating customers how they deserve to be treated, Rozenrot said.
Additionally, many U.S. college students face similar challenges to CreditStacks' current customer base when it comes to credit cards because they often have little to no credit history when they graduate, he said. So, in the future, CreditStacks plans to offer some of the same services and benefits to that audience as well.
"You're graduating from college, and you've got a brilliant future ahead of you," he said. "You should not have to struggle just because you don't have a credit history."
Additional CreditStacks Resources:
Cardholder Agreement
Fee Schedule
Advertiser Disclosure
CardRates.com is a free online resource that offers valuable content and comparison services to users. To keep this resource 100% free, we receive compensation for referrals for many of the offers listed on the site. Along with key review factors, this compensation may impact how and where products appear across CardRates.com (including, for example, the order in which they appear). CardRates.com does not include the entire universe of available offers. Editorial opinions expressed on the site are strictly our own and are not provided, endorsed, or approved by advertisers.