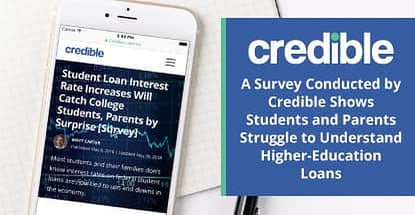 credit card news
Our experts and industry insiders blog the latest news, studies and current events from inside the credit card industry. Our articles follow strict editorial guidelines.
In a Nutshell: Stephen Dash founded Credible when he saw American students burdened by their student loan debt — something not common in his native Australia. Credible, now one of the web's leading loan marketplaces, connects borrowers with lenders to find the best possible interest rates on student and personal loans. Credible recently conducted a quiz of 1,000 students, or parents of students, who hold student loan debt to gauge their proficiency on the subject. The quiz results showed respondents had a glaring lack of background knowledge on the interest rates and terms of their loans, with a majority of the respondents incorrectly answering five of the seven questions.
Time is one of the greatest gifts a person can receive. Most people never seem to find enough minutes in the day to complete their necessary tasks amid the chaos of work or school and the nonstop pace that life seems to take.
With so little time to spare, I, for one, am guilty of cutting corners with certain tasks. Those privacy policy notices that pop up on my phone? I typically only scan them before hitting the approve button. Go ahead and judge me.
We're in an age where there are so many notices and warnings on cellphones and desktop browsers that people typically just hit the approve button without thinking twice. Unfortunately, that mindset seems to have trickled over into signing important financial documents as well.
Gone are the days when students could fund a college education with a summer job. Most students today require some sort of financial aid to make it through college, and, if they're lucky, they'll pay off their loans off within 10 years of graduation.

Credible
is a leading online marketplace that provides borrowers with competitive, personalized loan offers from multiple vetted lenders in real time.
The company recently quizzed a group of 1,000 students, or parents of students, who hold student loan debt to see how much they knew about their loans. The answers were surprising — even to Credible.
"We knew there was probably some confusion out there, but we didn't expect the results coming in and showing as much confusion as it did," said Mike Jurs, Director of Communications and Content at Credible and the creator of the quiz.
Most of the seven quiz questions centered around the ever-important topic of interest rates — as in, who sets them, how they're determined, and if borrowers can change them.
Credible works extensively in the refinance market, so the company naturally added a question on that topic. In both cases, an overwhelming number of respondents either said they did not know the answer or answered incorrectly.
"If you have student loans, it's worthwhile to understand how they work," Jurs said. "That helps you make better financial decisions for your own good, whether that is refinancing or not. You need to understand how they work to make those decisions."
Respondents Combine to Miss Five of Seven Questions
The first question Credible asked participants was "Who sets the interest rates on federal student loans?" The most common response found 37.1% of respondents clicking "I don't know." The least popular answer, which is also the correct answer, saw 3.7% of respondents say that Congress sets the rates that are also tied to the 10-year Treasury yield.
The next true or false question read: "Once you take out your first federal student loan, you're guaranteed to get the same rate each year you're enrolled in college or graduate school." While 48.8% of respondents answered correctly with false, the other half of the quiz takers were fairly evenly split, with 23.3 incorrectly answering true and 27.9 choosing the I don't know option.
When asked which federal student loans carry the highest interest rates, 42.1% of respondents said they did not know the PLUS loan carried the highest rate. A surprising 9.6% said they thought all loans carry the same interest rate.

When asked if interest rates on federal student loans issued today have fixed rates, variable rates, a hybrid, or all of the above,
a majority of respondents
, 29.9% in all, said they did not know that the rates are fixed.
And 44% of respondents said they did not know the benchmark their variable-rate student loans are indexed to is the prime rate or the London Interbank Offered Rate (LIBOR).
A majority of respondents, 37.3% in all incorrectly thought the Department of Education set the interest rates for private student loans. Close behind was 34.7% of respondents who said they did not know. In third, with 12.8% were respondents who correctly answered that market forces dictate the rates.
Refinancing is a Tough Topic for Some
The lone refinance question found 47.2% of respondents correctly identifying that they cannot refinance their existing student loans to get a better interest rate. Despite the positive response rate, a majority of the incorrect answers, 31.7% in all, clicked on the "I don't know" response.
Jurs said that, while the results weren't what Credible expected, the quiz still gave respondents a chance to learn about their loans in an interactive way that deviates from the monotonous reading often required on federal student loan websites.
"Credible works every day with people who are refinancing their student loans and taking out new private student loans," he said. "We know from experience that there is a lot of confusion out there revolving around how student loans work. We felt it would be interesting to see how much people knew and provide a resource for people to learn more about their loans in an interactive way."
How Credible Helps Educate and Inform Borrowers
Stephen Dash founded Credible when he saw American students burdened by their student loan debt — something not commonly seen in his native Australia. The refinancing marketplace he created helps connect borrowers with lenders to find the lowest possible interest rates for student or personal loans.
"We help you check the rates that will be available across multiple lenders by submitting your information just once," Jurs said. "You'll get real rates that you qualify for and not ballpark estimates. None of it impacts your credit score."
Credible is not a lender. The company simply connects borrowers to lenders and charges no fees for the service. Aside from checking rates, Credible readers can learn more about their loans to keep from making financial decisions that negatively impact their future.
"We have a number of resources available on Credible where people can read up on how both federal and private student loans work," Jurs said. "We also have customer service representatives who are available to answer any questions customers may have. A lot of people value that because these loans can be really confusing."