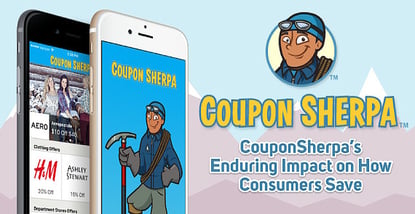 credit card news
Our experts and industry insiders blog the latest news, studies and current events from inside the credit card industry. Our articles follow strict editorial guidelines.
In a Nutshell: Since the distribution of the first coupons in the late 1800s, consumers had to cut, clip, or print their way to saving money — until CouponSherpa. In 2009, CouponSherpa released the first coupon application, allowing consumers to download coupons to their smartphones that could then be scanned in-store. Today, the CouponSherpa app has more than 3 million downloads, and the site sees an average of 2.5 million visits a month. Users seeking deals can find and download thousands of codes and coupons from hundreds of national and local retailers. Inspired by their personal savings superheroes, the Frugals, the team at CouponSherpa continues to fight for consumer savings.
For as long as there has been retail, there has likely been marketing. I imagine the ancient Arabian souqs — crowded marketplaces of farmers and craftspeople — were cacophonous with the voices of those touting their wares, each striving to be louder than his neighbor. To the ancient retailer, marketing involved having a voice that carried and better prices than your neighbor.
Today, it is a little more complicated than that. The world is connected in ways it has never been before, and consumers have access to almost all of the options in the world. In this onslaught of options, how does a product stand out? Novelty.
The new, different, and unique can be a big winner, and few companies prove it like CouponSherpa. Started in 2009 by Luke Knowles, also CEO of parent company Kinoli, CouponSherpa found huge success by being the first coupon application for phones.
The application, which allows consumers to download digital coupons to their cellphones that can be scanned in-store at the register — instead of printing or clipping standard paper coupons — saw thousands of downloads soon after launch and was recognized as an Apple Store favorite after only two months.

The demand for the CouponSherpa application led to the development of the website, which had, oddly enough, been the original plan. "Our intention was always to do an online coupons website," explained Luke. "Instead, our brand has become known for in-store coupons and the app. We didn't see that coming."
On Both Screens With Digital Codes and Scanned Coupons
While the application may have been a nearly-instant success, getting there was a lot of work. "There was a big learning curve for us when we first started," confided Luke, laughing. It turns out, it's not easy creating a coupon revolution.
"At first, we had to go into individual stores and see if they would accept our coupons. We'd go into one store, and it would scan off the phone really nicely. Then, we'd go into another store — maybe even the same brand — and the thing wouldn't scan at all."
Despite the ups and downs of development, the CouponSherpa app launched strong and now, seven years later, has over 3 million downloads and thousands of 5-star ratings. Not to be out-done, the website sees an average of 2.5 million visits a month.
Both iterations of CouponSherpa offer the digital coupons and online promo codes consumers have come to expect from the coupon giant. Deals can be sorted by format (printed/in-store vs. online) and type, with categories including everything from Arts & Crafts to Women's Clothing. The savings are from hundreds of major chains — places such as Kohl's and Tires Plus — as well as local shops, with the app featuring a map function to find deals near your current location.
The interfaces for both are similar and equally user-friendly, with a recent website update that focused on cleaning up the experience. "We wanted to focus on making it fast and easy for the consumer to find what they need," explained Luke. The team worked on the back-end architecture to speed up the site, and they added tons of new graphics. "Instead of just telling you what the coupon is with text, we're going to show you a picture of the product."
They were careful not to mess with the overall feel of the site, though, maintaining a little light-heartedness in the design. "We're a little more colorful than some of the other coupon sites. We try to be a little more fun, to reflect the overall culture of our company."
A Company Inspiring A Team of Savings Superheroes
What's the first sign that you're about to have a lot of fun at work? A giant swing in the middle of your new office.
The swing (yes, swing) suspended from the ceiling isn't the only indicator that Kinoli's headquarters — the home base of the CouponSherpa crew — isn't your average office. Adding to the impression are the casual clothes, open floor plan (peppered with standing desks), and giant windows — showcasing an amazing view of the Rocky Mountains.
"We try to make it so that our employees don't want to leave," said Luke, joking, "if we do that, we don't have to train new ones!" At the same time, he emphasized the focus on a solid work-life balance.
"We're trying to be a bit like Silicon Valley, only in Ft. Collins — and without the 80-hour work week," he described. "There's no 'brain drain' here. We really try to just have fun."
The team's focus on having fun inspires more than just the office policies and furniture. The drive to keep it all cool and copacetic has inspired an entire group of… superheroes?
"We created our version of the Justice League," explained Luke. "They're called 'The Frugals.'" The official mascots of the Kinoli brands, the team of five savings-themed characters have their framed pictures proudly displayed on the office wall.
CouponSherpa's hero, aptly called the Coupon Sherpa, is described in his origin story as being highly skilled in the arts of bargain hunting and penny-pinching. "He tirelessly searches high and low for the freshest, most reliable coupons available, trekking through the farthest reaches of cyberspace until his pack is bulging with bargains."
Coupon Sherpa features prominently in the design and artwork of the application and is a big part of the character (pun intended) of the site. Among the other superheroes are some equally unlikely characters, including Mr. Free Stuff — who protects the good name of freebies everywhere — and Inkjet Willy, who soars into printer ink savings. "[The Frugals] make designing easier, and help make the experience more engaging," said Luke. "They've done well for us."
CouponSherpa: Guiding Consumers to Great Deals
While coupons were not around until the late 1800s, I imagine a fair amount of bartering and deals were still to be had in the ancient souqs of Arabia. Perhaps there were even a few enterprising souls keeping track of the best deals for all your souq-shopping needs, these honorary Coupon Sherpas faithfully guiding their charges to great prices.
One thing is certain, millions of users have relied on the modern Coupon Sherpa — particularly the app and site he represents — to find them amazing discounts in-store and online. "It's just a nice experience," said Luke. "Most people aren't really thinking about [our app] until they get to checkout, then they're like, 'I wonder if I have a coupon for that?' It's a really nice experience when you find that you can save $10 you didn't even know about."