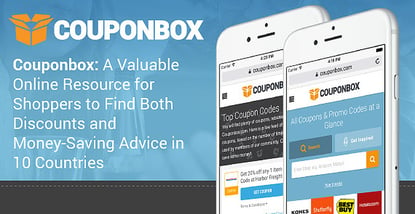 credit card news
Our experts and industry insiders blog the latest news, studies and current events from inside the credit card industry. Our articles follow strict editorial guidelines.
In a Nutshell: With online shopping more popular than ever, consumers have come to expect convenience and at-your-fingertips selection of products and services. But while online shopping may be gaining steam as the preferred method of shopping the time-honored tradition of searching for coupons and discounts to save money remains. Couponbox has emerged in the US, after successful ventures into other markets, as a valuable resource to help online shoppers find those savings. The user-friendly website allows consumers to quickly browse, select, and apply coupons from a variety of leading retailers. And the company's commitment to helping users save goes beyond just serving deals, as Couponbox maintains an updated blog with expert financial and shopping advice.
As both Generation X and Millennials grow older, the preference for online over in-store shopping appears to be picking up steam. A study from BigCommerce found that 67% of Millennials and 56% of Generation X prefer to shop online. While Seniors and Baby Boomers still do most of their shopping in-store — according to the study — the trend toward digital commerce is evident.
One common thread between all of those shoppers, though, is a desire to save money. In the past, that would mean buying the local paper and clipping coupons, but for online shoppers, the internet landscape has become muddled with deals sites of varying degrees of helpfulness.
Couponbox set out to make saving money easy by providing a one-stop destination that allows consumers to select coupons and vouchers for some of the leading e-commerce retailers — both globally and locally.
"It's important that consumers interact the way they want to interact with the site, not the way we want them to interact," Couponbox Head of Marketing Sezer Yurdakul said.
And since many consumers often lack time to research additional ways to save money in their daily lives, Couponbox goes beyond providing access to deals by producing content on its blog aimed at helping readers shop more efficiently and make better financial decisions.
"It's very important for us to inform people and make them aware of how to save money," Sezer said.
From a Startup in Austria to Growing a Presence in the US
The Couponbox story began in Austria in 2008, when three college friends — Alexander Bitsche, Daniel Ender, and Tobias Klien — founded a company named Webgears in their attic. The financial crisis had just hit Europe, and the friends wanted to find a way to spread the word about coupons and discounts that could help people save money.
"The first website was more like a blog," Sezer said. "It was small and only focused on the Austrian market."
The site, called Preisjäger — meaning Price Hunter — shared information about where consumers could find discounts and displayed coupons gathered from different websites. In 2011, the company launched Gutscheinsammler.de in the larger German market and expansion continued from that point with the company's German "Coupon of the Day" app launching in December 2012.
The following April, the company expanded its presence into another major European market, the United Kingdom, with Voucherbox.co.uk. The company's nimbleness in shifting to meet the character and preferences of different audiences in these markets enabled Voucherbox to quickly rise to number three in the top 20 coupon sites in the UK.
"We thought, 'If this is what we can do in these small countries — Germany, Austria, and the UK — what are our possibilities in the US?'" Sezer said.
In October 2014, the company entered its largest market — the US — with the launch of Couponbox.com, which began to show potential and growth almost immediately.
"Because the US market is much denser than the German market, couponing is more of a habit," Sezer said. "The US people, when they do online shopping, they definitely know that there's a coupon somewhere."
After a few rounds of hiring in 2014 and 2015, Webgears now has approximately 50 employees divided between its headquarters in Austria and an office in the German startup hub of Berlin. The company has websites serving 10 markets, including the larger US, UK, and Germany markets, and the smaller markets of Australia, France, the Netherlands, Canada, Spain, Italy, and India.
Offering Free Online Resources for Frugal Consumers
All of the coupons, vouchers, promo codes, and informational blogs on Couponbox are provided free of charge to users — and nearly 2,000 retail businesses partner with the US website. The easy-to-navigate interface allows consumers to search quickly by selecting coupons and discounts for some of the leading online retailers in the country.
Users who want to shop around are also able to search 19 different categories of businesses, including clothing, shoes, travel, food and drink, technology, health and beauty, and entertainment.
Sezer told us the website is designed to create a customer-driven experience. He said if a prospective shopper is looking for a deal at Foot Locker, for example, they should be able to quickly find that deal instead of having a notification about a sale at a furniture store sent to them.
Besides the thousands of coupons and deals available, the Couponbox blog is another free resource available to frugal consumers. Blog topics have included a look at similar products that vary in price based on the gender they are targeting, as well as how to pay less for rental cars, travel, and even Star Wars collectibles.
Expanding While Maintaining the Culture of a Startup
As Couponbox has expanded, it's maintained the transparent and collaborative culture of a startup. Sezer told us everyone from executives to the company's interns can offer ideas on ways the company can grow and bring savings to a broader audience.
"Everyone's opinion is valued, and we work directly with the founders themselves," he said.
Brainstorming sessions on current and future strategies bring the whole team together every month — either the company founders fly from Austria to Germany or the German office's employees fly to Austria.
"You can give employees a reason to work for you and achieve your dreams together with them," Sezer said. "And the only way to do that is by being open about everything that you're doing in the company and making sure that your employee feels that he or she is a part of it — that can make or break a company."
A User-Focused Site Helping Shoppers Save Money Every Day
More than ever before, consumers are shopping online, but their desire to find deals and save money remains unchanged. Couponbox delivers those discounts with an easy-to-navigate website that lets time-strapped deal-seekers quickly find offers from some of the leading online retailers in the world.
The user-friendly format allows prospective shoppers to go straight to a specific retailer or to browse different categories of products and services in search of the right deal. In addition to coupons and discount vouchers, the website also provides well-researched and relevant financial and shopping advice to promote savings in consumers' daily lives.
Less than three years after entering the US market, Couponbox has emerged as a preferred destination for frugal and cost-conscious consumers in search of discounts and money-saving tips and advice.