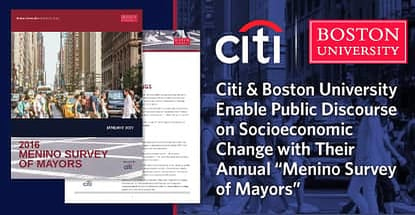 credit card news
Our experts and industry insiders blog the latest news, studies and current events from inside the credit card industry. Our articles follow strict editorial guidelines.
In a Nutshell: Developed by the Boston University Initiative on Cities and funded by Citi, the Menino Survey of Mayors has provided valuable insight into the perspectives and priorities of our nation's urban leaders since 2014. In contrast to previous years, the results of the 2016 survey showed that mayors are increasingly focused on tackling socioeconomic issues like poverty, income inequality, and the shrinking middle class. This focus was shared by mayors regardless of their affiliation, which is striking given the bitter partisan divide shrouding the country in the wake of the 2016 presidential election. The survey represents an important step toward addressing these issues and offers a rare opportunity for bipartisanship at the mayoral level and beyond.
As the mayor of Boston for more than 20 years, the late Thomas Menino knew a lot about the challenges faced by urban leaders. And in the last few years of his life, he sought to share his experience by establishing the Boston University Initiative on Cities, which seeks to research, promote, and advance urban leadership strategies and policies.
In 2014, the BU Initiative launched a nationwide survey of mayors from cities of all sizes and affluence. Originally known as the "The 21st Century Mayors Leadership Survey," the project sought to gain insight into mayors' policy priorities, challenges, and planned political capital expenditures, as well as their sources of influence and inspiration.
The survey proved groundbreaking, offering the first nationally representative view of mayoral strategies. While Menino passed away shortly after the 2014 survey was released, the BU Initiative has continued to conduct the annual survey, renaming it the "Menino Survey of Mayors" in his honor.
The results of the 2016 survey, which was taken by 102 mayors in 41 states, were released in January of 2017. Multinational financial services firm Citi partnered with BU to provide funding for the project, and Bob Annibale, Global Director of Citi Community Development and Inclusive Finance, believes the survey's latest findings are particularly valuable in light of the divisions in the American political landscape.
"The 2016 Menino Survey of Mayors provides important and timely insights into some of the largest and most complex issues facing the nation's mayors at a time of significant transition," said Bob.
The survey found that while executives in upper-level governmental positions may disagree over how to resolve issues like poverty, diversity, and income inequality, American mayors are much more united when it comes to addressing such challenges.
"One of the study's most important findings is that mayors, irrespective of political affiliation or city size, increasingly agree that tackling poverty, exclusion, and wealth inequality are top priorities," Bob said.
With such a consensus among Democrat and Republican mayors, the survey provides hope that bipartisan action is possible to confront these issues at the local government level — which just might lead to improved cooperation at higher levels.
Poverty, Income Inequality, and a Lack of Livable-Wage Jobs Present a Pressing Challenge for Mayors
While earlier Menino surveys focused heavily on infrastructure needs and fiscal priorities, the 2016 survey centered around "people priorities," including diversity, housing, and immigration. This was fitting since the survey was conducted during the summer of 2016 — the height of the presidential campaign — when these issues were heatedly debated nearly every day.
Unlike previous years, the 2016 survey found that socioeconomic issues, such as poverty, affordability, and income inequality, were among the mayors' most pressing concerns. When asked to name their top two policy priorities, mayors mentioned these issues more frequently than they had two years ago.
In fact, the socioeconomic category was the only policy priority that was listed at notably higher rates in 2016 relative to 2014, when mayors were asked the exact same question. Interestingly, the increased focus on socioeconomic issues was unrelated to a city's level of poverty.
"The socioeconomic category doubled from 10% in 2014 to 20% in 2016," the survey stated. "Moreover, there is no clear pattern as to the cities that drove this change. While mayors of cities with higher poverty rates were more likely to name priorities in this category, the increase from the 2014 survey was about the same for high and low poverty cities."
The 2016 survey delved into specific socioeconomic priorities by asking mayors to list their top economic concerns. Survey participants overwhelmingly identified poverty (44%), followed by the shrinking middle class (28%) and income inequality (23%), as their biggest worries. When asked to list their most pressing housing and employment challenges, mayors ranked the shortage of living-wage jobs (37%) and the lack of middle-class jobs available to those without college degrees (36%) as their top two concerns.
Nearly a quarter of surveyed mayors chose the poor as the number one group they needed to do more to help, surpassing other vulnerable populations, such as youth, minorities, and seniors. What's more, 48% of mayors cited those living in poverty as their city's most excluded group, ranking second only to the black population, which was mentioned by 50% as the most excluded.
All of these results indicate that urban leaders are deeply sympathetic to the plight of their most economically disadvantaged constituents.   

"Mayors present a remarkably consistent view in their concern and focus on their poorer residents," the survey stated. "Whether in response to questions related to jobs and economic opportunity or excluded constituencies, mayors made it clear that the needs of those living in poverty are pressing concerns."
Bipartisan Support Exists for Alleviating Poverty in the US
More than any other in recent memory, the 2016 presidential campaign highlighted the deep ideological divide between Democrats and Republicans. Evidence of this was uncovered by a Pew Research survey undertaken on the eve of President Donald Trump's inauguration, which found that 86% of Americans believe the country is more politically divided today than in the past.
What's more, a recent Gallup poll shows that this polarization filters down into specific policy priorities — and some of the most substantial divisions are over socioeconomic issues. Seventy-two percent of Democrats polled listed "the distribution of income and wealth" as a top priority, versus just 38% of Republicans, while 82% of Democrats chose "poverty and homelessness," versus 53% of Republicans.

In contrast, the Menino Survey found that when it comes to socioeconomic issues, the nation's mayors share many common concerns and priorities, regardless of party affiliation or whether they were from a red or blue state. For example, mayors from both parties cited poverty as their top economic concern: Democrats at 47% and Republicans at 39%.
The two political factions were even more closely aligned when it comes to viewing those living in poverty as an under-included constituency, with Democrats (49%) and Republicans (47%) practically tied on the issue.
Mayors from states that supported Trump and states that backed Clinton shared common concerns on certain topics. The survey found that an equal percentage of mayors (45%) from both Trump and Clinton states cited poverty as their number one economic concern. This was followed by the shrinking middle class, which was listed as a top concern of 29% of red-state mayors and 27% from blue states.
Although Republicans are sometimes viewed as being less concerned about the poor compared with Democrats, these results show that at the mayoral level, this is less true. This may be due to the fact that the policies mayors enact often have the most visible impact on people's daily lives.
"Most mayors realize the policies that we put in place and the actions that we take in cities, no matter what your political thinking is, have great impact on our citizens," said Betsy Price, the Republican mayor of Fort Worth, Texas.
The Survey Highlights Opportunities for Civic Improvement and Political Cooperation
The latest US census found that nearly 81% of Americans reside in urban areas, so it's not surprising that Menino declared we are now living in "the era of the city." This growing urbanization means mayors are becoming increasingly important and influential.
With their work on the Menino Survey, Boston University and Citi are helping provide valuable insight into the mindsets of our nation's mayors by identifying their most pressing challenges. The survey serves as a road map for more effective governance and provides a rare opportunity for bipartisanship — both of which are desperately needed in today's turbulent political climate.
"Republican and Democratic mayors share many of the same concerns and values," the survey concluded. "In a time of great political change, uncertainty, and a growing urban/rural divide, mayors' steady leadership is more important now than ever."