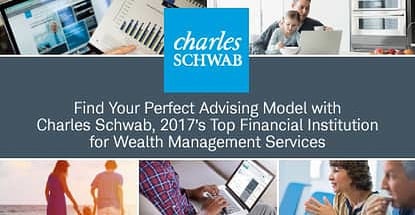 credit card news
Our experts and industry insiders blog the latest news, studies and current events from inside the credit card industry. Our articles follow strict editorial guidelines.
In a Nutshell: One of the biggest falsehoods in all of product marketing has to be the idea of "one size fits all." Whether it's a baseball cap or little black dress, there isn't a product on the market that truly fits well for everyone — and that doesn't just apply to retail goods. When it comes to financial planning and wealth management, for instance, you need a strategy designed around your specific needs and goals, not an amalgamation of tactics based on the "average" investor. With the dynamic suite of wealth management products from Charles Schwab, you can experience the advisory model that works for your unique financial situation, including self-directed management as well as dedicated, credentialed advisors to provide guidance and support. Combining 45 years of client-focused experience with modern innovation, the personalized services offered by Charles Schwab easily earn our pick for 2017's Top Financial Institution for Wealth Management Services.
No matter how you shape it, some things in life are simply generational. For instance, nothing my parents say can convince me that disco is a legitimate form of music (or dance). And, conversely, regardless of how eloquently you explain its merits, it's unlikely your grandparents will ever truly appreciate the subtle nuances of grunge rock.
While society has always been divided by its generational gaps, it has, in many ways, become increasingly apparent with the rise of millennials (roughly defined as those born between 1984 and 2004). Raised in a technologically evolving landscape and heavily shaped by the World Wide Web, millennials are often considered to be in a realm of their own — one dominated by screens and data streams.
That said, the generation gap may not be as large as we think; at least, not when it comes to the important things. Take our money, for example. According to a study from Merrill Lynch, financially active millennials have many of the same strategies for dealing with their finances as those from previous generations.
"These young people aren't rebelling against the traditional investment approaches advocated by their parents," stated the study's author. "Not only do most say they would have no objection to using their parents' financial advisors, they are also most likely to describe their investment philosophy as 'buy and hold.'"
Michael Cianfrocca, Spokesperson for financial services firm Charles Schwab, echoes the study's author in his response to the idea of pigeonholing clients based on generational groups. "It's a common over-simplification to say that a certain type of product is designed for a particular generation," he said, "because that assumes everyone's circumstances and goals are the same and people's needs don't evolve over time."
The team at Schwab has found millennials to have many of the same concerns as their parents and, even, their grandparents. "If you look at millennial clients using our robo-investing service, more than half say their primary goal is saving and investing for retirement," said Michael. "Across all of our clients, retirement is by far the most common investing priority."
With that knowledge, Charles Schwab doesn't divide clients by generation. Instead, according to the same customer-first ideology that has always driven the 45-year-old company, Schwab focuses on providing every client a variety of wealth management products to suit their individual needs. The dynamic product suite includes the high-quality products that have been successful for generations — and new, modern products the team thinks will be successful for many more.
"Schwab's approach is to offer a range of services to give our clients choice and flexibility in how they can work with us," Michael described. "Some clients are more self-directed, while others want professional advice. Some clients prefer a more technology-enabled experience, while others value more of a one-on-one relationship with an advisor. Some want a combination of the two."
A Diverse Approach to Financial Planning that Delivers on Modern Expectations
When it comes to the modern consumer, whatever their generation, there is, unarguably, at least one common trait: they want the options to customize, well, just about everything — including their financial planning and wealth management services. And they want it at a good value. At Charles Schwab, they provide the tools to ensure you can experience your ideal advisory model.
"Today's consumers expect things like more personalized service and access, and how they work with a financial services firm shouldn't be any different," said Michael. "Our goal is to offer a range of products and services that appeal to people as their lives and financial goals evolve."
Technology-Enabled Services for Self-Directed Administration
Digitization has been the natural result of our modern technology, and it has been making many things more efficient over the last decades — things like wealth management at Schwab. From desktop websites to mobile applications, Schwab has integrated technology into their services to ensure 24/7 client service and account accessibility.
Perhaps at the peak of technology-enabled management is Schwab Intelligent Portfolios, a robo-investing service that enables clients a higher degree of self-directed account management. The service, which has no advisory, service, or commission fees, automatically rebalances portfolios based on client specifications, allowing them to be hands-on with their portfolios — but without requiring daily maintenance. Best of all? You can start investing your wealth with as little as a $5,000 initial investment.
"We've had a longstanding focus on combining people and technology to improve the products and services we make available, and create better value for our clients," Michael explained. "A core philosophy at Schwab is to offer products that provide clients with a great value. We can do that because of our diverse business model and our scale — and the way we innovate to drive down costs. We believe that everyone should have access to products and services to help them manage their wealth, regardless of how much money they have."
One-on-One Professional Advice from Licensed Advisors
For those who prefer having their wealth managed entirely by the professionals, Schwab's network of thousands of credentialed Financial Consultants can provide experienced direction and guidance. As the site states, "We'll help you understand where your money is invested, how your investments are performing, and how much it's costing you. Plus, you'll have access to expertise and insights that can help you reach your specific goals."
Indeed, one of the most important things your financial planner should do is communicate. You should have a wealth management partner who can explain not just what to do, but why; not only answer your questions with straightforward answers — but encourage you to ask even more. According to the company's site, working with a Schwab advisor is "a collaborative approach to wealth management that's all about transparency, accountability, and taking ownership of your financial life."
A Financial Consultant will help develop a wealth management strategy that is in line with your personal priorities, from planning for retirement to starting a new business. They can ensure your portfolio is professionally managed, help develop specialized investment and saving strategies, and even set you up with other financial experts to meet any needs that come up along the way.
New Schwab Intelligent Advisory™ Blends the Two Approaches
So, what if you're somewhere in the middle? You want to have an active involvement in managing your wealth, but you'd prefer to have a professional advisor in your corner to help you understand your financial goals and options. For you, there is the new Schwab Intelligent Advisory service.
"There's an entire population of self-directed investors who aren't self-directed by choice –- they simply haven't found an advisory model that works for them yet," explained Neesha Hathi, Executive Vice President with Schwab Investor Services. "The barrier might be lack of trust and transparency, cost, complexity or general inertia, but there's a real need to make financial planning and advice more accessible."
Combining the best of self-directed and guided wealth management, the Intelligent Advisory program will provide clients with automated portfolio administration as well as a Certified Financial Planner (CFP) to help them make the best decisions.
"Schwab Intelligent Advisory democratizes the process by making it easier and more affordable to build and maintain a plan, stay invested, and access professional guidance along the way," said Neesha. "It fully leverages what technology and people can deliver in tandem, focusing on serving clients based on their unique needs while delivering the kind of value they know they can expect from Schwab. This is a modern approach to financial planning and wealth management that mirrors what today's consumers have come to expect in other aspects of their lives."
Plan for Your Evolving Financial Goals with Charles Schwab
When it comes down to it, some things in life are truly generational — like our opinions on what constitutes quality entertainment. Just remember, though, that not everything is so cut-and-dry, including wealth management. Whether you're a baby boomer entering retirement, or a millennial just starting to save for it, your wealth management options should reflect your personal financial needs and preferred investing strategies — not your age group.
For a management experience tailored to you (not your generation), try the comprehensive suite of wealth management products offered by 2017's Top Financial Institution for Wealth Management Services, Charles Schwab.

"Schwab's overall suite of wealth management services is designed to meet a range of investor preferences and needs," described Michael, "from clients who are more self-directed and want help with portfolio management, to clients who want broader ongoing financial and investment planning guidance. We work with each client to determine the best fit for their circumstances, preferences, and goals."