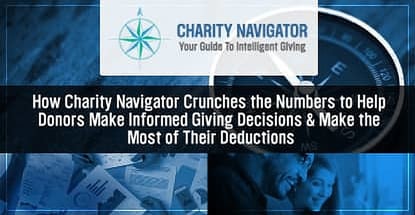 credit card news
Our experts and industry insiders blog the latest news, studies and current events from inside the credit card industry. Our articles follow strict editorial guidelines.
In a Nutshell: Making charitable contributions feels good, promotes generosity, and helps others, but it can also have tremendous financial benefits when it comes time to file your taxes. Founded in 2001, Charity Navigator is an online charity evaluator with a team of professional analysts who have examined tens of thousands of nonprofit financial documents. By using this information, it has generated an unbiased, numbers-based rating system (0-4 stars) of 8,000 of America's most recognized charities, ensuring user donations are going to the worthiest of causes.
Pat and Marion Dugan wanted to increase their charitable giving and social investing. At the time, Pat recognized that, while he had financial planners guiding him with his own investments, others didn't have the same access to resources. Moreover, when it came to charitable giving, plenty of generous people wanted to give but didn't know where to start.
The Dugans decided the answer would come with access to an unbiased online resource — one where users could find reputable charities that made the most of their gifts and where they could learn how to receive tax benefits. In 2001, the Dugans founded Charity Navigator to guide people through the various ways to give responsibly.
"Pat's company went public, and with that, he had greater wealth to give away," said Sandra Miniutti, Vice President of Marketing for Charity Navigator. "He envisioned Charity Navigator and provided initial funding for us to get up and running."
From among the more than one million charitable organizations in the United States, Charity Navigator rates the 8,000 largest and most worthy. These are the charities that the vast majority of the population donates to, but Charity Navigator users also have access to a comprehensive list of all charity organizations on the site.
"There's kind of this One Percent Rule in the nonprofit sector where a small percentage of charities get 80-90% of the donations," Sandra said. "That said, there are a million charities in America today, so there are a lot of small groups out there in local communities that are soliciting support."
See Which Charities Will Spend Your Money Wisely
Charitable giving is rewarding on many levels, but when it's time to make an informed decision about which organizations you should donate to, there are some things that are good to keep in mind. These factors include the transparency of the organization in regard to where funds are directed, how the charity is structured, and, ultimately, which ones are eligible for deductions when filing your tax return.
Charity Navigator's rating methodology is based on two distinct areas of the charity's performance. The first is the organization's financial performance, which gives donors a better sense of where their money is going.
"That's probably the first thing that donors think about — how much of my money will be spent on programs versus administrative and program cost?" Sandra said.
The second piece is based on governance, looking at whether a charity has a good board structure, and if it's sharing the right information on the site with its donors. This relates to the overall accountability and transparency of an organization, and it's something that most donors care about.
"All of these help to ensure ethical behavior on the charity's part," Sandra said.
Tips for Deducting Your Charitable Contributions
Once you've come up with a vetted list of charitable organizations and you're ready to start making donation decisions, it's time to determine how you can benefit from your contributions when it comes time to file your tax return. Charity Navigator provides its users with a comprehensive list of tax benefits available to donors and, most importantly, what they should know when filing.
Itemize Your Tax Return
The site advises that you do your research before you give, and make sure that you can itemize, not taking the standard deduction.
By listing out all of these deductions individually, you'll greatly reduce your taxable income, and it will be a lot easier to provide records of charitable donations if you're working with an accountant, or if you're ever audited.
Be Sure to Get a Receipt
Make sure that you have some form of documentation that you've made a charitable contribution before you file. If you've written a check or made your donation online, then you'll leave a paper trail behind. If your donation is made in cash, you must get a receipt.
"You also need to have proof of your donation," Sandra said. "Also, if you give an individual donation over $250, you need a receipt that says you didn't receive anything in return."
Saving receipts and keeping records is always helpful when tax time comes around, but for charitable contributions, it's absolutely critical if you wish to claim a donation on your return.
Donate to Qualified Organizations
Finally, when you donate, make sure you're supporting a quantified organization that's a 501(c)(3) public charity. If you don't know this, you can ask for the organization's Employer Identification Number (EIN). No matter how generous the gesture, crowdfunding to an individual does not count toward your tax deduction, nor does giving to a foreign charity.
"Supporting an individual with cancer, for example. That's not a tax deductible gift," Sandra said.
Find a Truly Worthy Cause with Charity Navigator
With more than one million charitable organizations throughout the United States, ample opportunities exist to give back to those in need. Choosing the most worthy causes can seem overwhelming, but having a resource that's already done the research is greatly beneficial.
The site has appeared on popular news programs, like NBC Nightly News with Brian Williams and The Daily Show, for its clear resources on giving intelligently. It provides comprehensive donor tips, top ten lists of charities with perfect scores, and a rating system that gives users the bigger picture in regard to how an organization operates. Additionally, it helps you to determine how to get the most out of your tax return once you've donated, with tips on how to file and how to find the best organizations to donate to.
While the folks at Charity Navigator think that the main reason you should donate is altruism, it's still great to know what your tax benefits are, and how you can take advantage of them. This way, you can donate objectively, and feel good knowing that you've made the most out of your gifts — all while benefiting a worthy cause that speaks to you.