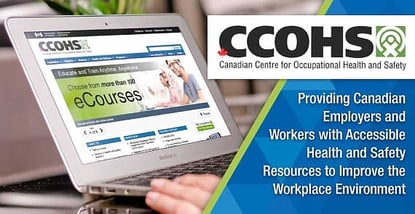 credit card news
Our experts and industry insiders blog the latest news, studies and current events from inside the credit card industry. Our articles follow strict editorial guidelines.
In a Nutshell: For many employees and employers, knowing how to properly address health and safety safety issues in the workplace is a constant challenge. Lacking the adequate resources or planning, some businesses struggle to provide solutions – often resulting in costly illnesses and injuries in the workplace later on. The Canadian Centre for Occupational Health and Safety, established to promote professional well-being, offers services to educate and empower Canadians to create dynamic and thriving work environments. A public service for the entire country, CCOHS equally supports workers and employers in the public and private sector to accomplish the mission of advancing workplace wellness.
For an employee who sits in front of a computer all day at work, requesting a standing desk from a supervisor may be an intimidating conversation. Even if the supervisor is interested in promoting a healthier workplace, implementing a scalable solution to improve ergonomics may be an unfamiliar process.
The Canadian Centre for Occupational Health and Safety is dedicated to assisting all individuals and organizations to develop healthy and safe work environments. Established in 1978 to support working Canadians, CCOHS equips businesses with the necessary information, tools, and resources — for both workers and employers — to institute beneficial wellness initiatives to help them flourish professionally.
Emma Nicholson, an Occupational Health and Safety Specialist at CCOHS, said protecting the physical and mental health of Canadian workers physically and mentally in an organization benefits everyone involved.
"We spend a good amount of our time at work, so if we have a workplace that can provide a safe and supportive environment, there are benefits from both an individual and business point of view," she said.
By equally serving employers, workers and government members — CCOHS is a global leader for helping organizations proactively resolve health-related challenges that can impact an organization's bottom line.
A National Information Center for Physical & Mental Health at Work
CCOHS operates as an information bureau in Canada. While each province has a regulations body to determine workplace laws, CCOHS acts a national center for insight on current workplace health and safety legislation throughout the country.
Beyond physical health and safety, the organization is also focused on mental health and the effects of psychosocial risk factors at work. CCOHS has endorsed best practices businesses can follow on leadership, culture, and employee expectations.
In addition to distributing information, CCOHS ensures its message is understood by all audiences. The organization provides knowledge tailored to a specific industry/sector, employee type, location, and language — whether it's English or French.
Emma says CCOHS is fundamentally a public service first and that is what drives the development of its services and programs.
CCOHS is especially helpful for businesses with locations throughout Canada. It can serve as an information resource when differences in legislation among provinces and territories can prevent obstacles to implementing workplace health and safety policies
Educating Canadians Through a Variety of Free and Paid Services
CCOHS promotes its commitment to health and wellness by keeping Canadians informed through multiple communication channels and resources.
For individuals who feel more comfortable speaking to a person, CCOHS has a confidential Safety Infoline for people to call in their health- and safety-related inquiries. The service connects each caller to a specialist who can answer questions on how to address an issue at work (including such things as stress, ergonomics, and ladder safety) and will help them develop a response or appropriate action plan to take back to their workplace.

An online library of articles and fact sheets dedicated to health and wellness topics, ranging from violence or bullying to health program development and work-life balance, can be found on the CCOHS official website.
Among the paid services offered on the website are posters, a  legislation comparison tool, and a mental health package to help businesses get started on instituting healthy workplace practices.
Additionally, eCourses are offered on a multitude of topics — free and paid — targeting all worker types and addressing a host of issues from the perspective of both the business owner and the employee.
Improving Workplace Conditions Leads to Business Growth
CCOHS strives to eliminate all work-related illness and injury in Canada by giving individuals and organizations the necessary tools and resources to address and resolve workplace health issues, which in turn increases productivity and longevity within a business.
"Workers are the key asset to any business," Emma said. "By looking after the workers, the business is really looking after itself."
The organization offers resources tailored to different workplaces and provides support to employees at all levels to help them implement health and safety initiatives.
Unique to its contemporaries, CCOHS is a tripartite organization, governed by a Council of Governors representing governments (federal, provincial, and territorial), employers, and workers; a structure that ensures a balanced, impartial approach to workplace health and safety.
For working Canadians who have questions or concerns about workplace health and safety, CCOHS is there to provide the necessary solutions for them to succeed at their job while benefiting their organization too.