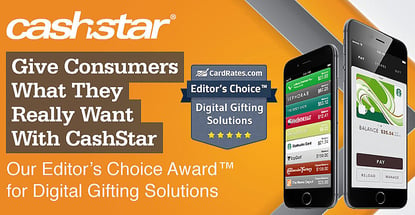 credit card news
Our experts and industry insiders blog the latest news, studies and current events from inside the credit card industry. Our articles follow strict editorial guidelines.
In a Nutshell: Boasting a digital gift card management solution that enables retailers to improve the customer experience, CashStar has earned our Editor's Choice Award for Digital Gifting Solutions. Research shows consumers tend to prefer gift cards over other promotions, and CashStar's cloud-based platform serves a powerful marketing tool for customer acquisition and retention. With innovations such as social media gifting and product eGifting, CashStar has turned the act of giving and receiving gift cards into a highly personalized experience.
Most retailers recognize the positive image — not to mention the profit — they can earn from an effective promotional campaign. However, according to the numbers, there's a considerable difference between what consumers prefer and what retailers provide in terms of promotions.
NAPCO Research revealed that 58% of consumers prefer to receive gift cards from retailers, compared with 30% who are partial to coupons and the 6% who like bonus bucks programs. Meanwhile, the same research found that more retailers distribute coupons (47%) than they do gift cards (25%).
The gap between consumer and retailer preference widens among those who have never bought or rarely buy from a particular retailer. If you think about the nature of gift cards and coupons, it's clear why this happens: Coupons eventually expire and only give consumers a percentage or dollar amount off purchases, whereas gift cards essentially act as cash to put toward trying out a new brand. Based on the numbers, retailers going the coupon route are missing out on major opportunities for customer acquisition.
CashStar helps retailers drive conversions by enabling them to effectively manage omnichannel gift card programs through its cloud-based platform. Because of its innovative ideas, such as using gift cards in social media marketing and digitally gifting physical items, CashStar has earned our Editor's Choice Award for Digital Gifting Solutions.
We recently caught up with Nate Smith, CashStar's VP of Marketing, at the NRF Big Show in New York City, where he told us much of the company's success has come from staying focused on helping merchants do more with their gifting programs.
"Instead of trying to sell more physical gift cards, we focus on merchants specifically," Nate said. "How can we help you create gift card programs that are actually changing and enriching a customer experience as opposed to just selling more product?"
Sephora, a beauty retailer known for its open-sell environment, is an example of a company that's seen immediate growth from partnering with CashStar to differentiate itself from the competition.
The retailer had long embraced an omnichannel approach with a well-developed website and mobile app, but its gift card program existed only in a physical form. Sephora turned to CashStar in 2012 for a mobile gifting and Apple Passbook integration that helped establish it as a leader in the mobile space, later adding the ability to send digital gift cards from its website.
Using CashStar, Sephora launched its improved program in less than two months and experienced eight-fold growth from the previous year in its digital gifting program as well as a 90% increase in its digital gift card transactions.
A Gift Card Management Platform Designed to Provide Personalized Experiences
The CashStar Consumer platform is highly configurable, which enables merchants to deliver fully branded experiences to their customers with options for personalization, such as the inclusion of photos, videos, messages, and delivery time to recipients.
"When consumers receive a gift card via email, they can redeem it, and there can be a gift reveal so it looks like they're actually opening a gift," Nate said. "They can use it online either as a code when going through checkout or they can bring it into the store by printing it out or putting it in a mobile wallet."
Essentially digital gift cards are a form of digital currency, therefore security becomes especially important because the risk of fraud increases with any card-not-present transaction.
"We have a proprietary algorithm that allows us to screen for fraud," Nate said. "All of our customers on the consumer side receive 100% fraud indemnification. So if anything goes wrong, it's on us; it's not on them."
Nate told us fraud monitoring can be tricky because being too strict can impact real customers making legitimate transactions. For instance, somebody might be flagged for fraud for not updating the address registered to their card.
"Instead of trying to build a model to identify fraud, we built a model that identifies good transactions, and if you do that, you optimize the times you say 'yes,'" Nate said. "The more times we say, 'yes,' the more times that's a valid transaction and the more money retailers make."
Attract Customers Through Social Media and Give One, Get One Promotions
Gift cards are becoming an invaluable tool in marketing for brands, and they can be utilized in a number of ways, including give one, get one programs.
One CashStar partner that's seen success with this strategy is The Cheesecake Factory, which ran a promotion in November 2016 during which customers who bought a $25 gift card to the restaurant received two digital gift cards, each good for a free slice of cheesecake on the next visit. Another CashStar partner, Petco, offered customers a $30 digital gift card for subscribing to its pet food delivery program.
Another innovative idea from CashStar is enabling brands to use social media to send gift cards to their most socially engaged customers. For instance, when a consumer takes to Twitter to reach out to a retailer, that brand can tweet out a gift card that can only be redeemed by that specific customer via the CashStar platform.
"We've integrated with the Twitter API, and we have ways to make sure the person a gift card is targeted to actually receives it," Nate said.
Although only one person gets to use the gift card, everyone else who sees the post will know a brand has done something to please a customer, which can really bolster a brand's public image.
Product eGifting Facilitates Digital Delivery of Physical Goods
Gift giving can be an agonizing process, and it often results in the recipient not getting what he or she wants.
As someone with a famous name, I've gotten more than my share of Batman-themed Christmas presents. Now, I have nothing against the Caped Crusader, but I reached my quota on Batman memorabilia years ago.
I'm far from alone. A 2014 survey from Rakuten, as quoted in Time, revealed nearly three-quarters of Americans don't like what they receive as holiday gifts.
CashStar partnered with Nordstrom for a Product eGifting program in which shoppers can choose a gift from the Nordstrom site and send a digital voucher for it to a recipient. The recipient gets exactly what he or she wants because the color or size of the item can be changed, and the item can be traded in for a store gift card to put toward another purchase (the sender wouldn't even know).
This eliminates the need for returns and awkward situations where someone may receive yet another Batman item.
"Less than 50% of returned items are resold at full value, so not only is it a hassle for the recipient because it's a pain to return something, it's also really costly for the retailer," Nate said. "Product eGifting helps ease that problem."
Partners Leverage eGifting Solutions to Increase Revenue
When a company approaches CashStar, it's typically with the goal of turning its prepaid commerce and gifting strategy into a more modern, omnichannel solution. In the case of Sephora, the retailer saw tremendous growth in its digital gifting program. However, before that could happen, CashStar had to demonstrate its value in the partnership.
"It's about education and trust-building in the early stages," Nate said. "We help them feel like they can do something innovative and they have a strategic partner to help them do it. One of the things we really pride ourselves on — and our customers are enthusiastic about — is that we really take a service-oriented approach with them to make sure we're consulting and educating."
Nate told us CashStar works closely with its clients to ensure it's always moving forward and looking for new ways to innovate. The company also hosts a client event once a year to discuss best practices and ways to improve digital gifting programs. Since CashStar's success is directly tied to the success of its partners, it has a vested interest in helping retailers drive revenue.
CashStar earns our Editor's Choice Award for Digital Gifting Solutions for delivering innovative, branded gifting programs that empower businesses to bring in new customers and keep existing ones happy through highly personalized experiences. After creating new strategies through social media and mobile wallet integrations, we can't wait to see what CashStar comes up with next.