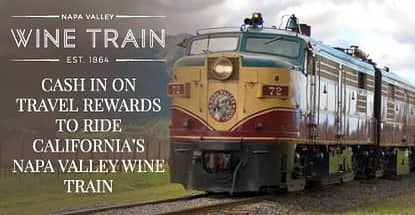 credit card news
Our experts and industry insiders blog the latest news, studies and current events from inside the credit card industry. Our articles follow strict editorial guidelines.
In a Nutshell: Wine lovers across the US are familiar with the legendary grapes grown in California's Napa Valley. The award-winning wines made from the different varieties of grapes draw millions of visitors each year to the area and aboard the Napa Valley Wine Train. The Wine Train runs lunch and dinner excursions through the Valley that include wine tastings, multiple-course gourmet meals, and winery tours. The antique train cars have been painstakingly renovated to their 1915 glory with Honduran mahogany paneling, brass accents, etched glass partitions, and luxurious armchairs. For wine lovers who hold a balance on their credit card travel rewards, a ride on the Napa Valley Wine Train is a great way to save money and create lifelong memories.
The rich soil and dry Mediterranean climate of Napa County, California, has produced the country's most sought-after wine grapes for as long as the drink has been enjoyed in America.
Most area historians point to Joseph Osborne's planting of vines on his 1,800-acre Oak Knoll tract in the 1850s as the start of Napa Valley's prominence in the wine industry. While Osborne's original tract of land has been split up several times over the decades, the same earth has produced several of the best vineyards in the country.
Today, passengers aboard the historic Napa Valley Wine Train can tour the entire region while enjoying fine wine and a world-class meal aboard a beautifully restored 1915 Pullman railcar. The vintage locomotive and traveling restaurant is an unbeatable experience for wine lovers who are looking for a way to use their credit card travel rewards on a vacation splurge.

The Train's 36-mile round-trip journey from Napa to St. Helena and back takes three hours, weaving through Wine Country past famous and historic wineries. Day trips and evening dinner excursions are available, both offering multi-course meals cooked to order in the train's three kitchens under the watchful eye of Executive Chef Donald Young.
As is to be expected, each excursion features wine tastings on board, as well as additional tastings on tours during stops at popular wineries, including the Castello di Amorosa Vineyard and the Grgich Hills Estates.
For visitors outside the Napa area, the Wine Train offers a San Francisco Ferry Connection that includes a view of the Bay Area skyline via ferry and a relaxing shuttle ride to the Napa Valley Wine Train Station.
If you have unused travel rewards currently sitting in your credit card account, a trip aboard the Napa Valley Wine Train may be easier (and cheaper) than you think. Most credit card companies have redemption options that will reimburse cardholders for travel expenses such as airfare, car rentals, hotels, tours, and attractions. Points are typically redeemable at a 1¢-per-point conversion rate on eligible purchases, though occasional promotions could make the points even more valuable.
Most non-branded travel reward credit cards will reimburse for flights or hotel stays at any location and with any brand, while branded credit cards may be more particular with your choice of travel provider. Either option typically provides an online portal to access your account and cash in rewards for either statement credit, cash, or immediate discounts on your travel expenses.
Depending on the number of rewards points or miles currently in your account, your trip to, and aboard, the Napa Valley Wine Train could be covered — giving you yet another reason to relax in Wine Country.
Hop Aboard the Renovated 1915 Pullman Railcars
The Napa Valley Wine Train features vintage Pullman rail cars faithfully restored to their 1915 glory with Honduran mahogany paneling, brass accents, etched glass partitions, and luxurious armchairs.
Most of the cars on the Napa Valley Wine Train were built by the Pullman Standard Company as first­-class coaches for the Northern Pacific Railway. They were the height of 1915 technological advancement, built entirely out of steel to provide safety improvements to rail travelers.
The cars were among the first of their kind to include electric lights, steam heat, and arched windows. The steel cars, also known as heavyweights, were significantly heavier than their wood predecessors each weighing about 141,000 pounds or 70.5 tons and were around 83 feet long.
The Napa Valley Wine Train purchased the cars from the Denver Rio Grande Western Railroad in 1987 and immediately began extensive restoration projects to refurbish and re­imagine the cars. Each car now evokes the spirit of opulent rail travel at the beginning of the 20th century.
Quattro Vino Includes 4 New Culinary and Wine Adventures
In 2017, the Napa Valley Wine Train announced the expansion of its inaugural and most successful tour to date, Quattro Vino, which now includes four new tours – Legacy, Estate, Collective and a fourth tour to be announced soon. Each offers a unique culinary and wine experience with stops at three of Napa Valley's most renowned wineries.
All four tours begin with a sparkling wine tasting, followed by a four-course Napa Valley-style meal, and tastings at three of Napa's iconic wineries.
The Legacy Tour includes tastings and tours at the Robert Mondavi, Charles Krug, and V. Sattui wineries. The Estate Tour includes tastings and tours at Domaine Chandon, Hall, and Inglenook. The Collective Tour includes tastings and tours at Raymond, Beringer, and St. Supéry. Tickets for the Quattro Vino tours start at $332 per person.
Tours on the original train are available for either lunch or dinner and start at $149 per person on the Gourmet Express package, which includes a multi-course gourmet meal from Executive Chef Donald Young, a welcome taste of sparkling wine, coffee, and tea during a three-hour journey.
The Vista Dome Car provides a private dining experience in a Pullman domed railcar as only guests with reserved seating are allowed in the dining area of this two-story car.
Redeem Rewards for a Special Occasion or Just to Get Away
Whether for a weekend getaway, an extended vacation, or to celebrate a special occasion, wine lovers who have accrued travel rewards may find a trip on the Napa Valley Wine Train as their own little slice of Wine Country heaven.
Special tours are scheduled annually on Easter and Mother's Day to include a three-hour train ride, multiple-course meal and a welcome taste of wine.
Other special events include regular murder mystery train rides and pop-up concerts featuring renowned musicians from across the country.
When Joseph Osborne planted the first vines on his Oak Knoll tract nearly 175 years ago, he had no idea what he was starting. Today, travelers can get their own place in wine history by riding the iconic Napa Valley Wine Train through the area Osborne once called home.