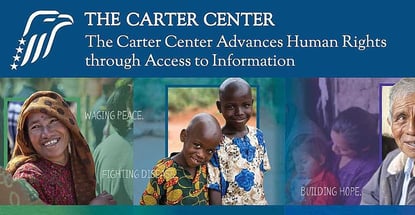 credit card news
Our experts and industry insiders blog the latest news, studies and current events from inside the credit card industry. Our articles follow strict editorial guidelines.
In a Nutshell: The mission of The Carter Center, founded in 1982 by former President Jimmy Carter and First Lady Rosalynn Carter, is to advance peace, justice, and human rights around the world. This includes peace programs that give marginalized members of society equal access to information about their governments and communities. The Carter Center depends on the support of corporate partners and individuals committed to social good to fund programs in more than 80 countries. By giving to The Carter Center, supporters of social good help its efforts to improve women's rights and access information throughout the world.
In a society where knowledge flows freely, it's easy to take access to information for granted. Although it is a provision in the Universal Declaration of Human Rights, ready and equal access to information — from governments to municipalities — isn't a reality in many communities across the globe.
"They say information is power for a reason: If you are without information, you are powerless. And it is the marginalized who are the least likely to get information, so the problem perpetuates itself," said Laura Neuman, Director of the Global Access to Information (ATI) Program at The Carter Center.
Providing people the knowledge and tools they need to better themselves is foundational to advancing human rights, which is why it's a key area of focus for The Carter Center. As a non-governmental organization, the Center relies on the generous support of donors to carry out its mission. Anyone with a passion for human rights and social justice can make a donation to help share information rights with the rest of the world.
In Liberia, where the Center works closely with community leaders to teach women about their rights, Neuman has seen many stories that underscore the simple, yet profound, impact of knowledge. During a follow-up meeting Neuman attended, several women shared the outcome of their newfound awareness.
"After learning she had the right to information, one woman asked why she was forced to pay primary school fees when it was supposed to be free. First, she went to the district office and they threatened her. She then went to the village chief who was very supportive, and together they went to the ministry of education," Neuman said. "Not only did they get proof she shouldn't be paying fees, but the ministry changed the whole system to ensure everyone knew they shouldn't be paying fees and dealt with schools that had been pocketing the money."
Through the ATI Program and other initiatives, The Carter Center is helping people worldwide overcome barriers to knowledge. That equips both people and power structures to pursue justice, better themselves, and strengthen communities.
Built on President Carter's Commitment to World Health, Peace, and Human Rights
The Atlanta-based Carter Center owes its nearly 40-year legacy to former U.S. President Jimmy Carter and First Lady Rosalynn Carter. When President Carter lost his bid for re-election in 1980, he and his wife founded the Center as a way to continue the work they'd started in the White House.
"President Carter was one of the first to talk about human rights and turn his attention to human rights offenders. That was the cornerstone of what he wanted to do, and to continue the work he'd started around conflict resolution," Neuman said. "Previously, presidents just had libraries and museums, but they founded The Carter Center to be less of a think tank and more of an active entity."
The Carter Center divides its work into two areas: health programs and peace programs. Its health programs work to eradicate neglected tropical diseases through better training and health care systems. And the Carter Center's peace programs address issues of human rights, conflict resolution, democracy — including its well-known election observations — and access to information and justice through Global ATI, the program that Neuman directs.
"It's about trying to provide access to the tools they need to enjoy the rights of citizenship. A lot of what I've done centers on issues of transparency and accountability through a human rights prism," she said. "It's not just about the information, but what someone can do with that information. A necessary component of that is having good laws around freedom of information and raising awareness so people know their rights and value."
Today, the Carter Center works in more than 80 countries and has made significant progress in areas of disease prevention, health care, avenues for peace, and promoting international standards for human rights. While President Carter has retired from his position as chairman of the board, he still regularly meets with the Center's leadership to offer insight.
"His knowledge of current events and history is staggering. While he's stepped back from the Center a bit, he's still very much a part of the fabric. When it comes to knowledge, especially, we have a hard time keeping up with him," Neuman said.
Working with Governments to Ensure Equal Access
The ATI Program not only focuses on empowering individuals at the community level but also works to help governments with capacity building — the process of developing the resources to serve their citizens on a wider scale. By helping governments manage information systems more efficiently and effectively, the Carter Center can help citizens enjoy better access to information to which they're entitled.
"The Carter Center is unique in that we don't just work with the demand side; we also support the supply side — governments, agencies, and enforcement models. It's about improving people's ability to enforce their rights when they don't receive justice and apply the information they receive," Neuman said.

One example of the Carter Center's work on the justice and security side takes place in Liberia. Since 2009, the Global ATI Program's field office has helped Liberia's post-conflict administration establish practices that honor its first Freedom of Information Law. This includes working with the Liberia National Police to help them become more transparent and accountable, often bringing in expert police commissioners and records managers to offer their insights and skills.
"Police are the ones that are most present in communities, so if they can give out information, it will build a new sense of trust and confidence," Neuman said. "People will not only trust the police more but also share more information with them. We're creating that circle, which culturally hasn't existed in Liberia."
The difference the ATI Program has made in Liberia was clear during the nation's most recent election.
"In the past, the police's role in the election was subject to question; this time, there were none. People were proud of the way the Liberian national police conducted themselves, and a lot of it was because of the work we did with them to build that trust with information flows." Neuman said.
Addressing Obstacles to Women's Economic Empowerment
The Global ATI Program has recently turned its focus to women's unequal access to information. After decades of work on the issue, program leaders noted that women, mostly, didn't have a seat at the table during discussions.
"We didn't see women and women's organizations leading the way in using the law," Neuman said. "We went to President Carter and said we think there's asymmetrical information flows: women are not able to exercise their right to information with the same facility as men. He said, 'That sounds reasonable, but you need to prove it. No government will make changes unless you can prove there's a problem.'"
The Global ATI Program rose to the challenge, developing a study it then applied in three countries — Liberia, Guatemala, and Bangladesh — where it conducted more than 1,700 interviews. Study results showed that women couldn't access information with the same frequency, ease, or success rate as men.
The Global ATI Program developed programs to spark a change in those three countries and has developed a more global view of this through its stated mission to "Inform Women, Transform Lives."
In Guatemala, where Neuman said close to 85% of women aren't allowed to leave their homes without the permission of their husband or father, Global ATI field offices help local governments set up information booths in marketplaces.
"Bringing information to places safe for women and developing different models for how to do that is something unique to the Carter Center," Neuman said.
The Carter Center's operational model is also highly sustainable. Field offices in every country are managed and staffed by natives who know their country's cultural and socio-economic dynamics much better than any outsider.
In her work to give women better access to critical information, Neuman said she has witnessed marked changes in women's sense of dignity and personal empowerment.
"What struck me most from my visit to Bangladesh was when one woman said, 'Now, when I go into the government office, they call me madam.' They respected her in a way she'd never been respected before. It's about empowering women; it's about them taking that information and learning how to use it," Neuman said.
Partnering with Organizations and Individuals to Advance Social Change
Access to information is so ubiquitous in some countries that citizens don't think twice about it. But that isn't the case in many areas around the world, which is why the Carter Center continues to work tirelessly to bring information to the people.
Looking to the future, the Carter Center plans to expand its programming around the campaign "Inform Women, Transform Lives." In March 2018, the Carter Center hosted an international conference and welcomed a team of experts to produce the Atlanta Declaration to Advance the Right of Access to Information for Women. President Carter followed that with a letter to every head of government.
"It's been exciting to see and hear of the work other governments are doing, and I'm excited to hear from many of these presidents and prime ministers about their commitments to this issue. We hope to get funding to make it more of a reality than a commitment on paper," Neuman said.
"I think the range of our partnerships shows how information cuts across everything. I've been doing this at the Carter Center for almost 20 years, and what strikes me the most is how many people want to advance this right to make sure they, their families, and communities have better lives. They're the champions out there I'm proud to work with." — Laura Neuman, Director of the Global Access to Information (ATI) Program at the Carter Center
The Carter Center's many global partners — including organizations that focus on women's rights, human rights, and anti-corruption — are crucial to carrying out its mission.
"I think the range of our partnerships shows how information cuts across everything. I've been doing this at the Carter Center for almost 20 years, and what strikes me the most is how many people want to advance this right to make sure they, their families, and communities have better lives. They're the champions out there I'm proud to work with," Neuman said.
For those who'd like to partner with the Carter Center on the important work of advancing access to information and human rights, it offers ways to give. Individuals, businesses, and corporations can make one-time donations online, by phone, or by mail, participate in gift-matching offers, or join long-term giving circles to make an impact for generations to come.