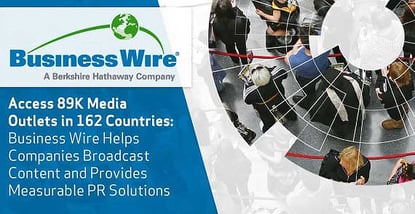 credit card news
Our experts and industry insiders blog the latest news, studies and current events from inside the credit card industry. Our articles follow strict editorial guidelines.
In a Nutshell: In today's media-saturated landscape, disseminating content on the right channels for the right audiences is critical for a business' success. Business Wire helps companies accomplish this by distributing full-text press releases to millions of targeted readers around the world. The company's 500 employees in 30 bureaus set it apart from the pack and allow for real-time, local, and personal services for its clients. By circulating messages to various media channels, such as news outlets, websites, and databases, companies who employ Business Wire's platform can launch effective, measurable marketing and communications strategies that create significant returns on investment.
It's no secret an effective PR campaign can work to produce big returns for companies if done right. In fact, 79% of participants surveyed in a recent PRNewser study noted they would contemplate buying a relevant B2B product or service if it was sent through the right channels at the right time.
OrangeSoda, a player in the local marketing and search space, saw the buzz created around the news of one of their competitors going public. Because this was a hot topic generating talk across the industry, OrangeSoda decided to take advantage of the hype and broadcast news of a partnership meant to bring SEO services to the local level.
By employing Business Wire's press release services, OrangeSoda was able to generate 40% more traffic to their homepage and 166% more to their blog. Over 200 websites and publications picked up the release, and more than 20,000 people viewed the headline — results that are nothing to slouch at.
Since the early 1960s, brands have turned to Business Wire to share product launches and spread marketing messages to targeted audiences through its comprehensive services and offerings.
"While the forms of dissemination and the number of media points have changed over time, the underlying business goal has not," said Scott Fedonchik, Business Wire's Vice President of Marketing. "We distribute thousands of news stories every week for leading and emerging brands around the world. The news that crosses our wire drives the news conversation. It impacts consumer behavior, retail sales, stock performance, and company value."
Business Wire's platform extends far beyond the basic distribution of content. It offers companies rich and engaging multimedia distribution services that help make content interactive and more impactful.
Business Wire's analytics and tracking services allow businesses to easily monitor how their content is performing. Companies can enhance their news with Global, Mobile, Social, and Measurable (GMSM) marketing features. These, along with a host of educational marketing resources, help to greatly improve the overall influence of a business' content and communications.
A Suite of Services Allow You to Reach Targeted Audiences
Business Wire's strength stems from the variety of services it offers its customers. Through a robust and dynamic suite of features, Business Wire helps companies easily reach broad, yet targeted, audiences to inform current and prospective customers on products and services. In addition to press release distribution, some of the more prominent services include multimedia distribution and website creation and hosting.
Share Messaging with a Wide Consumer Base on Multiple Platforms
Business Wire has a patented network called NX that reaches over 89,000 media outlets in 185 countries around the world. Companies have the option of 193 different US industry and trade categories or a global circuit delivered worldwide in more than 20 different languages.
Distribution not only reaches targets, such as individual reporters and editors, news syndicators, and social media networks, but also high visibility business news platforms. The company's messaging services feature cutting-edge web formatting, so hyperlinks, bold, and italic text, bullets, tables, and other document elements carry over to heavily trafficked sites without being compromised.
When it comes to financial communication, Business Wire also provides all the tools needed to quickly, broadly, and effectively communicate news to all stakeholders, including investors, analysts, and the media. The company has been a trusted and recognized disclosure vehicle for more than half a century, satisfying disclosure requirements and conforming to stock exchange and regulatory requirements.
Each release is delivered directly into the editorial systems of newspapers, disclosure outlets, TV, radio, and other media with full-text into leading financial systems, portals, and websites including AP, Bloomberg, Dow Jones, Bloomberg, FactSet, Thomson Reuters, Yahoo! Finance, and Google News.
Powerful Multimedia Marketing Tools Amplify Brand Awareness
Among the company's offerings is the ability to enhance text documents into more dynamic multimedia content marketing tools. Forrester Consulting recently reported how interactive images are more engaging and represent "the future of advertising." According to the study, companies using interactive technology "drive higher engagement online in a cluttered web environment."
Adding videos, interactive images, or linked documents to static page elements is possible with  Picture Capsule. This tool heightens the impact of standard photos and images by turning them into interactive images with valuable content.
When users mouse over a static image or photo, it comes to life and displays videos, photos, interactive images, news releases, links to social, or any asset the client chooses.
Online Newsrooms to Consolidate Company Communication
For larger businesses looking to manage and archive a comprehensive, branded source for all their content, Business Wire offers NewsHQ, a fully secure, web-based CMS that allows companies to create and maintain a broad range of deliverables.
NewsHQ serves as a centralized news headquarters for any and all public facing content — press kits and releases, events, employee biographies, special interest articles, and more.
This central hub is outfitted with advanced management tools, high capacity servers, social media engagement features, and measurement analytics to help businesses carefully monitor how each asset performs and best drives consumer engagement.
Business Wire also offers a simple solution for managing, storing, and presenting content online with NewsHQ Basic. The service allows a central location where press releases can be archived for easy access. These microsites are made to match a company's site design, are navigable from branded company sites, and allow for simultaneous, automated, and direct posting of press releases.
In addition to the standard press release archive, a text-only XML features URL access provided to your technical team and a link to multimedia on the Business Wire site.
Analytics and Tracking Reports Gauge Campaign Success
Curating, managing, and disseminating businesses' content to consumers is only part of the job. Understanding how your customers and stakeholders are engaging, sharing, and using your content is a critical aspect of content management and brand awareness.
One of the many ways in which Business Wire provides tracking and analysis of content is thorough NewsTrak Reports. These provide all-encompassing analytics on the influence of a company's content in digital platforms, including overall views, traffic sources, multimedia views, and user engagement. This data is sourced from a wide swath of Business Wire network recipients such as news organizations, media sites, and social media channels. The reports are available just one hour after content is released and are updated continuously for two years.
Understanding what and how people are sharing in real time is now a critical part of public relations for every company. In a recent article on LegalZoom, Miranda Tan nicely summarized the shift social media has created in the PR world, "As social media continues to replace the traditional channels of brand promotion and communication, public relations has become synonymous with social media marketing."
Business Wire has responded to the ubiquity of social media by offering Social Media Monitoring, which allows companies to intimately understand who is talking about their brand, what they're saying, and on what channels.
This is achieved through press release-specific tracking to reveal the impact of individual releases. Ongoing, real-time monitoring allows companies to instantly see social conversations around specific brands or organizations. All major social channels and approximately five million RSS feeds are carefully monitored.   
Companies must gauge how their press releases impact stock market trading behavior, and Business Wire makes it easy with Market Impact Reports. This service uses metrics for more than 27 key equity variables, including price, volume, and volatility, and tracks exactly how markets react to a company's stock after an announcement has been made. Market Impact Reports also allow companies to measure their performance against three peer competitors of their choosing.
Many of these analytic and tracking features are part of Business Wire's Global, Mobile, Social, and Measurable (GMSM) bundle. GMSM is included with all English-language Business Wire Circuits. Its features include, but are not limited to, direct posting to more than 200 US TV news websites, free distribution to print and online trade media in a choice of more than 200 vertical categories, and up-to-date formatting, allowing all style elements to safely transfer to Google News, Yahoo! Finance, Dow Jones Marketwatch, and more.
Not Just Press Releases: Educational Resources Teach Best Practice
Another way in which Business Wire extends its services beyond press release management and distribution is through its Educational Resources. These resources are varied and extremely beneficial in helping companies make the right decisions for their campaigns.
Among Business Wire's Educational Resources are offerings like white papers, sample press releases, how-tos, and media and journalist tools. These all serve as convenient assets to help businesses improve the way they manage, distribute, and track the effectiveness of their communications.
Through these resources, Business Wire's experts teach clients best practices on topics ranging from how to write a press release to how to target international media. Tools, such as the Business Wire Press Pass, allows users to customize the way they receive and disseminate news. No matter a user's level of marketing or PR expertise, Business Wire provides a resource to help seamlessly convey a company's message.
Content Distribution that Puts Businesses on a Path Toward Growth
The pervasiveness of the digital revolution has changed the rules companies must follow when getting their message out. There is plenty of noise to cut through, and much is at stake. Business Wire's offerings provide companies with a proven suite of tools and services to help disseminate their communications and do so in a way that creates significant financial returns.
According to Business Wire President, Gregg Castano, "Releases issued through Business Wire had a 4x bid-ask spread improvement over the combined average of the other tested newswires…Business Wire's influence on trading volume showed to be 24% greater, and volatility saw a 16% reduction when compared to the combined average of the other wires."
As the world becomes more and more connected and new market opportunities present themselves, Business Wire is an effective partner for companies interested in getting messages in front of the right audiences through the right channels.