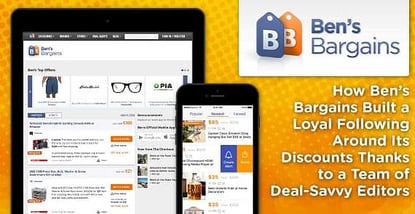 credit card news
Our experts and industry insiders blog the latest news, studies and current events from inside the credit card industry. Our articles follow strict editorial guidelines.
In a Nutshell: Today's time-pressed online shoppers are always in search of a trustworthy, convenient, and timely resource for finding the best deals. Over the last several years, Ben's Bargains has cultivated a loyal base of those users looking for up-to-the-minute information on where to save. The site's experienced editors — each with his or her own area of expertise — do the work so users don't have to. They continuously scour the web for bargains, sifting through flashy percentage discounts for truly impressive deals. And because of the honest work the Ben's Bargains team puts in, the site has earned a loyal following, with 90% of users returning to the site for the latest offers.
Busy consumers are always on the lookout for the easiest way to save money online. Whether it is finding a quick coupon code before checkout or searching emails for a discount from a favorite retailer, shoppers often have to piece together the best deals from various resources.
Ben's Bargains was built to alleviate the deal hunting and searching by providing a one-stop resource for the best offers online. Over the years, the site has built a loyal following of users who trust it as a comprehensive resource.
"So many deal or coupon sites have come and gone because they lose their integrity and start posting not-so-great deals just to get click-through money," said Kristin Cook, Lead Managing Editor at Ben's Bargains. "We've stayed trustworthy, and we're not going to post something as a good deal unless we really think it is — that sets us apart."
Throughout the day, an experienced staff of editors tracks down the web's current discounts. Each editor has his or her own particular area of interest and expertise, such as apparel or electronics. Ben's Bargains editors are savvy and knowledgeable, and they aren't fooled by flashy specials boasting significant percentage discounts off the original retail price. Instead, they look for the best bottom-line price — including the shipping cost.
The user-friendly site lets you search by category, newest deals, or hottest deals, including items that are "sizzling" or selling out. Deal alerts give users up-to-the-minute information. The commitment to finding users the best deal includes a price-tracking feature that shows all previous price points for items Ben's Bargains has featured before. Through deals, alerts, and advice, Ben's Bargains brings a personal touch that is often lacking in the deals space — and consumers are responding.
Earning Consumer Allegiance by Finding Deep Discounts
Kristin said the experienced and keen editors who post deals on the site don't fall for the fool's gold of offers that boast of price-slashing and massive percentage discounts but deliver little in the way of a real bargain.
"We care about what the end price is — including shipping — because that's what people really care about. Nobody cares about percentage off anymore," Kristin said, "especially with private labels because those merchants can set the retail price at whatever they want. It sounds awesome that this jacket is 80% off, but think about it: Do you think anybody ever really paid $350 for this jacket? Probably not."
A few examples of the often fleeting deals Ben's Bargains has alerted users to in the last year include $75 off $100 at Ashford, $30 off with no minimum purchase at FamilyWonder, and $15 portable CD players with car kits from Buy.com. Kristin said the staff of six editors searches out and shares only "the best of the best" deals.
They also share their expertise on online retail trends. For example, Kristin said it's best to hold off on most back-to-school clothes, apparel, and sneaker shopping until mid-to-late September. The deals are usually better than the heavily hyped sales of July and August. Also, with school already underway, students and parents will know what's really needed for school and what "cool thing people are wearing."
Kristin also had some sage advice for the approaching holiday shopping season. Black Friday has become Black November or even Black Mid-October and the weeks of competitive deals often beat the savings shoppers find on the most popular shopping day of the year.
"The last couple of years, it has turned into a really strong month-and-a-half," she said. "There are a lot of pre-offers that I would say are even better than what the stores offer on Black Friday itself."
That approach to deal hunting has helped Ben's Bargains build a loyal base and eclipse 2 million users — 90% of whom return to the site regularly for tips and offers.
Deal Alerts & a Mobile App Keep Users Informed of Savings
Ben's Bargains has established itself by providing timely information accessible from anywhere. Users can sign up for instant or daily deal alerts for products featured on the site. Those alerts track changes in price, the latest discounts, and which deals are the "hottest" at any given time.
Consumers customize their alerts, so, if they are looking for a particular brand of laptop, HDTV, or a toolkit in a certain price range, they can get instant updates if Ben's Bargains finds a deal.
The Ben's Bargains mobile app for iOs and Android gives shoppers on the go up-to-the-minute information at their fingertips on deals from more than 3,000 stores and brands. Users also get their customized deal alerts delivered through the app. Kristin said it is an invaluable tool in these busy times with consumers always on the move. Hot deals may last a half hour or less, but if users have the alert set on their mobile app, they can take advantage of it immediately, she said.
Mindful of where people shop online and where the deals often are, Ben's Bargains also added an Amazon price comparison feature four years ago.
"People want to know what the price is on Amazon," Kristin said. "If we don't have their prices, they're just going to go and check because Amazon is often the lowest price online; not always, but often."
A price history feature also tracks prior price points for any item previously featured on the site. Kristin told us that is yet another tool to help consumers decide if they are actually getting a bargain.
The Checkout Blog Adds a Personal Touch to Deal Hunting
Every editor at Ben's Bargains has his or her own online areas of expertise and Kristin says regular users will often know which editor is posting which deal. In her case, she's a big Star Wars fan and tracks down good deals on collectibles from the wildly popular franchise.
"We want our personalities to come through to make the site fun and interesting," Kristin said.
The Checkout blog is another outlet where editors can let their personalities shine. It includes personal stories, advice, and industry news from the latest developments in Amazon's home delivery services to upcoming game console releases.
Kristin recently wrote an "On the Road" blog series about a working family road trip. Since she was working during the trip, she described the tech set up in her car, the destinations her family visited, and shared advice for traveling on a budget.
She said the series presented real-life situations to the Ben's Bargains audience and provided some practical savings tips that consumers can use in their daily lives.
The Ben's Bargains Team Seeks to Help Consumers Save
Consumers these days are looking for more than just coupon codes, deals, and offers; they're looking for reliable savings outlets that care about the shopper. Ben's Bargains currently has a team of six editors that is dedicated to finding the best bottom-line prices for the site's users.
Most of the staff has been with the site at least three years. While an additional hire might be around the corner, Kristin said the team is mindful not to expand to the point where users get inundated and overwhelmed with deals they don't have time to sift through.
"We try to maintain a balance of having enough variety, but not just everything that's on sale online gets posted," she said.
Ben's Bargains has built its user base and its reputation on finding the latest and best deals available online. The team doesn't want to jeopardize that now.
"A lot of the people who come to our site have been coming for a long time, so they have the same mindset we have," Kristin said. "They just want someone to tell them what's hot today, what the good online deals are, and have someone do the work for them."