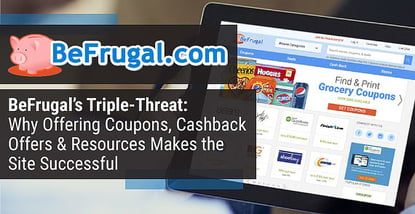 credit card news
Our experts and industry insiders blog the latest news, studies and current events from inside the credit card industry. Our articles follow strict editorial guidelines.
In a Nutshell: Launched in 2009, BeFrugal is an online savings site that publishes thousands of coupons, deals, and cashback offers daily. Run by 'cheap and thrifty penny pinchers,' BeFrugal believes saving money is easier than earning it, so the team works tirelessly to help people keep more money in their pockets. With faster cashback payouts and easy-to-use budget calculators, the site continues to create new money-saving features for online shoppers.
In the digital age, there are thousands of coupon and cashback sites that compete for deal-hungry shoppers. Almost every brand has similar coupons, so it's important to make your business stand out rather than be a wallflower in the coupon space. BeFrugal, a coupon-and-cashback site that offers the latest deals and weekly savings ads, pulled away from competitors by listening to consumers and giving them what they want.
"Our mission is to provide the best savings with the least hassle," said Jon Lal, the founder of BeFrugal.com.
When consumers shop at BeFrugal, they can earn money back at more than 4,000 stores or by referring friends to the site. Other coupon sites just provide special offers and deals that shoppers can redeem; BeFrugal makes sure they stretch their dollar as far as they can. By evolving from a coupon site into a cashback haven, BeFrugal broke the common mold and became a key player in the online savings space.
A Vision to Use Technology For Greater Saving Experiences
Jon Lal had a vision to help people save their hard-earned dollars through an easy-to-use savings website, which later became BeFrugal. In 2009, the site was launched and steadily became a unique brand in the coupon space. Lal created a system that automates using coupons, which helped build a loyal audience and deliver an overall great experience for users.
"There were many places in the coupon space, but I don't think people were focused on using technology to deliver a great user experience the same way we do," Lal said.
As BeFrugal.com grew into a big contender in the online savings space, Lal and the rest of team developed new ways to help shoppers save more, such as a free Electric Car Calculator, weekly ads, and live chat support. And the site didn't stop there.
There are a plethora of ways to save (like sign-up bonuses and a referral program), which keeps consumers coming back for more. With an eye for innovation, BeFrugal will continue to be one of the most successful coupon sites in the industry.
Coupons & Cashback Offers: Helping Shoppers Save
Consumers can enjoy using BeFrugal.com for almost all their shopping needs. Between freshly updated coupons to weekly ads, the site helps shoppers stay on top of what's on sale and how they can save the most money. Each coupon category (e.g., online coupons, restaurant coupons, printable coupons, and grocery coupons) is easy to scroll through and redeem deals in just a few clicks.
If you find an expired coupon or one that isn't working on the site, BeFrugal will give you a $5 credit as an apology. The savings site takes its coupons and deals seriously, so shoppers can stay confident that they'll always redeem valid offers from the site.
"We do our best to provide the best savings that are as good or better than anywhere else, and with the least hassle."
– Jon Lal, the founder of BeFrugal
One of BeFrugal's newest features, the cashback program allows customers to earn up to 7% cash back at select stores — and that's before they even use a coupon. All they have to do is browse for a store, shop, and earn cash back in their BeFrugal account for qualifying purchases. Once enough cashback rewards are earned, shoppers can receive it via mailed check, PayPal, or gift card. BeFrugal makes it that easy for consumers to get more for their money.
Resources & Tools Keep More Money in Shoppers' Pockets
Besides printable coupons to bonus cashback opportunities, BeFrugal can help shoppers save in others aspects of their lives. Under the Resources & Tools section, consumers can find out more information about the Refer-A-Friend program or use calculators like the Fly or Drive Calculator, How Much to Spend on a Car Calculator, and Electric Car Calculator. These helpful resources are just one way BeFrugal goes above and beyond to help people make smart money decisions.
Additionally, consumers can add the BeFrugal Toolbar to their browser to find better deals on the web and even download the BeFrugal app for their iPhone or Android, making saving money on the go even easier.
The Next Project? Making Saving More Mobile-Friendly
As BeFrugal.com continues to climb the ladder of success, Lal and BeFrugal team are excited to keep growing and helping even more shoppers save. The team's next project is to make saving more mobile-friendly as the consumer trend shifts toward that direction. BeFrugal remains one step of the game by improving shoppers' experiences and building their coupon-and-cashback empire, one saved dollar at a time.
"We like to think that we're on the leading edge of that," Lal said. "And, of course, we're doing our best to deliver for customers."