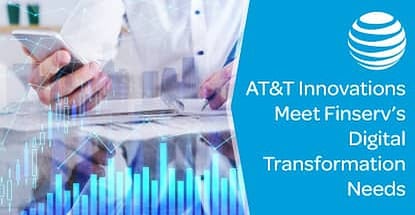 credit card news
Our experts and industry insiders blog the latest news, studies and current events from inside the credit card industry. Our articles follow strict editorial guidelines.
In a Nutshell: Citizens Bank and AT&T, partners for more than 20 years, will upgrade the bank's customer experience by providing advanced technology solutions for more than 1,100 Citizens Bank branches in 2018. Under the agreement, the tech giant will add security options and digital signage that offer bank customers in-branch information options such as real-time market reports, local news, and banking product information. The technology is part of the offerings AT&T Business customers, including many large US financial institutions, use to make customer interactions, whether in a branch or online, frictionless.
I recently visited a local bank branch to make the final payment on an auto loan I took out a year ago. Anyone who has paid off a large debt knows there are few things that match the happiness that comes from unburdening yourself of a monthly recurring bill.
Saturdays are busy at this particular branch, and I wasn't surprised to hear it would be a 20-minute wait until someone could help me finalize the loan payoff paperwork. I spent that time in a dim waiting room watching a golf-ball sized spider perched in a corner and hoping it didn't choose me as its lunch before I could pay off my loan.
I could have spent that time learning about new products and services relevant to me instead of developing arachnophobia. Maybe the institution could have pitched me a new car loan or some other product to reallocate the newly created excess in my savings. Alas, not even a pamphlet was made available for me to read while I waited in the room.
AT&T may not be the first company that comes to consumers' minds when they think of financial services, but savvy service providers understand the need for entertaining and engaging digital solutions both in-branch and online.

In April 2018, Citizens Bank and the digital giant, with which it's had a 20-year relationship, entered into a new agreement to transform the bank's customer experience by providing advanced technology solutions to more than 1,100 Citizens Bank branches. As part of the deal, AT&T will provide state-of-the-art digital signage and network services.
Citizens Bank already uses AT&T security, application solutions, voice, data, and mobility services. The expansion is further proof of the strength of AT&T's cloud and security services for the security-driven finserv community.
"AT&T is well-positioned to help financial institutions with their digital transformation journey," said René DufreneIndustry Solutions GM – Financial Services at AT&T. "We have significant experience with servicing the industry with a vast set of services — including end-point solutions like mobile devices, WiFi, voice and collaboration solutions, security, and cloud."
AT&T leverages its vast technology offerings to usher institutions into a new age of banking, where customers now expect a frictionless experience as they shift between in-person and digital services.
"We can really help financial institutions as they seek to deploy digital, omnichannel solutions, whether that's in-branch or online," Dufrene said. "Businesses are looking to enhance the customer's experience across multiple channels, and we can help make that happen."
While many best know AT&T for its mobile communication and home entertainment services, the company has invested substantial resources over the last decade to become an industry leader in digital business solutions — with a keen expertise in driving innovation in the financial services space.
"Banks are looking to migrate their transactional business to more of a customer self-service model," Dufrene said. "We work with vendors to help support that initiative. By providing those solutions in the branch, along with the network and security as well, they enable the in-branch staff to focus on more of an advisory and consultative role to help with value-added services like wealth management, payments, or loans."
Digital Signage Entertains and Informs In-Branch Customers
AT&T worked with Cineplex Digital Media to provide digital signage for more than 1,000 Citizens Bank branch locations that offer interactive tools to showcase valuable financial services and product information — including real-time market data, entertainment, and local news.
"Consumers can actually go into a branch and touch a screen to learn about the specific products and services they want to get real-time information on," Dufrene said. "At the same time, if you're waiting to meet with a wealth manager or financial advisor, there can be real-time news and entertainment that is viewable on this digital signage device."
AT&T has already completed the first phase of the digital signage migration, with 1,047 single and dual-screen locations now running the new Cineplex media players. Plans are underway to roll out the new technology to the remaining bank branches in 2018.
Dufrene said AT&T's telecom, cloud, and security capabilities align perfectly with the push by financial services toward using digital technology.
"The focus on the financial industry, in general, is on digital transformation and really looking to evolve that customer experience in the branch to create a more dynamic, interactive engagement," he said.
AT&T WiFi Provides Secure Customer and Employee Online Access Points
Many retail and dining establishments already offer free WiFi access points as added value for customers. While a large number of financial institutions offer similar complimentary access, completing such a task can be difficult given the tight security most banks operate under.
"At a regular retail storefront, you may see devices that are used for both employees as well as consumers with the same WiFi access point," Dufrene said. "Some banks have concerns with this approach. They physically isolate employee traffic and separate it completely from the consumer traffic."
AT&T's solutions for financial firms include creating separate access points for consumers and employees, with private access for the movement of sensitive data. The company also provides superior wireless internet access to improve the in-branch customer experience.
"AT&T WiFi is being utilized in the branch to help employees be mobile and more efficient," Dufrene said. "Employees can now move around and greet customers with more of a concierge service once they enter the branch."
Dufrene said the wireless access point for customers allows branch employees to provide assistance in downloading a bank's mobile application, as well as instructions or tutorials on using the app's key features and capabilities.
In all, AT&T's goal is to be as accommodating to the financial service provider as the provider is to its customers.
"Financial services is a security-driven industry, and each customer is different in what they need and want," Dufrene said. "We work with each to make sure we introduce and expand the technology used in each branch and wrap it all in top-notch security."
Providing New-Age Solutions for Legacy Modernization
Across the country, large financial institutions are undergoing the re-writing and re-architecting of legacy systems that for decades have met the needs of customers. As times change, and technology firmly grabs the financial steering wheel, these systems require enhancements that cost both time and money.
"The goal and objective are to provide a more seamless experience across products like ATM software, payment software, and wealth advisement and loan management," Dufrene said. "In many cases, the software applications are being rewritten in a more cloud-native approach."
AT&T's expertise in cloud services allows clients to break up the underlying infrastructure of these systems, leaving key portions on a bank's private data center with other components moving to multi-tenant data centers. The public cloud hosts other portions.
The future implementation of 5G internet surfing speeds should make cloud storage and technology even more secure and convenient for businesses in any vertical. Dufrene said, "AT&T's history of remaining on the cutting edge of these technologies will put the company in a position to lead the way into the new age of banking technology" — This should also help to keep customers from having to stare at spiders while they wait for account assistance.
"We plan to continue to support our customers' efforts to digitize and innovate in their branches as well as the back office," Dufrene said. "We continually assess our banking customers' needs and are always seeking better ways to serve our clients."