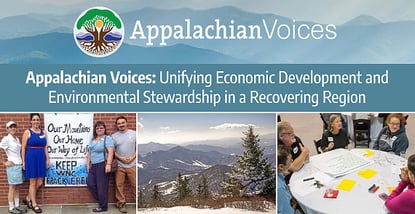 credit card news
Our experts and industry insiders blog the latest news, studies and current events from inside the credit card industry. Our articles follow strict editorial guidelines.
In a Nutshell: For more than 20 years, Appalachian Voices has advocated for healthy communities and environmental protections in Kentucky, North Carolina, Tennessee, Virginia, and West Virginia. The group helps preserve the region's unique natural heritage through efforts to curb mountaintop removal coal mining and other activities stemming from traditional energy production. And as the coal industry that Appalachian communities have relied on for generations continues to decline, the organization has forged public and private partnerships to repurpose old mining sites for commercial use. The group has also fostered investment in solar and renewable energy, and helped households become more energy efficient. Through these initiatives, Appalachian Voices supports the region's transition away from coal to a new economy based on environmental sustainability and local generation of entrepreneurship and job growth.
Appalachian Voices got its start as a newspaper in 1996 in Boone, North Carolina. The paper's founders soon realized the need for an organization devoted to protecting the region's beauty and biodiversity and building healthier, more self-sustaining communities through advocacy. In 1997, Appalachian Voices reorganized as a nonprofit and began working for change.
More than two decades later, it continues to celebrate the unique environmental and cultural heritage of Appalachia while promoting sustainable stewardship for the future.
Its first campaigns centered on protecting the private forests and public lands of western North Carolina and mitigating toxic air pollution emanating from coal-fired power plants. The focus quickly shifted to the issue of mountaintop removal coal mining, in which mountain ridges are blown off with explosives to access coal seams below.
During the process, dirt and rubble from the ridges are dumped into adjacent valleys, burying headwater streams. Sludge dams created in the process produce heavy-metal contaminants that pollute community water sources.
"We saw the impact of mountaintop removal mining on the environment and wanted to do something about it," said Cat McCue, Communications Director at Appalachian Voices. "And because environmental and community health are inextricably tied, we saw the human impact as well."
Appalachian Voices built coalitions with other environmental groups and local leaders and helped form the Alliance for Appalachia to unify regional opposition to mountaintop removal and restore the health of the communities affected by it. Through the website iLoveMountains.org, it created a strong national movement against the practice. But progress has been halting and litigation plentiful. In 2017, Congress revoked a set of rules issued during the Obama administration to manage stream protection in surface mining areas.
But over its years fighting alongside communities adversely affected by coal mining, Appalachian Voices' understanding of the problems affecting the region has evolved.
"Largely because of market forces, the US coal industry is declining," Cat said. "Beyond that, coal is actually disappearing in Appalachia. After all, it's not a renewable resource." Despite the Trump administration's pledge to bring back coal, experts generally agree that any slowdown in the industry's decline produced by administration policy will be temporary.
"We see that the way forward is through supporting our region's recovery from the damage done by coal," Cat said. "In addition to restoring our land, air, and water, we now work to create a vibrant, just, and sustainable economy that generates local jobs and community wealth."
The Economic Potential of Abandoned Mine Lands
One result of this new way of thinking is Appalachian Voices' New Economy for Appalachia program. The program focuses on connecting with communities, moving away from coal dependency, and creating new, sustainable opportunities — both in terms of the environment and the economy.
"Part of our work focuses on drawing funding to reclaim lands that have been abandoned by the mining companies and developing them to support new, sustainable, economic activity," said New Economy Program Manager Adam Wells. "We've been successful in securing pilot funding from the federal Office of Surface Mining Reclamation and Enforcement to restore three sites in our program area in Southwest Virginia."
On an even larger scale, Appalachian Voices is putting muscle behind new legislation. The RECLAIM Act would provide an immediate economic boost by reallocating more than $1 billion in existing funds to put local people, including laid-off miners to work repurposing mine sites, many of which remain environmentally unsound.
"It's a new way of thinking," Adam said. "The current funding criteria prioritize cleaning up sites that are dirty and dangerous. RECLAIM would flip that on its head and focus on the mine lands that have the most economic development potential."
To support the RECLAIM Act, Appalachian Voices has produced a study, Healing Our Land, Growing Our Future, highlighting more than a dozen abandoned coal sites that are ideal for repurposing for solar energy generation, recreation, sustainable farming, and more.
"These aren't just theoretical possibilities," Cat said. "Entrepreneurs in our region have already converted old coal sites into sources of new productivity. We know it works."
New Opportunities with Solar for Workers & Entrepreneurs
Adam and his team also focus on growing Southwest Virginia's solar industry by developing sites ideal for solar installations, working to change laws that discourage conversion to solar, and educating the public about the benefits of renewable energy. Appalachian Voices not only hopes to transform the energy profile of the region but also spur new businesses and employment to support it.
"Through solar, we want to create jobs, save money, bring new industries to our region, and change minds," Adam said. "We're working in an area where the industry is in the beginning stages, and our goal is to put down local roots for solar. At this point, it's all about getting the ball rolling."
To accomplish that, Appalachian Voices helped form the Solar Workgroup, a coalition of nonprofit and community action agencies, colleges, state agencies, private citizens, businesses, and planning district commissions. The organization issued a Solar Roadmap for Southwest Virginia, which details 15 residential, commercial, and community-scale "ambassador sites" that are ideal candidates for solar installations in the near term — and that can serve as models for the future.
"Over the longer term, the plan is to match investors and developers with building owners who are interested in solar and to establish Southwest Virginia as a solar hub," Cat said. "Once you have solar in your community, you can support retailers, manufacturers, and installers, so it becomes an energy engine for the region."
Even in the short term, the advent of solar can help communities grow. "Some of these ambassador sites are local schools and hospitals," Cat said. "Once they have solar installed, they can begin immediately saving money on their energy bills. And that puts more money back into the community."
Turning Investments in Energy Savings into Jobs & Growth
Appalachian Voices sees economic and community development potential in the conventional energy industry as well. The organization operates an Energy Savings for Appalachia initiative, working with area energy co-ops to create "on-bill financing" programs that help rural mountain families save energy and money while strengthening local economies.
On-bill financing allows households to install energy efficiency upgrades and pay back the cost on their power bills. The people most in need immediately benefit from having more comfortable homes while also saving money. And communities win, too.
"Having more of these programs in our region not only pumps money back into local economies but it also increases the demand for home energy auditors and contractors to perform the upgrades," Cat said. "Professionals who live in those communities find out where houses are leaking and what improvements are needed, and then make them. All of that is done locally; those jobs and wealth stay in the community."
"And then, of course, another benefit is environmental," Cat said. "The cleanest form of energy is the energy that's not used."
Joining Public & Private Stakeholders to Rebuild Communities in Appalachia
Partnerships are vital to Appalachian Voices' success in encouraging regional communities as they regroup in the wake of coal's decline. "Over the years, we've established a lot of connections in our communities," Cat said. "And we live here, too. There's a lot to love about our mountain life and the beauty that surrounds us."
The success of those partnerships is mainly about tapping into the potential that already resides in Appalachian communities.
"These are strong, resilient people. For generations, they've dug the coal that helped build our country into what it is today," Cat said. "And while it's certainly true that there are communities that are hurting terribly, what's been overlooked is that there are so many bright spots: redevelopment, new economic activity, entrepreneurship, and creativity. We just need to ensure that it continues to take hold and infuses the region. It's happening."
Adam, who lives on land in Southwest Virginia that his family has owned for five generations, agrees. "I got involved with Appalachian Voices because I saw the negative impact mountaintop removal was having on my community," he said. "It's become clear to me that the way to really make change is to advocate for the Virginia I want to see. If I'm against coal, what am I for? Everything we do at Appalachian Voices answers that question."