credit card advice
Opinions expressed here are ours alone, and are not provided, endorsed, or approved by any issuer. Our articles follow strict
editorial guidelines
and are updated regularly.
Between classroom supplies, snacks, and professional development purchases, the average teacher spends as much as $1,000 of their own money each school year. For a new teacher, that could mean as much as 3% of your entire income spent on things that would be provided in other professions.
While changes in policy and funding are slow to happen, you can reduce your out-of-pocket classroom expenses with the smart use of credit card rewards. You can earn big rewards on every field trip, ice cream party, and box of tissues simply by using the right credit card for your purchases.
Cash Back | Travel | 0% Intro APR | Dining | Grocery Stores | No Annual Fee | Store Cards
Best "Cash Back Rewards" Credit Cards for Teachers
While not the biggest earners, unlimited cash back credit cards are a good option for the teachers who'd rather spend their time worrying about grades and lesson plans than getting every last point from their credit card rewards.
With unlimited cash back cards, you'll earn the same rewards on every new purchase, regardless of where or what you buy, with no limits on the number of rewards you can earn. Enjoy no-fuss redemption for a statement credit.
The Chase Freedom Unlimited® offers a flat-rate 1.5% cash back on all purchases, plus an easily attainable signup bonus, all topped off with an intro-APR offer good on both new purchases and balance transfers.
The has the same 1.5% unlimited cash back as the Chase Freedom Unlimited®, but offers a slightly larger signup bonus and a slightly shorter intro-APR offer.
While the Citi® Double Cash Card advertises unlimited 2% cash back, it's not all awarded at once. You'll earn 1% when you make a purchase, then the other 1% cash back when you pay off your balance.
Best "Travel Rewards" Credit Cards for Teachers
Similar to their students, many teachers look forward to summer break as a time to get out of the classroom and enjoy some well-earned relaxation. If you like to spend your summers traveling the world, then a good travel rewards credit card is a surefire winner.
Although there are a number of co-branded travel cards that offer special airline or hotel perks, the most versatile travel rewards cards are those that offer points or miles that can be redeemed on nearly any travel expense, free from blackouts or brand restrictions.
If you're interested in getting the most value out of your travel rewards, look for cards that allow points transfers to hotel and airline partners. This allows you to turn your flexible rewards into branded loyalty points that can unlock big-value redemptions.
Best "0% Intro APR" Credit Cards for Teachers
For new teachers, a small starting salary, big classroom costs, and the nearly inevitable student loan payments can all mean a strict budget that doesn't have room for things like interest fees.
With a good intro-APR credit card offer, however, you can make interest-free purchases for 12 months or more. Plus, you'll even earn rewards on those interest-free purchases if your card offers cash back, points, or miles.
Be sure to look at the specific details of your intro-APR offer before making purchases. While some offers apply to both new purchases and balance transfers, others may only apply to one transaction type.
Best "Dining Rewards" Credit Cards for Teachers
From end-of-semester pizza parties to field trip dinners, teachers can find themselves paying for any number of large meals over the course of the school year. And let's not discount the nights eating take-out to finish grading that last round of papers.
Putting those purchases on one of our top credit cards for bonus dining rewards can net you at least 4% cash back on every dine-in or take-out meal, putting a little more room in the food budget.
While you'd need to be a really big eater to make up the Chase Sapphire Reserve®'s annual fee on dining rewards alone, a healthy restaurant habit paired with the card's annual travel credit can make short work of that fee. For some teachers, this card is a good all-in-one option for school-year meals and summertime travel alike.
Although you'll only earn bonus rewards on restaurant purchases up to one quarter each year with the Discover it® Cash Back, during that activated quarter you'll get 5% cash back on up to $1,500 in qualifying restaurant purchases. Plus, you'll earn an unlimited 1% cash back on all non-category spending year-round.
The Uber Visa Card from Barclays is a solid choice for cash back restaurant rewards, offering an unlimited 4% cash back on dining purchases, including sit-down, take-out, and UberEATS.

Earn 4% cash back on dining purchases, including restaurants, takeout, bars, and UberEATS
Earn 3% cash back on hotel & airfare, 2% for online purchases
Earn 1% cash back on all other purchases
Don't forget about the card's other perks, either. Flights and accommodations for long-distance conferences or summer-break getaways can earn 3% cash back, and online purchases net a cool 2% cash back.
Best "Grocery Store Rewards" Credit Cards for Teachers
One of the biggest expenses for teachers is office supplies, but few consumer credit cards offer office supply store bonus categories. This means a card with good grocery store rewards is usually the next best thing to keep your classroom stocked.
In fact, your local grocery store is a great place to find just about everything you need for a classroom, from pens and binders to snacks and tissues. Especially when you can earn as much as 6% cash back on your grocery store purchases.
The Blue Cash Preferred® Card from American Express has the highest grocery store category bonus on the market, offering a huge 6% cash back on the first $6,000 in grocery store purchases each year. While the card does come with a $95 annual fee, you can easily make it back with the rewards from only $31 in groceries each week.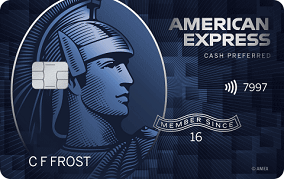 Earn 6% cash back at U.S. supermarkets (on up to $6k a year) & on select U.S. streaming services
Earn 3% cash back on U.S. gas station and transit purchases
Pay a $95 annual fee
The secondary bonus categories of the American Express Blue Cash Preferred are also worth mentioning, as they offer 6% on select streaming services, plus 3% cash back for gas and transit, which can come in handy for field-trip fuel-ups.
The Chase Freedom® offers 5% cash back on qualifying bonus category purchases each activated quarter on up to $1,500 in category purchases. Chase has offered grocery stores as a bonus category the last four years running, so you can likely count on at least one quarter of 5% grocery store purchases each year.
As with the Chase Freedom®, the Discover it® Cash Back card offers quarterly rotating bonus rewards categories that offer 5% cash back on the first $1,500 in category purchases each quarter you activate your bonus category. Grocery stores and wholesale stores have both been featured in years past.
Best "No Annual Fee" Credit Cards for Teachers
With so much of your salary going toward the classroom, throwing extra money at seemingly frivolous expenses, like credit card annual fees, can seem downright ridiculous.
But while some annual fees may be worth paying, there are a huge number of quality rewards credit cards available that will offer good rewards rates without charging you a huge annual fee — or any annual fee at all.
Of course, don't assume that because there is no annual fee there are no fees at all. Carrying a balance from month to month will still incur interest fees (unless you have an active 0% APR offer), and non-purchase transactions, like balance transfers or cash advances, will still come with their own fees, as well.
Best "Store Rewards" Credit Cards for Teachers
Although there are many open-loop credit cards that can help you maximize rewards in most of your favorite stores, sometimes the best year-round savings can be had with a closed-loop store credit card.
Of course, these cards are only usable at their associated stores, which limits their usability. But with those offering 5% rewards for branded purchases, it may be worth keeping one or two of these unitaskers in your wallet.
If you need it, Amazon.com likely has it, making the Amazon.com Store Card a useful option for nearly any Amazon Prime customer. Note that only Amazon Prime members actually earn rewards with this card, so while the card has no annual fee, you'll need to pay for Prime membership to get the most use out of it.

Receive special financing on eligible Amazon.com orders of $149 or more made with your card
Amazon Prime members also get 5% cash back on Amazon purchases
Pay no annual card fee (Prime fee may apply)
Both cardholders with and without Prime membership do qualify for the card's deferred financing options on orders over $149, but be sure to pay off your purchases in full before the promotional period expires or you'll be charged interest on your entire purchase.
The Target REDcard can be a good way to save on any number of items, from classroom essentials to after-lunch snacks.

Get 5% off your total purchase at checkout for eligible in-store or online Target purchases
Receive exclusive deals and discounts
Pay no annual fee
Unlike most rewards cards, the Target REDcard doesn't earn rewards that are redeemed later. Instead, you'll get an instant 5% off at the register for every qualifying purchase.
A Staples® More Account can go a long way to helping you save on office supplies, offering 5% back on your Staples purchases. Rewards are earned as Staples Rewards®, however, which are only redeemable at Staples.

Earn 5% back as Staples Rewards® on in-store and online Staples purchases
Receive free next-day delivery on orders over $49.99
Pay no annual fee
If you need to make a big purchase, perhaps something like upgrading your personal computer, your Staples® More Account also comes with special financing on orders over $299. Keep in mind that the financing is deferred, so you'll need to pay off your full purchase before the end of the financing term to avoid paying interest on the entire amount.
Do You Have an A+ Credit Card?
For the typical teacher, teaching is more than a simple job — it's a calling. Unfortunately, that calling often comes with extra costs to keep the classroom — and its students — properly outfitted.
And, until the inherent policy and funding issues are addressed, it's often up to teachers to make it work.
With a little organization and a handful of quality credit cards, you can not only earn rewards on your regular personal spending, but also maximize the rewards you earn on classroom-related expenses, taking some of the bite out of your budget.
Of course, no amount of rewards can make up for high interest fees, so be sure to keep your budget on track to avoid a costly test of your finances.