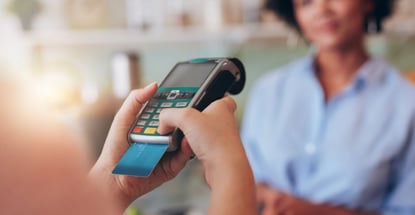 America switched several years ago to credit cards with embedded chips. Today we expect all credit cards to carry chip technology that enhances security by generating a unique, non-reusable code for each transaction. 
Surprisingly, only a handful of EMV chip cards also provide credit card PIN capability that further increases card security. Furthermore, some international merchants require a PIN to complete a transaction, so you don't want to travel abroad without a PIN-capable card.
Our review of chip and PIN cards will greatly interest readers traveling abroad and those who are concerned about shopping safely.
The Best Credit Cards With PIN Capability
The following list of credit cards is quite varied. The group includes cash back, travel, and credit union cards. Most do not charge a foreign transaction fee for purchases made abroad. We're confident you'll find one or more promising candidates for your wallet and your lifestyle.
The Chase Freedom Unlimited® has chip and PIN capability, unlike most other offerings from Chase Bank. You need a good-to-excellent credit score to qualify for this card.
This EMV card comes with multiple goodies, including a signup bonus, 0% intro APR promotions, and an extraordinary first-year Ultimate Rewards rate on travel you purchase through Chase Travel.
The Citi Premier® Card offers safe shopping and speedy checkout with just a quick tap on a contactless payment reader. This chip and PIN contactless card enables in-person transactions using your secret code for ultimate security. It rewards you with ThankYou Points on purchases that you can transfer to select airlines without a fee. 
In addition, you receive many standard Citi benefits, including digital wallet compatibility, free authorized users, and special deals from Citi Entertainment.
The Platinum Card® from American Express charges a high annual fee in return for premium perks. The contactless card offers generous rewards, monthly and annual credits, and a sizable signup bonus, among several other perks.
The Platinum Card is the best credit card in this group for its handsome travel and purchase benefits. The American Express App lets you discover nearby store offers, explore rewards, and receive credit card fraud alerts while efficiently managing your account from virtually anywhere.
The Bank of America® Travel Rewards credit card offers a signup bonus that can be applied as a statement credit after spending the required amount on purchases in a set period following account opening.
The card frequently offers 0% intro APR deals to new cardmembers for purchases and balance transfers. Late payments trigger a penalty APR and a fee.
The PenFed Power Cash Rewards Visa Signature® Card imposes no limit to the points you can earn and no expiration dates. You'll earn unlimited cash back on all purchases, and the reward rate is higher if you're a PenFed Honors Advantage Member.
It also provides chip-and-PIN security, online click-to-pay convenience, digital wallet compatibility, and a zero-liability policy.
The World of Hyatt Business Credit Card is a chip and PIN card that's an excellent fit for business travelers who prefer the Hyatt hotel line. This Chase Bank co-branded card offers a generous signup bonus to go with its moderately high annual fee. 
You receive bonus points when you pay for Hyatt hotel stays and extra points if you are also a World of Hyatt member. There is also a redemption bonus when you spend a set amount in a calendar year.
The Blue Cash Everyday® Card is another Amex offering that boasts chip and PIN technology. It doesn't charge an annual fee and pays a moderately high cash back rate on grocery, online, and gas purchases. 
The new card signup bonus is easy to earn, and you won't be held responsible for fraudulent transactions.
The Navy Federal Visa Signature® Flagship Rewards Credit Card is best for consumers who have very good to excellent credit, and is only available to military members and their families. It offers prequalification on its website so you can gauge your approval chances before applying.
True to its travel nature, the card provides statement credits for Global Entry or TSA Pre Check. There's also no balance transfer, foreign transaction, or cash advance fees.
The JetBlue Card doesn't subject you to blackout dates, the points you earn are unlimited, and your first checked bag is free. This card is ideal for JetBlue loyalists thanks to generous perks and 50% in-flight savings on purchases made with your card.
You can request a PIN by calling the number on the back of the card and using the automated system. After your PIN is established, you can change it anytime online in your account.
The Savings Secured Platinum Rewards Credit Card defaults to chip and signature but offers chip and PIN backup. In addition to reward points, the card has a low purchase APR and a 25-day grace period on purchases. 
This card also provides access to free credit scores and the card's mobile app. If you qualify, you can apply for credit union membership and the credit card at the same time.
What Is a Chip and PIN Credit Card?
Astute readers know their credit cards sport a small shiny rectangle, sometimes adorned with a few stylized circuits. This is your card's EMV chip, named after the three payment networks (Europay, Mastercard, and Visa) that introduced it in 1993. 
EMV chip cards began in Europe, and it took about two decades for cards with embedded chips to migrate to America.
Before the advent of EMV chip technology, credit cards relied on a magnetic stripe to transmit your credit card account information to card readers. This rudimentary security device often fell victim to point-of-sale (POS) card number theft and counterfeit fraud. 
EMV chip card technology is much more secure because a chip credit card holds your payment data but does not store your account number. Instead, it provides a unique number for each purchase. Since the number is for one-time use only, it is of little value to those planning credit card fraud.
EMV chip card technology relies on a PIN (personal identification number), a four-digit secret code. You use the code for PIN verification of your identity as the cardowner. When you get the card, you choose a chip credit card PIN, and you can change it anytime.
How Does a Chip and PIN Credit Card Work?
In the pre-chip days, you would swipe your magnetic stripe card through a card reader to purchase an item at a POS location. Cards still have magstripes, and swiping continues to work, but EMV chips allow cardholders to insert or tap their cards to pay for their purchases. 
You can insert the card's chip into a card reader's slot, but ultra-sophisticated shoppers simply tap the card against the contactless payment reader to be immediately recognized. 
If you have a chip and PIN card, you next input your secret code in the PIN pad. The store compares the PIN you enter to the data on the embedded chip to ensure you're not using a stolen or counterfeit card. The merchant's payment network approves the transaction if the numbers match.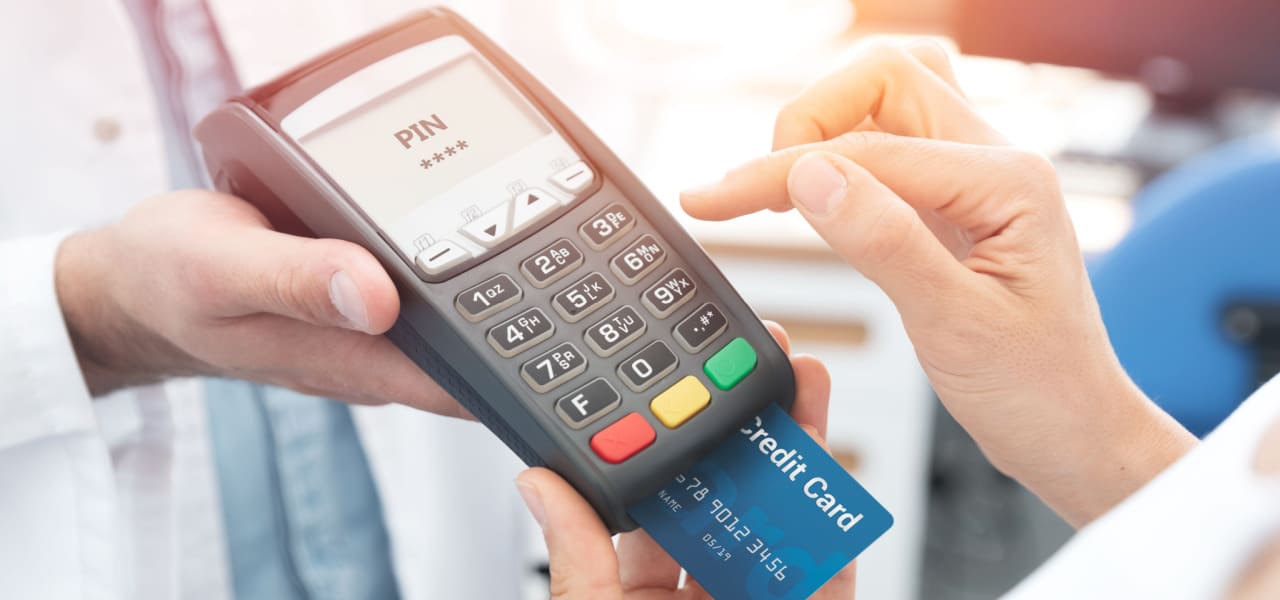 If PIN verification is successful, the card gives the merchant a unique code and records the transaction data on the chip. The chip encrypts all the information it carries, which helps reduce the occurrence of fraudulent transactions and cut down on counterfeit fraud.
What Is the Difference Between Chip and PIN and Chip and Signature?
While all American credit cards have chips, most do not require you to use a PIN at the checkout counter. Instead, we mainly use chip and signature cards, which require you to sign a receipt (or write your name onto the card reader) instead of entering a PIN.
Chip and signature cards are less secure than their PIN-capable cousins because it's much easier to create a counterfeit card or forge a signature than to guess a PIN. Chip and signature transactions are safer than magnetic stripe card purchases, as the chip still generates a unique code for each use.
Why Doesn't the US Use Chip and PIN Cards?
It's hard to fathom why everyone doesn't insist on using only chip and PIN cards since they are the most secure. But the timid souls at the credit card companies are afraid that consumers will shun their chip and PIN cards as too inconvenient. 
If given a choice between a PIN and a signature, the card issuers may fear that consumers will reach for their chip and signature cards rather than face the burden of memorizing and entering their PIN.
"The reason banks say they don't want to issue PINs is that they're worried it will add too much friction to transactions and make life difficult for their customers."

The Atlantic
If you have ever used a debit card, you are quite familiar with entering a PIN for POS transactions. The suggestion that Americans won't use a PIN on their credit cards seems a little silly. 
Choose the Best Chip and PIN Credit Card For Your Needs
If you worry about identity theft, you can improve your financial security by using one or more of the 10 reviewed chip and PIN credit cards. Prominent players in this arena include Chase Bank, American Express, and several credit unions. 
At least one of the reviewed chip and PIN cards may be perfect for your needs, and owning it will provide extra safety in an unsafe world. Also, to satisfy foreign merchants, you will need a chip and PIN card if you plan to travel abroad.
Advertiser Disclosure
CardRates.com is a free online resource that offers valuable content and comparison services to users. To keep this resource 100% free, we receive compensation for referrals for many of the offers listed on the site. Along with key review factors, this compensation may impact how and where products appear across CardRates.com (including, for example, the order in which they appear). CardRates.com does not include the entire universe of available offers. Editorial opinions expressed on the site are strictly our own and are not provided, endorsed, or approved by advertisers.