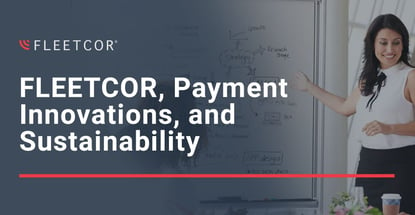 In a Nutshell: The world of fleet management is a complex and fast-moving network of not only roads but also payments and data. FLEETCOR and its subsidiaries, Comdata and Fuelman, are long-running experts in fleet management and payment systems. These innovative companies offer convenient fuel cards so businesses can more easily manage fleets of varying sizes. The companies are also looking to the future and accommodating companies that are prioritizing sustainability with its Clean Advantage program and fuel card. And, as fleets gradually begin to shift from fossil fuels to electricity as a power source, the companies are also preparing to be a major player in the electric vehicle industry.
When the average consumer thinks of credit cards, they tend to envision retail points-of-sale or perhaps online purchases. But credit cards are constantly operating behind the scenes and in ways most consumers never even imagine.
Business-to-business transactions are often conducted via cards and in certain industries, such as the fleet industry, fuel cards are literally what keeps the wheels turning.
We recently dove into the world of fuel cards and fleet trucks by exploring FLEETCOR and its subsidiaries, Comdata and Fuelman.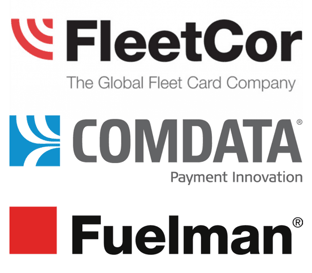 We were interested in gaining some insight into how this interesting world operates so we reached out to Justin King, FLEETCOR's Senior Vice President and Head of Product Innovation, and Keagan Russo, Senior Vice President of Fuelman to learn more.
All three entities are established names in the payments and fleet trucking industry in their own right, each with decades of experience. Over the years, FLEETCOR brought Comdata and Fuelman under its umbrella, which only strengthened each company's offerings.
"The fuel card story starts with the business need," King said. "When you look at traditional payment instruments businesses use to pay for fuel, they're really not very good. You've got credit cards, you've got debit cards, potentially you've got cash, and then maybe checks in the old days."
These traditional processes included a lot of friction and were anything but seamless, King said. And even as credit card technology advanced, the potential for fraud was still very high because many truckers are not employees but function more like owner-operators.
FLEETCOR and its associated entities' solutions include closed-loop cards, which function completely in the realm of the company. This allows the company to track and maintain control of card usage.
"It's really around data and control," King said. "And I always tell people we're not a fuel card company — we're a data control company that also does fuel cards."
The Comdata and Fuelman Fleet Cards Deliver Big Advantages to Small Fleets
"There are three ways we kind of break up the fuel card business for the most part in the U.S.," Russo said. "Fuelman, Comdata, Universal Premium Mastercard — they're all go-to-market brands that we use with specific appeal for the different types of fleets we work with."
Both Comdata and Fuelman currently offer solutions that provide appealing benefits for fleets. The Comdata Card was recently re-launched to focus on value for small trucking and transportation fleets.
"The new Comdata Fleet Card is the company's latest offering designed for trucking fleets with less than 50 trucks and provides competitive discounts, fuel savings, and zero card transaction fees, all for five dollars a month per active card," according to a press release.
The fuel card offers access to Comdata's Extra Mile Discount Program which provides savings on prescription drugs, tires, hotels, and truck parking.
"The Comdata Fleet Card and Extra Mile Discount Program are part of the company's suite of products and solutions dedicated to optimizing fleet operations and driver quality of life while on the road," according to Comdata.
And Fuelman offers an array of fuel cards suited to nearly any size and type of fleet.
Russo discussed Fuelman's Clean Advantage program and accompanying fuel card.
"Clean Advantage was one of our major go-to-market activities for 2020 — to build this program out with a standalone fuel card that was really tailored for part of the SMB market where sustainability was an important part of the way that they do business," he said.
Russo said businesses may be interested in moving toward sustainability for a wide variety of reasons, but the company believes this product resonates strongly with a certain segment of its target market and in certain regions where going green provides a competitive advantage for local businesses.
"Control your fuel cost and help to reach your sustainability goals. Neutralize your emissions and gain better control of your fuel expenses, all with one card," according to Fuelman. "The Fuelman Clean Advantage Fleet Card is an affordable and turnkey way to make your fleet green with annual reports that track and measure your impact."
FLEETCOR Continues to Innovate in the Payment Space
Of course, FLEETCOR is now the brand behind both Comdata and Fuelman, and FLEETCOR continues its mission to be a leader in the payments industry with innovative solutions for today's industry.
"The FLEETCOR story is a see-a-problem, solve-the-problem, tell-the-world classic," according to the company. "Despite sweeping technological advances in B2C payments, B2B payments have lagged behind, creating a tremendous opportunity for innovation."
But FLEETCOR has cracked the code and is delivering solutions.
"We've assembled an A-team of business partners, payment networks, and employees," according to the company. "We have the technology and have made it our mission to develop and deliver better ways to pay."
FLEETCOR processes billions of transactions each year in more than 100 countries.
"Tapping into our network of more than 800,000 vendors who already accept electronic payments, FLEETCOR is shaping the future of global business payments," according to the company website.
Fuel cards are only one part of FLEETCOR's array of payment solutions.
"Companies save time, cut costs, and manage B2B payment processing more efficiently with our suite of e-payables solutions, including accounts payable automation, virtual cards, purchasing cards, and cross-border payments," according to the company.
And its payment cards cover not only fuel but also tap into lodging, travel and entertainment, and tolls and parking.
"When companies are drowning in a sea of employee reimbursement cost and complexity, we can help," according to FLEETCOR. "We're experts at giving businesses of all sizes better ways to pay — like letting employees pay business expenses directly on the company's behalf."
Its full-feature payment cards reduce paper, facilitate automatic reporting, simplify expense reconciliation, and eliminate complex paper trails.
Preparing for a Future Geared Toward Electric Vehicles and More Sustainable Modes of Transportation
Interestingly, while FLEETCOR, Comdata, and Fuelman are all focused heavily on fuel cards and the traditional transportation industry, the companies are also preparing for a future where sustainability is a priority. This means gearing up for more electric vehicles (EVs) on the road.
"When I think about the impact of EVs on fuel cards, it can be a little bit daunting, right?" Russo said. "It's going to shake up the business model pretty significantly. But that's going to happen over time. So we're building out some pretty impressive EV capabilities to bring to market sometime this year."
He said very few businesses will switch to electric vehicles overnight, it will be a gradual process.
"They're going to start seeding their fleets with electric vehicles," Russo said. "It's going to be a slow burn until the majority of business fleets are EV. And during that time, we will continue to have a really great product for fleets that want to accelerate meeting their sustainability goals."
King also discussed EVs and the future of business fleets.
"Europe, in particular, is where we see a lot of EV happening, but I fully expect that the U.S. and North America may be just a few years behind," he said. "So it's definitely a big thing for us."
King said that, if the company thinks of its fleet business as a fuel card company, then there doesn't seem to be much of a future for that business.
"But if you think of the product as a way of putting controls on financial transactions, managing payments, managing the fleet, managing maintenance — these things we do so well — if you look at it that way then there's definitely a future," King said. "So that's how we think about it."
He said that, just as in the world of fossil fuel-based fleets, in the EV realm, the companies can help businesses save costs. Rather than saving money on fuel, it will help businesses save on things like electricity, helping to manage battery life, finding places to charge, and finding the best prices for charging.
With this perspective in mind, FLEETCOR, Comdata, and Fuelman stand to carry their longstanding reputations into the future with the innovative philosophy that has carried them this far.
Advertiser Disclosure
CardRates.com is a free online resource that offers valuable content and comparison services to users. To keep this resource 100% free, we receive compensation for referrals for many of the offers listed on the site. Along with key review factors, this compensation may impact how and where products appear across CardRates.com (including, for example, the order in which they appear). CardRates.com does not include the entire universe of available offers. Editorial opinions expressed on the site are strictly our own and are not provided, endorsed, or approved by advertisers.